Recommended Coffee Stain Remover Products
Coffee stain remover products come in several varieties, which vary depending on what surfaces they remove stains from.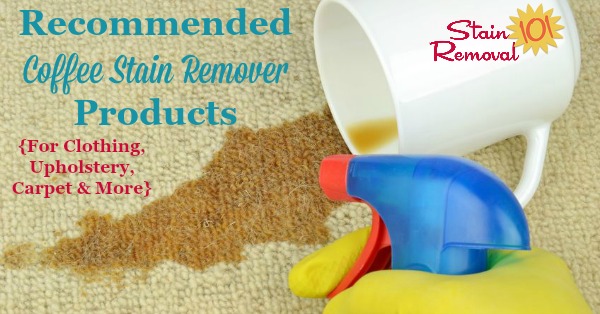 In addition, all coffee stains contain tannins. Therefore, the stain removers listed below which are specifically formulated to work on tannin stains generally work best to remove coffee stains.
However, stain removers that are designed for a larger set of stains, including non-tannin stains, can also be effective, and are also listed.
For example, some stain removers work on carpet, but not on upholstery, or only work on washable fabrics.
I've researched the available commercial coffee stain removers on the market and recommend the following products, or readers have recommended these products as specifically working well on their own stains.
Coffee Remover That Can Be Used On Clothing, Upholstery And Carpet

Wine Away sounds like it would only be used to remove wine stains, but in fact it works really well on coffee stains too. That is because both coffee and wine contain tannins, and that is what this stain remover is designed to eliminate.
One of the best things about Wine Away is that you can use it on washable fabrics, upholstery and carpet stains.
It is available in both a large bottle, but also in some mini-bottles which they call an "emergency kit" that can easily fit in your purse, or other small bag to take on the go, since we generally don't just dribble coffee on ourselves at home, but also out in public.
You can read some Wine Away reviews here.
Coffee Remover For Clothing Only

Biz Stain Remover is both a color safe bleach that also contains enzymes. Because of this it is one of my favorite presoaks for a wide variety of stains.
One reader, Jenna, shared how she salvaged an $800 dress which had a big coffee stain on it by soaking the stain overnight in a solution of Biz and water. You can read her experience here.
In addition, you can read more Biz stain remover reviews and uses here.

Carbona Stain Devil #8 is specially designed to remove coffee stains (and also wine, tea and juice stains).
It only can be used on washable and dry clean fabrics. It cannot be used on upholstery, carpet, leather, suede, acetate or silk.
It acts as a presoak solution once it is mixed with hot water, and you soak the stained fabric for approximately 30 minutes for stain removal. Repeat soaking may be required. You can learn more about Carbona stain removers here.

The Spray N Wash stain stick is a general laundry stain remover, not designed specifically for tannin stains, but instead for a more broad range of stains.
One of my readers, Neena, has had success removing coffee stains using this stain remover, even after letting the coffee stain sit on her baby's clothes for a couple of days before laundering. The key was to treat the stain right away with the stain stick, so it wouldn't set. Click here to read Neena's Spray N Wash stain stick review, and her entire story.
You can read lots of Spray N Wash stain stick reviews here.

Tide To Go Pen is a handy little coffee stain remover to keep in your desk drawer at work, or in a purse or bag for while you are out. That is because it is actually not a laundry stain pretreater at all, but instead actually removes the coffee stain on your clothing while you are wearing it.
It is best to use the Tide To Go pen right after you spill or drip the coffee on your clothing, because that is when the pen is designed to work best. The product is shaped like a pen, and you just apply the stain remover using the pen tip like applicator, and generally the stain will disappear. If not, at least it also helps keep the stain from setting before it can be washed.
Several readers have really raved about this product, as it relates to coffee stains. Here is a reviews of the Tide To Go Pen, including several Tweets about Tide To Go removing coffee stains.

Baby Wipes are another common product you can try to use to clean up a spill, as long as it is quite fresh.
In fact, one reader, Debbie shared how this worked very well for her and another co-worker.
Check out lots of uses for baby wipes here.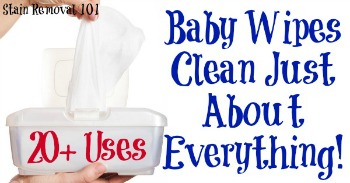 Whink Wash Away Laundry Stain Remover was also recommended by a couple of readers, one of which had great luck with using it, even with coffee with cream, after one treatment. You can read Whink Wash Away reviews here.
Upholstery Cleaner For Coffee Stains
I've mentioned above some products which are designed to remove coffee from multiple types of surfaces, including upholstery. In addition, I received a review of Woolite upholstery cleaner where a reader had good luck using it to remove a coffee stain from a microfiber couch.
Coffee Remover For Carpet Only

Along with products I mentioned above, that will work on fibers of many surfaces, if you've got a coffee stain on your carpet you can use Folex.
It is designed to get out lots of different types of carpet stains, and is pretty popular. You can read more Folex carpet stain remover reviews here.
Do You Have Your Own Coffee Stain Remover Recommendations?
As you can see, I have incorporated into my list some stain removers that have been recommended by other readers, like you. Do you think another coffee stain remover should be added to the list? Or do you have a review of one of the products I've already mentioned, either positive or negative?
If so, you can share your stain remover reviews here for coffee, or for removing any other stain. Just make sure you mention the product you used, and how it worked for you (or didn't) for removing coffee stains.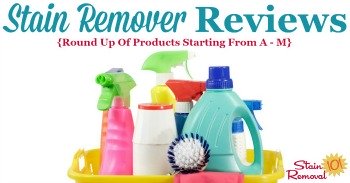 Coffee Stain Removal Instructions
Do you need to know more about coffee stain removal? If so, check out my article on how to remove coffee stains, or read coffee stain removal tips submitted by others.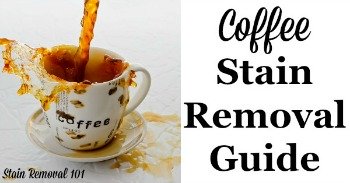 Second photo by roger.karlsson
Thanks For Visiting My Website: Grab Your Free Gift!

Hi, I'm Taylor, a busy mom with 3 kids, so I have lots of hands on experience with house cleaning, laundry and my fair share of spots, spills and other messy catastrophes. Thanks for visiting my site.
I update the website all the time with tips, tutorials, cleaning recipes, reviews of products from readers like you, and tests I've done on various cleaners, removers and laundry supplies.
I'd love to give you a gift! When you subscribe to my free weekly newsletter you will receive a free printable laundry stain removal chart that you can reference as needed.
I hope you enjoy this gift, and stop by again soon!
Related Pages You May Enjoy
Go From Coffee Stain Remover Recommendations To Home Page
You can click here for an explanation about my product recommendations, to learn more about my criteria, method of research, and any financial compensation I may receive for these recommendations.
CAUTION: This website is provided for informational purposes only. It is provided as is, without warranties or guarantees. Some stains and messes just won't come out, and are permanent. Further, some cleaning methods can harm your item, so if what you want to clean or launder is sentimental or expensive call a professional. See disclaimer of liability for more information.