Tide To Go Pen Review - It's My Best Stain Removing Friend
by Lin
(East Providence, RI, USA)
Lin has provided a Tide To Go pen review.
Lin says:
My favorite laundry stain remover of all time is the Tide To Go Stain Pen.
I used to only use Shout on all my stains, because it was simply what I knew. But one day I had spilled some
mustard
on my white denim capris at a BBQ, and my friend let me use his Tide Pen. Once I saw how great it worked, I started using it as a pre-wash stain remover.
I am constantly spilling food and drinks on myself. Anytime I eat or drink anything, it seems like I'm getting at least one drop of it on me. So I need a powerful stain fighter.
Not only has the Tide To Go Pen removed stains on the spot for me (I keep one in my purse at all times now) it also gets rid of stains prior to washing.
Sometimes my stains are large enough that I need to just take off the item of clothing for washing. The Tide pen gets rid of the stains better than any other pre-wash stain remover I've ever used.
It doesn't have much of a smell, which is great for when I need it on the go. It also doesn't do any damage to clothing.
I have never used it on something delicate like silk or rayon, but as for sturdy materials like cotton or polyester, it doesn't affect the fabric. Even when I use it in abundance, my clothing stays intact.
I highly recommend using the Tide To Go Pen for a quick fix or for use prior to washing any clothing that's been stained.
It has removed plenty of stains for me, including
barbecue sauce
,
chocolate
, and
tomato sauce
. It is my little miracle solution, and a little bit goes a long way.
Taylor says:
Thanks for your Tide To Go Pen review. I too seem to get food on me all the time. My husband jokes I'm worse than the kids!
I like the idea of the pen, since you can carry it around in your purse.
I know they have both a regular size pen now, and also a "mini" Tide To Go pen you can use.
There are also quite a number of other fans of this product too, as you can see from some of the Tweets I've found when doing some research into all the things the Tide To Go Pen can be used for, for stain removal.
Check out these tweets:
You can read even more Tweets about the Tide Pen below.
So, does anyone else have a favorite stain remover for clothing? If so, you can
share your laundry stain removers reviews here
.
You can also
share any other stain remover review here
.
Join in and write your own page! It's easy to do. How? Simply click here to return to laundry stain removers.
Tide To Go Twitter Reviews - Find Out What Stains It Removes
When a reader recently sent me in a Tide To Go review I started trying to find out more examples of what this stain remover pen got out of people's clothes, to share with you.

I found some great Tweets giving examples, and shared a couple of them with you in the review mentioned above. However, I've found a couple more since then, and wanted to share those with you too.

Therefore, here are even more Tweets about the Tide To Go pen, where people have shared what types of stains they've removed with it.


Have you removed any other stains with this product? If so, you can tell me what you've removed in the comments, or I will add your tweet to this page if you Tweet me
@stainremoval101
.
Join in and write your own page! It's easy to do. How? Simply click here to return to laundry stain removers.
Got Out Cherry Stains On My White Capris
by Polly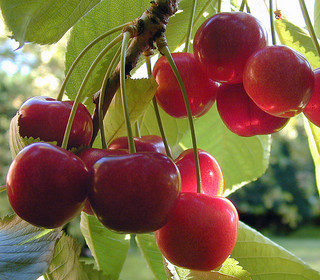 Polly says:
Oh no!!! I was eating a fresh cherry...and I didn't NOTICE that a bit of juice dripped on my white capris!
Lucky for me, I had my Tide to Go stick.
Although the stain isn't TOTALLY gone yet, I think one more treatment will do the trick. Thanks, Tide!!!
Taylor says:
Glad to hear this worked so well for you when
removing your cherry stain
!
Photo by D H Wright
Join in and write your own page! It's easy to do. How? Simply click here to return to laundry stain removers.
Take Them To Overnight Camp To Keep Stains At Bay
by Melanie
We love the these stain removing pens.

My stepdaughter takes 5 of them to camp with her every year...Goes through them all! All the girls in her cabin use them.

We inevitably have to bring more up when we visit on visitors day.
Join in and write your own page! It's easy to do. How? Simply click here to return to laundry stain removers.
Tide To Go Pen Works On Mattress Stains!
by Kay
(Jacksonville, FL)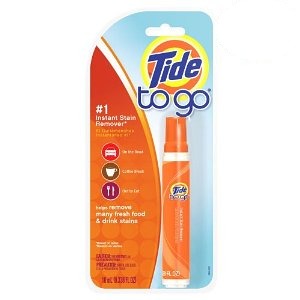 Kay has shared this tip of how she's used the Tide To Go pen successfully in her home, for a use I wouldn't normally think of.
Kay says:
The Tide to Go pen works on mattress stains.
We have a practically brand new plush pillowtop mattress. We have to return it to the store, and the store will take it back if it has no stains, no holes, etc... Well, of course we noticed a couple of small yellowish stains near the top side seams, upper middle and bottom (foot area) of our mattress. These are not giant stains that had spread out much--one was marble sized and the others sized like a silver dollar pancake size.
We have two small dogs and two little boys, so we are pretty sure it's due to the dogs and/or the boys.
Anyway, we used our Tide To Go pen and the stains began to fade right away, and then were completely gone!
My tip is to begin on the stain from the outside, rubbing inward with the Tide pen. Kind of pick up the top layer of fabric with your fingertips and rub on that, hence not wetting the underside so much. Just gently rub the stain with the pen and let it air dry. Love that Tide To Go!
NOTE: we were afraid to use the heat of a blowdryer on the areas we had used the pen on for fear of setting in the wet liquid from the pen and thus reactivating a stain somehow, so we turned on our ceiling fan and left it to dry.
Taylor says:
Thanks Kay for sharing how you use this product to remove stains from your mattress. I would never have thought of that on my own!
You can
share your own tips for removing mattress stains here
, or read other tips already submitted.
In addition, there are lots of other ways to use the Tide pen for stain removal. I've collected the uses already shared here, but I would love to hear even more from other readers. You can
share your own uses for this product here
.
Related Links At Stain-Removal-101.com
Stain Remover Reviews
Share Your Stain Removal Tip Or Read Over 200 Others
Laundry Stain Remover Reviews
Tide Stain Remover Test - How Well Does The Detergent Do For Stain Removal?
Tide Detergent Reviews And Information
Tide Stain Release Reviews & Uses
Share Your House Cleaning Tips Or Read Over 100 Others Already Submitted
Tide To Go Pen Reviews And Uses To Stain-Removal-101.com Home Page
Join in and write your own page! It's easy to do. How? Simply click here to return to laundry stain removers.
Thanks For Visiting My Website: Grab Your Free Gift!

Hi, I'm Taylor, a busy mom with 3 kids, so I have lots of hands on experience with house cleaning, laundry and my fair share of spots, spills and other messy catastrophes. Thanks for visiting my site.
I update the website all the time with tips, tutorials, cleaning recipes, reviews of products from readers like you, and tests I've done on various cleaners, removers and laundry supplies.
I'd love to give you a gift! When you subscribe to my free weekly newsletter you will receive a free printable laundry stain removal chart that you can reference as needed.
I hope you enjoy this gift, and stop by again soon!
CAUTION: This website is provided for informational purposes only. It is provided as is, without warranties or guarantees. Some stains and messes just won't come out, and are permanent. Further, some cleaning methods can harm your item, so if what you want to clean or launder is sentimental or expensive call a professional. See disclaimer of liability for more information.