Bounce Dryer Bar Reviews And Information About Installation And Use
Here is the ultimate guide to Bounce dryer bar, a type of fabric softener, including how to use it, plus how to install, uninstall and refill it, including reviews of this laundry supply.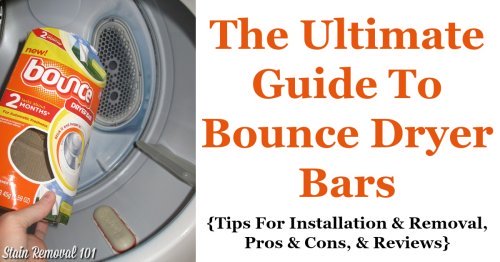 This is where you can share your "Mom reviews" of this fabric softener, telling whether you would recommend it or not.
In addition, if you are considering buying this product, in any of the various scents or length durations, find out what other "Mom reviewers" and other people have said about it here.
Here are the reviews submitted so far:
Search This Site
Typically, if you wanted to use a fabric softener in your dryer you used dryer sheets, and Bounce has quite a variety of Bounce dryer sheets available for purchase.
However, recently Bounce has come out with a new product for the dryer, which it calls a "dryer bar."
Basically, this is a product which looks like a waxy piece of soap which you attach to the drum of your dryer with a dryer bar holder that you purchase, along with the product itself. As you dry your clothes the heat of the dryer and the rubbing of the clothes against the bar apply the softener to your clothing, in a similar manner that dryer sheets do.
The big advantage to the Bounce dryer bar, at least according to Bounce, is that you just place the bar in your dryer and don't have to remember to place any dryer sheets in there anymore.
There are various sizes of the bars available, which are labeled as lasting for 2, 3, 4 or even 6 months. (I want to hear from you below, in a review, to know if they really last this long for you or not.)
How To Install, Refill And Uninstall Your Dryer Bar
The first time you use a Bounce dryer bar you must install the bar holder onto the drum of your dryer. The holder comes with adhesive on the back, and you just place it on the drum (not on the back, door or fins of the dryer drum) and stick it in place.
With use the bar slowly wears away, and once you can see the word "replace" on the holder you know it is time to put in a new one.
Instead of buying a whole new bar plus holder, the second and subsequent times you use the dryer bar you should purchase refills instead. You remove the old worn out bar from the holder and slide the refill into its place.
As you can see from the picture below it is easy to see when it's time to replace one bar with another.

If you ever decide you no longer want the dryer bar in your dryer anymore you can remove it, but frankly it sounds like a pain. The official instructions say to run the dryer empty for about 5 minutes on the high setting, which will help soften the adhesive, and then pop the bar off by prying it loose with a plastic (not metal) spatula.
I've personally never done this, so I have no idea if it is that easy or not (although several of the reviews I've received from readers say they have had problems with it, including that it took paint off their dryer drum and that it left sticky adhesive behind). I would love to hear from even more people who have removed it to say their experience with this. (You can skip down to share your review and stories below.)
Then, after you remove the actual Bounce dryer bar holder there is still going to be some sticky residue left on your dryer drum from the adhesive. It is very important that you completely remove this adhesive before running your dryer with any clothes in it, or you run the risk of getting adhesive residue on your clothing, which is no fun trying to remove.
Bounce suggests using a kitchen towel and mild soap, but in my experience of removing many adhesives from hard surfaces I am not sure this will be enough. You may need to use an ahesive remover, such as Goo Gone, to help with this process.
My Identified Disadvantage Of The Bounce Dryer Bar
As explained more in my article on dryer sheets, all fabric softeners for the dryer (and liquid ones for the washer too) can reduce the flame resistance of fabrics treated with flame retardant, such as children's pajamas. Therefore, it is often recommended that you dry these items without a dryer sheet added to prevent this from occuring.
Similarly, the company has stated that their dryer bars also reduce this effectiveness (note -- I used to have a link to the Bounce page, where I found this admission from a customer service representative, but the page has since been removed). However, with a dryer bar there is no convenient way to dry clothes without using it every single time, for every single load.
Similarly, there may be other items you don't want to add a dryer sheet too and the permanency of the dryer bar which is touted as why it is so convenient also means you have to use it on every item you dry, with no other option. That I see as a disadvantage.
However, life is all about tradeoffs, and the convenience may trump the lack of choice for some.
I would love for you to skip down to share your review here of the Bounce dryer bar, telling me what you like or dislike about it, and why.
You can find this product in the laundry aisle of most stores. You can also find a larger selection online through the links below, including of the various scents and sizes of the bar, from the smaller two month version of the larger six month version.
Share Your Bounce Dryer Bar Review Here
Tell me how this bar worked for you, either good or bad.

Here are some helpful hints to make sure your review is as useful as possible:

Tell me which exact brand, type and scent of sheet you are reviewing, and any other important identifying characteristics of it.

Further, helpful information would include how it made your clothes feel, how it smelled immediately afterward and whether the scent lingered or not, whether you had any problems with it staining or spotting clothing, what types of fabrics you use it with, and/or any allergies or skin reactions you or a family member experienced while using it, if applicable.

I also am interested in whether you feel you need to also use fabric softener in the wash when you use this bar, and why.

Finally, I would love to know if you prefer the dryer sheets or the dryer bar, if you have tried both and have an opinion on the subject.

Any other details relevant to your opinions of the product are all appreciated.
Submitted Bounce Dryer Bar Reviews
Click the links below to see other reviews that have already been submitted.

Feel free to comment on any of these submissions to tell your own experience with this detergent, or about any other thoughts you have.


More Bounce Dryer Bar Reviews: Mostly Negative So Far
Barb is one of many people that has sent me their Bounce dryer bar reviews. In fact, so many people have sent me reviews that this is my second page of …

Bounce Bar Reviews, Problems And Praise
Jessica has shared her Bounce dryer bar review, in the Outdoor Fresh scent. Jessica says: I recently purchased the new Bounce dryer bar because like …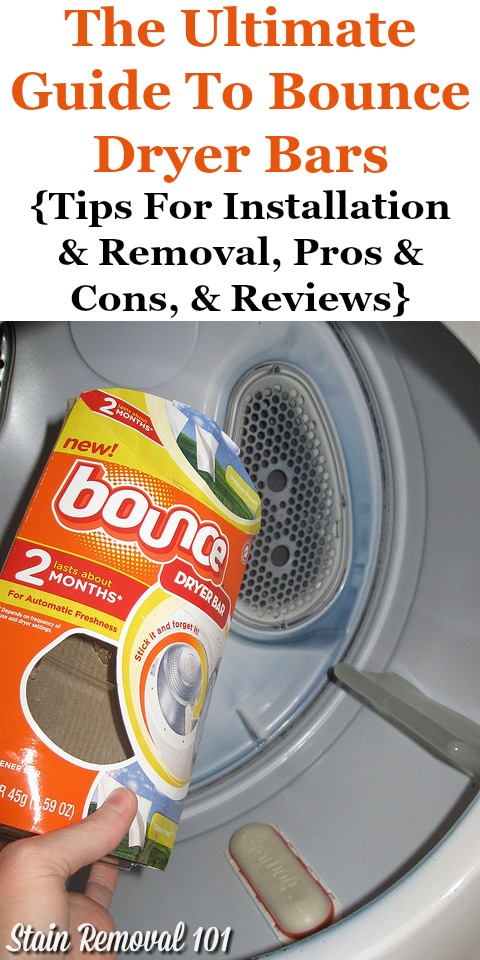 First photo courtesy of RockinFree on Flickr Creative Commons, and third photo courtesy of g45 on Amazon.com
Thanks For Visiting My Website: Grab Your Free Gift!

Hi, I'm Taylor, a busy mom with 3 kids, so I have lots of hands on experience with house cleaning, laundry and my fair share of spots, spills and other messy catastrophes. Thanks for visiting my site.
I update the website all the time with tips, tutorials, cleaning recipes, reviews of products from readers like you, and tests I've done on various cleaners, removers and laundry supplies.
I'd love to give you a gift! When you subscribe to my free weekly newsletter you will receive a free printable laundry stain removal chart that you can reference as needed.
I hope you enjoy this gift, and stop by again soon!
Related Pages You May Enjoy
Laundry Supplies Reviews And Information For Your Laundry Room
Best Laundry Detergent For You - Reviews, Ratings And Information
Go From Bounce Dryer Bar Reviews And Information To Home Page
There are affiliate links on this page, and if you purchase a product through them I receive a small commission. Purchasing through my links costs you nothing extra, but helps support the free information provided on this site and my family. To learn more please see my product review disclosure statement.
CAUTION: This website is provided for informational purposes only. It is provided as is, without warranties or guarantees. Some stains and messes just won't come out, and are permanent. Further, some cleaning methods can harm your item, so if what you want to clean or launder is sentimental or expensive call a professional. See disclaimer of liability for more information.