Removing Hair Dye From Skin: Home Remedies Plus More

Below I've gathered tips for removing hair dye from skin, from some of the best ideas I've found from around the web and from readers of this site who've shared their home remedies with me.
I've got suggestions for using both specific products, and also items you should be able to find around your home to remove these stains from your skin.
The thing is, most of these stains are preventable.
I know this doesn't help you right now, if you've got hair color on your skin and can't get it off, but remember, in the future, to avoid some of these problems by using gloves when applying the dye to your hair to prevent stains on your hands.
In addition, put a barrier cream on your face, around your hair line, to keep stray drips of dye from coloring your face.
Along with the tips below in how to remove hair color from skin below, I've also added one for preventing these stains in the future.
In addition, I've shared on the main
hair dye stain removal page
of this site tips for preventing such marks on your skin from a home hair dye professional, so be sure to check that out too. She gives a recipe for a homemade barrier cream, which I've listed.
Finally, before we begin, I want to remind you that you should always consider your safety and health first, before using any of the methods listed below, since stained skin is far superior to making yourself ill, so safety first!
Plus, I'm always looking for more tips to add to the page. Therefore, if you've got a great home remedy to share with me, or know of a great product for removing these marks, please
share it with me here
, and I'll add it to the page.

Top photo by Orin Zebest
Join in and write your own page! It's easy to do. How? Simply click here to return to removing hair dye stains.
Preventing Hair Color Stains On Your Skin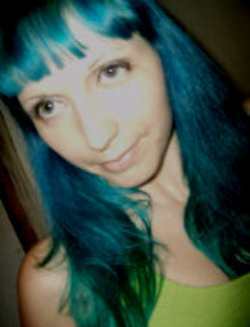 When coloring your hair, you want to prevent hair color stains on your skin from occurring, if possible.

The video below gives tips on how to keep your skin from getting stained.

In the video the professional hair dresser uses a heavy conditioner, and uses it as a barrier to keep the dye from getting onto the skin. She places the conditioner around her neck, and top of her ears.

She further cautions that you don't want to get this heavy conditioner on the hair itself, but instead just on the skin around the hair.

If you don't have a heavy conditioner at home, you can also use Vaseline, petroleum jelly, or another heavy lotion or cream.

What this does is it creates a protective layer over your skin which prevents the hair dye from actually touching your skin and dying it.


Photo by Sew Ripped
Join in and write your own page! It's easy to do. How? Simply click here to return to removing hair dye stains.
Homemade Hair Dye Remover For Skin Recipe
by A
(Calgary)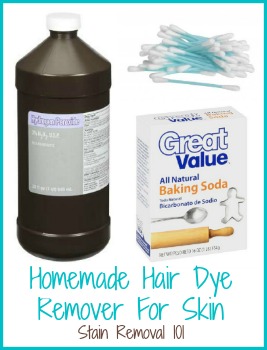 A SR101 Reader, called "A" has shared her homemade hair dye remove for skin with me.
A says:
I have used peroxide on the end of q-tip.
I saturate the stained area with the wet end, and then scrub my skin with dry end of the q-tip.
For more set in stains I mix some
baking soda
in with the peroxide.
It works for me!
Taylor says:
Thanks for sharing your home remedy!
I'd love to hear from other readers, saying whether this has worked for them too.
Plus, did you know there are lots of
other uses for hydrogen peroxide around your home
too? If you'd like to learn even more click the link for my collection of tips, plus you can share your own as well.
Join in and write your own page! It's easy to do. How? Simply click here to return to removing hair dye stains.
Hair Color Will Remove Hair Color: Great For Removing From Around Hairline & Ears
I got the same tip from two different readers. Here's what they said:
Phay says:
If you get color around your hairline and ears remember that color removes color. Just take some of the hair color from your hair and rub it on the spot and wipe it off.
It will come off instantly. Guaranteed.
Tanya says:
All you have to do is use fresh dye. Rub some on the dried dye and it will wipe right off.
Photo courtesy of justj0000lie, from Flickr CC
Join in and write your own page! It's easy to do. How? Simply click here to return to removing hair dye stains.
Use Hair Color Stain Remover To Get Rid Of Dye On Your Hands
The video below shows how a professional hair stylist gets hair dye stains off her hands -- she uses hair color stain remover that is designed specifically for skin.

The video itself demonstrates how to use the hair color remover on your skin, and the positive results she got.

There are both lotions available, and also wipes that can clean off dye from your skin.

Her alternate suggestion, if you don't have any of these removers at home, is to use a small amount of bleach and dishwashing liquid to wash your hands with -- quickly.

Since chlorine bleach can be pretty caustic on your skin I think I would much prefer to invest in some hair color remover (examples of which are at the bottom of this page).


Photo by House Of Sims, from Flickr CC
Join in and write your own page! It's easy to do. How? Simply click here to return to removing hair dye stains.
Getting Dye Off Your Skin With Toothpaste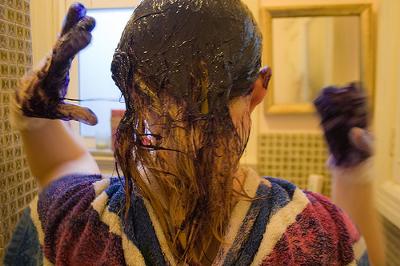 The video below has two stain removal tips for dye on your skin.

The first is to remove dyes, such as from food coloring, from your skin using toothpaste and a washcloth.

The second tip is for how to remove hair dye stains around your forehead hairline.

She suggests to rub the hair dye into your skin while the hair dye is still wet and on your hair.

She says it sounds crazy, but it works.

I agree -- it sounds crazy.

However, removing the stains with toothpaste is more likely to work, since toothpaste can be slightly abrasive, and help rub off the stains.


Did you know toothpaste actually has a lot of cleaning uses around your home, beside for your teeth?
You can check out my article on
toothpaste uses here
, to get more ideas for how to use this product, or share your own tips.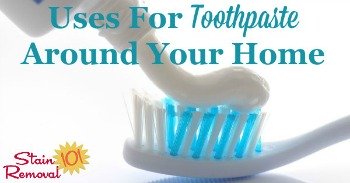 Photo by Orin Zebest
Join in and write your own page! It's easy to do. How? Simply click here to return to removing hair dye stains.
Remove Hair Dye Stains From Skin With Tea Tree Oil Soap
One of the most common questions I receive is how to remove hair dye stains from your skin.

The reason for this is that when you are applying hair dye it can easily get onto the skin around your hair, or on your ears, or your neck if you are not careful.

When that happens you don't need to scrub really hard and hurt yourself, or rub yourself raw.

Instead, the video tip below suggests using tea tree oil soap for removing hair dye stains, makeup stains, and ink stains from your skin.


Have you used tea tree soap successfully (or unsuccessfully) to remove stains from your skin? I would love to hear from you, telling me how it worked for you.
In addition, you can
submit your own tips for removing hair dye stains here
, or read other tips already submitted.
***Update: An SR101 reader commented on this video, saying:
I love tea tree oil, so this is a great tip to try next time I get hair dye on my skin. Thanks.
***End Update
Photo by Orin Zebest
Related Pages You May Enjoy
Helpful Household Hints For All Around Your Home
Hair Dye Stain Removal From Clothes, Upholstery And Carpet
Go From Home Remedies For Removing Hair Dye Stains From Skin To Home Page
There are affiliate links on this page, and if you purchase a product through them I receive a small commission. Purchasing through my links costs you nothing extra, but helps support the free information provided on this site and my family. To learn more please see my product review disclosure statement.
Thanks For Visiting My Website: Grab Your Free Gift!

Hi, I'm Taylor, a busy mom with 3 kids, so I have lots of hands on experience with house cleaning, laundry and my fair share of spots, spills and other messy catastrophes. Thanks for visiting my site.
I update the website all the time with tips, tutorials, cleaning recipes, reviews of products from readers like you, and tests I've done on various cleaners, removers and laundry supplies.
I'd love to give you a gift! When you subscribe to my free weekly newsletter you will receive a free printable laundry stain removal chart that you can reference as needed.
I hope you enjoy this gift, and stop by again soon!
CAUTION: This website is provided for informational purposes only. It is provided as is, without warranties or guarantees. Some stains and messes just won't come out, and are permanent. Further, some cleaning methods can harm your item, so if what you want to clean or launder is sentimental or expensive call a professional. See disclaimer of liability for more information.