Removing Hair Dye Stains
Share Your Tips And Read Others
Here is a round up of tips for removing hair dye stains from fabric and other surfaces, and also your skin. There are also reviews of how various stain removal products worked to remove these tough drips and splatters.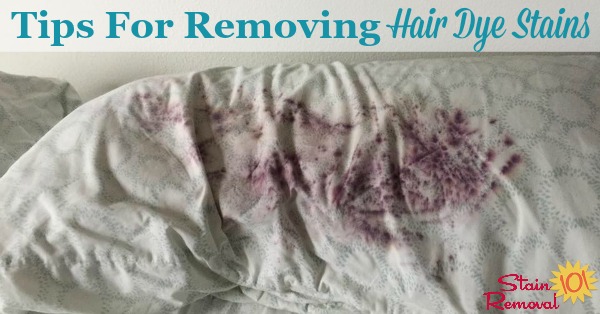 There are even tips for removing hair dye and color from your hair itself.
This is also where you can share your own tricks and tips for removing these spots and spills, if you've used something that has worked for you in the past.
The surface the hair dye lands on makes a difference in how you remove it, so make sure you check out the tips below that pertain to the surface of yours that has been stained.
Here are the tips already submitted:
Search This Site
Let's face it -- hair dye is, in fact, a dye and is supposed to stain your hair.
Unfortunately the stuff seems to get everywhere, including the places it shouldn't and causes a huge mess in the process.
That's exactly what happened to a friend of mine who dyed her hair, and then later that evening went to sleep on her pillow. In the morning, she woke up to the picture shown at the very top of the page, of the hair dye stains pillowcase.
So have you had any success getting hair dye out of all the places it ends up, but shouldn't have, including on your skin, and also on your clothes, carpet, floor and even more places?
If so, please share your stain removal tips regarding hair dye with me, so everyone can learn from your triumphs.
In addition, I'm always looking for recommendations and reviews of various stain removers that have worked (or didn't work) to remove these stains, so we can all find things that work well.
Do You Have A Tip About Removing Hair Dye Stains?
Do you have any great tips about removing hair dye stains to share, for removing hair dye stains from clothes, upholstery, carpet, or anything else?

Feel free to share instructions for how you removed the stain, and what homemade or commercial supplies or stain removers you used to accomplish it.

In addition, you can also share what did not work for you to allow us to steer clear of those pitfalls.
Submitted Tips About Removing Hair Dye Stains
Click the links below to see tips already submitted about removing hair dye stains.


Hair Dye Removal Tips For Clothes, Carpet & Other Fibers
Below I've collected hair dye removal tips for when you accidentally get drips or spills on your clothes, carpet and other fibers. This is, …

How To Remove Hair Dye Drips & Spills From Hard Surfaces
Below are tips and ideas for how to remove hair dye drips and spills that land on all kinds of hard surfaces while applying your hair color, such …

Tips For Removing Hair Dye From Skin
Below I've gathered tips for removing hair dye from skin, from some of the best ideas I've found from around the web and from readers of this site …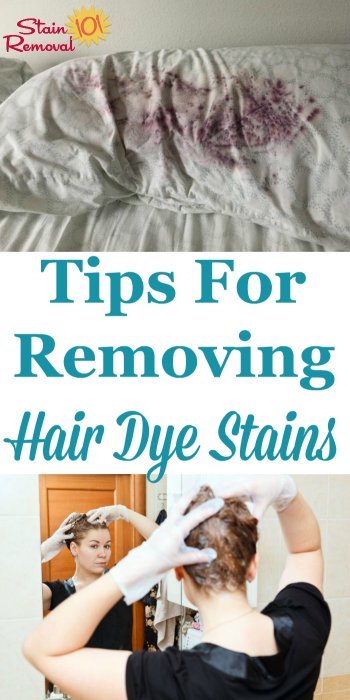 Second photo by me and the sysop
Thanks For Visiting My Website: Grab Your Free Gift!

Hi, I'm Taylor, a busy mom with 3 kids, so I have lots of hands on experience with house cleaning, laundry and my fair share of spots, spills and other messy catastrophes. Thanks for visiting my site.
I update the website all the time with tips, tutorials, cleaning recipes, reviews of products from readers like you, and tests I've done on various cleaners, removers and laundry supplies.
I'd love to give you a gift! When you subscribe to my free weekly newsletter you will receive a free printable laundry stain removal chart that you can reference as needed.
I hope you enjoy this gift, and stop by again soon!
Related Pages You May Enjoy
Go From Tips For Removing Hair Dye Stains To Home Page
CAUTION: This website is provided for informational purposes only. It is provided as is, without warranties or guarantees. Some stains and messes just won't come out, and are permanent. Further, some cleaning methods can harm your item, so if what you want to clean or launder is sentimental or expensive call a professional. See disclaimer of liability for more information.