Tips For Disinfecting & Cleaning Countertop Kitchen Surfaces
Here are tips for disinfecting and cleaning countertop kitchen surfaces so you have a safe and clean work surface for food preparation and daily household tasks.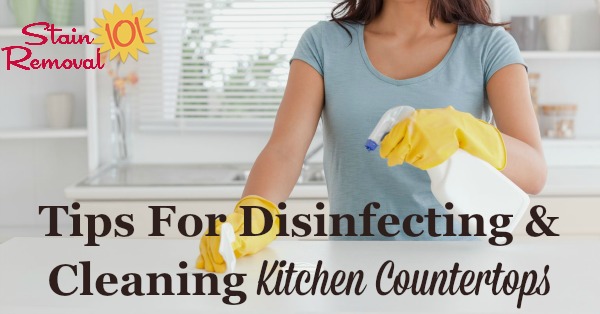 Your counters are the main work surfaces of your kitchen, and you do a lot of things on those surfaces, including food preparation, serving food, and more.
Even when you don't lay things directly on these surfaces, but instead put things down on a cutting board, or a plate, for example, when cooking and cutting items, there is often a lot of splatter and splashes which can dirty the surfaces.
So it's important to clean up your counters frequently, of both visible dirt and crumbs, as well as the invisible bacteria and other germs that can cause illness.
Difference Between Cleaning & Disinfecting
There is a difference between cleaning something, and disinfecting it. Cleaning, at its most basic level, involves soap and water, and wiping up visible dirtiness, messes and spills. You should clean your counters like this daily. You can use almost any type of all purpose cleaner for this purpose, either commercial or homemade.
However, disinfecting your kitchen counters involves a different process (which I'll discuss more below), and it should occur after you clean them. What the disinfection process involves is killing germs on these surfaces so they do not multiply and spread. Anytime you use your kitchen counters for food preparation, especially for raw meat, but really for any food prep, you should disinfect them afterward.
Like I mentioned above, I understand most of the time you don't lay raw meat, for example, directly on your kitchen counter. But also I also said, food preparation and cooking are messy processes and often some splatter, even invisible to the eye, occurs, so this disinfection rule applies even when the food is not directly laid on your counters, but instead, when you lay items like plates or cutting boards on your counter to then work on.
When Disinfecting Your Counters You Must Use A Disinfectant Cleaner
This may seem pretty obvious, but when you want to disinfect your counters you've got to use a product that actually does that job. You cannot use an all purpose cleaner, nor something that says it is merely antibacterial, because germs are not just bacteria, but instead also include viruses and fungi. So you need to choose a product that calls itself a disinfectant.
I've got a recipe for a simple homemade disinfectant cleaner here which contains chlorine bleach. I understand some people don't want to use chlorine bleach, and that is fine. There are EPA approved natural disinfecting products available, and I've reviewed some of them here. But please understand that vinegar is not a disinfectant, which is a common misconception I see spread around in comments, a lot.
Make Sure To Allow Adequate Kill Time To Properly Disinfect
Whatever disinfectant product you choose to use on your kitchen countertops make sure to read the instructions for the product carefully because each product has what is known as a different "kill time."
While we may imagine that we spray a disinfectant on a hard surface and immediately germs are killed that is certainly not the case. Instead, to work properly disinfectants have to be given a certain amount of time to work, and it is typically longer than most people realize.
That's one of my pet peeves about disinfecting wipes. If you read the back of the packaging carefully you will see there is a "kill time" listed for these products, but many people have the impression that they work instantaneously, and the companies making these products don't try very hard to correct this misunderstanding.
My point is that when you're doing your daily routine of cleaning and then disinfecting food prep surfaces, such as kitchen counters, you need to give the product adequate time to work before you wipe or rinse it away, or you won't have actually disinfected the surface as you believed you had.
For example, for the homemade disinfectant recipe I posted above, which uses chlorine bleach, you need to wait at least 5 minutes, preferably 10, for the recipe to kill viruses, mold, and bacteria and properly sanitize the surface. This recipe also cannot properly sanitize if it dries before it has killed the microorganisms. Therefore, spray it on and let it sit, without drying, for at least five minutes before rinsing it off.
Since each disinfectant's kill time is different make sure to read the instructions on the back of the packaging thoroughly to make sure you're using it correctly.
Use Cleaning Cloths, Not Sponges
When cleaning or disinfecting your kitchen countertops make sure to wipe the counters with a cleaning cloth, such as a microfiber cloth, and not with a sponge. Cleaning cloths are much easier to properly clean between uses so you're not just spreading germs back around on the surface as you think you're cleaning it.
Make sure to wash your cleaning cloths after each use in hot water and detergent, and then either line dry them in the sun or run them through the dryer, to get them ready to be used again.
If you do use a sponge make sure to properly clean and disinfect it before use, using the instructions provided in the link.
Allow Counters To Completely Dry After Each Cleaning
Finally, after cleaning and/or disinfecting your kitchen counters make sure you let them thoroughly dry before placing items back on them.
Moisture underneath canisters, bowls, or appliances is a breeding ground for many germs, as well as mold and mildew, because many of these organisms like moist dark spots. So either thoroughly dry your counters with a clean dry cloth and/or provide enough time for the counter to dry naturally to discourage additional microbial growth after cleaning and disinfecting.
How To Clean Stains From Your Countertops
There are many different types of countertops and many types of stains, but we all know from experience staining on these surfaces can occur. I've got a round up of tips from around the site with ideas for how to remove various types of countertop stains you can check out here.
Tell Me How You Clean Your Kitchen Counters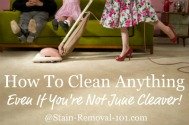 I've shared with you my methods for cleaning and sanitizing countertops, and now I'd love to hear your tips. You can share your cleaning tips here about this topic or about anything else!
Further, this post is part of a series called "How to Clean Anything, Even if You're Not June Cleaver." I hope this series will become a good resource for you, with instructions on many different cleaning projects around your home.
Fun Fact: Is The 5 Second Rule For Real?
Oh, and when you drop something off your kitchen counter and onto the floor, have you ever wondered if the 5 second rule applies. Sad to say it really doesn't! Check out my friend Marybeth's article with more details about debunking the 5 second rule.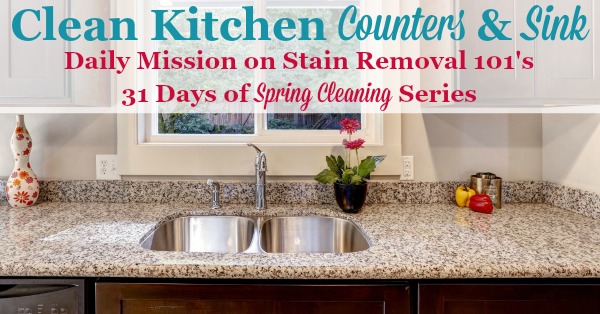 Thanks For Visiting My Website: Grab Your Free Gift!

Hi, I'm Taylor, a busy mom with 3 kids, so I have lots of hands on experience with house cleaning, laundry and my fair share of spots, spills and other messy catastrophes. Thanks for visiting my site.
I update the website all the time with tips, tutorials, cleaning recipes, reviews of products from readers like you, and tests I've done on various cleaners, removers and laundry supplies.
I'd love to give you a gift! When you subscribe to my free weekly newsletter you will receive a free printable laundry stain removal chart that you can reference as needed.
I hope you enjoy this gift, and stop by again soon!
Related Pages You May Enjoy
How To Clean Anything Even If You're Not June Cleaver!
Go From Tips For Sanitizing & Cleaning Countertop Kitchen Surfaces To Home Page
CAUTION: This website is provided for informational purposes only. It is provided as is, without warranties or guarantees. Some stains and messes just won't come out, and are permanent. Further, some cleaning methods can harm your item, so if what you want to clean or launder is sentimental or expensive call a professional. See disclaimer of liability for more information.