Tips For Cleaning & Washing Bath Mats
Here are instructions and tips for cleaning and washing bath mats and rugs, so they stay fresh, dry and fluffy, and the bathroom looks and smells great.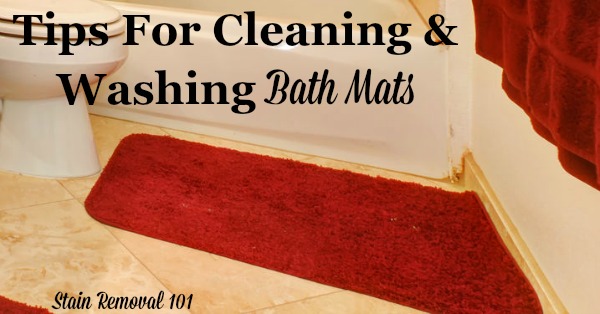 Bath mats and rugs are typically placed in a bathroom to make it more confortable to stand, with your bare feet, on the bathroom floor before and after you step in and out of the shower or tub.
As a result, bath mats often get wet when we step out of the tub after bathing. While this is a good thing, since the mat absorbs the water so it doesn't just stand on the bathroom floor, which is typically a hard surface such as tile, and therefore the mat keeps you from slipping, it also means your bath mats will get dirty and stinky with time and use.
How Often Should You Clean Or Wash Your Mats & Rugs?
You should wash your bath mats at least every two weeks, and more frequently, such as every week, if you've got a particularly sturdy rug. (I also suggest as you do replace your bath mats that you look for sturdier ones that withstand heavy duty washing and drying, so it can be washed more regularly.)
Between each use you should make sure your bath mat is allowed to completely dry so it doesn't develop a sour or mildewy smell. If it does start to develop an odor like this it should be immediately washed.
Further, between washings you should shake out or vacuum your mat or rug at least once a week.
(Make sure to check out the How Often Should I Wash It? Chart for more information about how frequently to wash various household and clothing items in your home.)
How You Clean Your Mat Depends On The Type You've Got
How often you wash your bathroom rugs and mats, and the method you use to clean them, depends on how sturdy versus delicate your particular mats are.
Ideally you should choose bath mats that are sturdy, absorbent, and non-skid.
Before purchashing, check any tags or labels to see if there are any care instructions, and avoid those which will not allow you to wash at all, or to only wash on delicate.
After personally disintegrating several latex backed bath mats over time, by washing them regularly so they weren't completely gross, I can say with certainly I always try to avoid such mats now. They're inexpensive for a reason, because you either destroy them quickly to keep them clean, or don't wash them as frequently as you should to try to preserve how long they last.
How To Wash Bath Mats & Rugs
For sturdy bath mats you can wash them along with your towels, or by themselves, using warm water and regular (not delicate) detergent. Since they're sturdy a regular or permanent press cycle on your washing machine are both fine to use.
The first few times you wash your rugs or mats I suggest washing them with only like colors, or by themselves, to avoid bleeding dye transfers.
If you still have some latex backed bath rugs you will need to use gentler methods to wash them to prolong their life, although eventually with successive washings the latex backing does begin to wear and flake off no matter what you do.
Wash these more delicate mats and rugs using the delicate cycle of your washing machine, cool water, and either just a small amount of regular detergent or delicate detergent if you wish.
If your bath mats have a mildew smell it is important to wash them with hot water, which will typically be fine for sturdy mats, but may harm the latex backing on more delicate mats. Nonetheless, hot water and detergent are the keys to killing mildew spores and removing the odor from the rugs. (For more information, in general, about removing odors from towels and similar fabrics, read this article.)
How To Dry Your Bathroom Rugs & Mats
After washing your mats they need to get dry, and just like with washing there are differences in how to do this depending on the type of bath mat you've got.
For sturdy rugs and mats you can place them in the dryer to dry, although if you're concerned about shrinkage (which is a possibility with the heat from the dryer) you can also air dry them.
For more delicate mats you have to air dry them because the heat from the dryer will destroy and flake off the latex backing of the mat.
If it's a sunny day placing your mats out into the sun to dry can speed up the process, and also has the benefit of helping to remove any lingering mildew odors. (Check out this article about the benefits of sunlight for cleaning, stain removal and odor removal here.)
For all bathroom rugs and mats it is important that they are completely and thoroughly dry, on both sides, before you put them back into your bathroom for use again. After all, if they hold in moisture that is when mildew and sour smells begin to develop and you'll just need to wash them over again if it happens.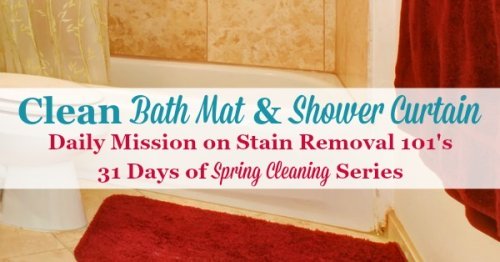 Thanks For Visiting My Website: Grab Your Free Gift!

Hi, I'm Taylor, a busy mom with 3 kids, so I have lots of hands on experience with house cleaning, laundry and my fair share of spots, spills and other messy catastrophes. Thanks for visiting my site.
I update the website all the time with tips, tutorials, cleaning recipes, reviews of products from readers like you, and tests I've done on various cleaners, removers and laundry supplies.
I'd love to give you a gift! When you subscribe to my free weekly newsletter you will receive a free printable laundry stain removal chart that you can reference as needed.
I hope you enjoy this gift, and stop by again soon!
Related Pages You May Enjoy
Laundry Tips & Tricks Everyone Can Use
Tips For Speed Cleaning The Bathroom
Go From Tips For Cleaning & Washing Bath Mats To Home Page
CAUTION: This website is provided for informational purposes only. It is provided as is, without warranties or guarantees. Some stains and messes just won't come out, and are permanent. Further, some cleaning methods can harm your item, so if what you want to clean or launder is sentimental or expensive call a professional. See disclaimer of liability for more information.