Upholstery Stain Removal Tips
Upholstery stain removal is a science, more than an art, because once you know what the stain is you know there is a certain type of upholstery cleaner to use to remove it.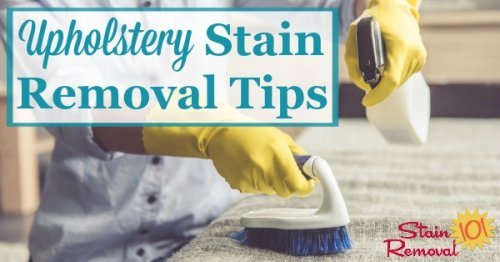 The key is knowing which type of cleaner or stain remover to use, which depends on (1) the type of upholstery and (2) the type of stain.
Type Of Upholstery: Look At The Tag
To know what types of upholstery cleaner can be used on your upholstery look at the upholstery cleaning tag code.
If your code says "W" you can use a water based cleaner on the upholstery, and if it says a "S" you can use a water-free product, such as a dry cleaning solvent.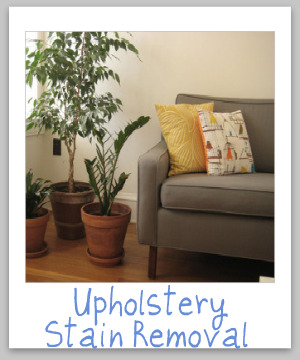 If it says "WS" you can use either a water based cleaner or a dry cleaning solvent -- whichever is more appropriate for the type of stain you are trying to remove from the upholstery.
Hint: If your code says "X" do NOT use any of the cleaners below, because it means only a professional should clean your upholstery.
Here are reviews of upholstery cleaners, to help you find the best one for the job.
Type Of Stain On Your Upholstery
Once you figure out what types of upholstery cleaners you can use on your upholstery, next you need to know the type of stain you have on your upholstery.
Below is a video which provides helpful tips for removing stains from upholstery for certain broad categories of stains.
Each group of stain is treated slightly differently:
Most food and beverage stains - use a solution of 2 cups cool water plus one tablespoon of liquid dishwashing liquid.
Note, there are some notable exceptions to this. For specific instructions on specific stains please consult the A-Z Stain Removal Guide which lists all kinds of stains from avocado to zucchini, and lists specifically what kind of upholstery cleaner to use for the stain.
Berry and fruit stains - use a solution of 1 tablespoon of white vinegar plus two-thirds of a cup of rubbing alcohol.
Greasy and oily stains - first absorb as much of the oil or grease as possible by sprinkling the area with cornstarch or baking soda and letting it sit for approximately 15-20 minutes, and then vacuum up with the upholstery attachment on your vacuum cleaner.
Then, remove the remaining stain with dry cleaning solvent.
I hope these upholstery stain removal tips help you out.
For more information to assist you in removing stains on your upholstery review other areas of the site including the A-Z stain removal guide, the fabric care guide, and instructions for how to clean upholstery.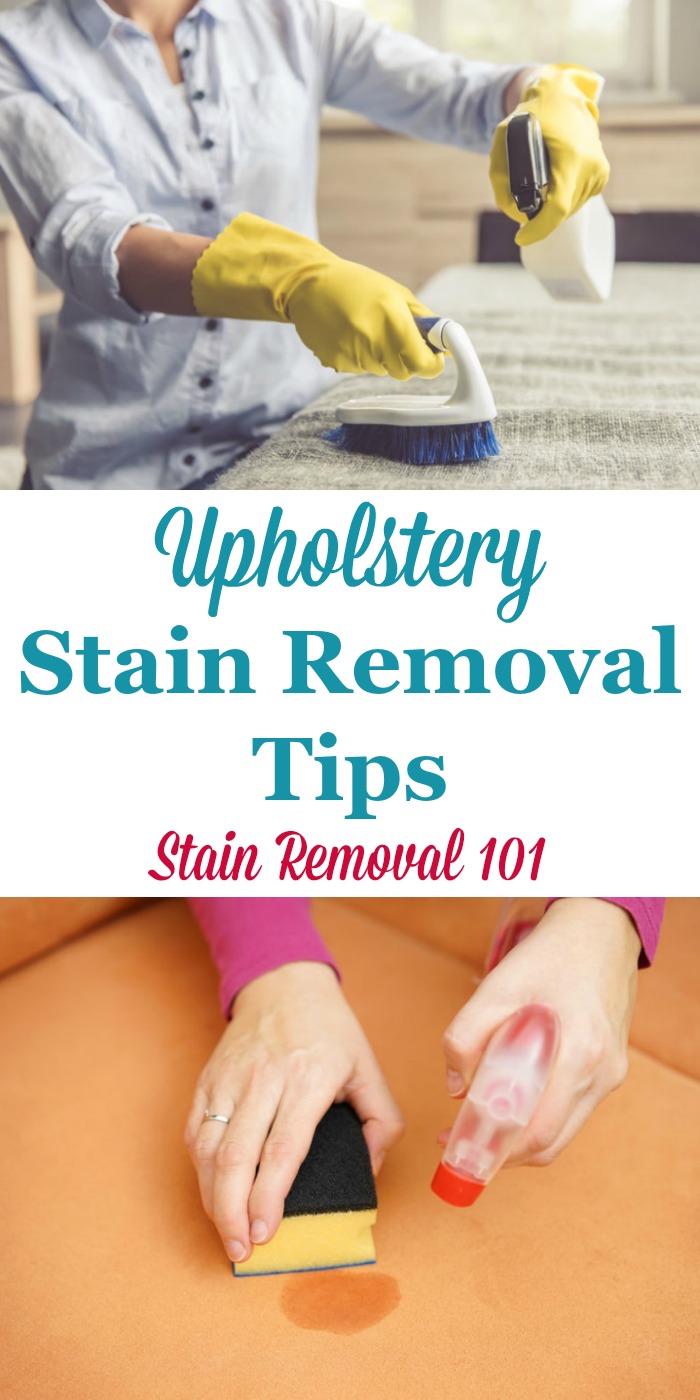 Photo by back garage from Flickr Creative Commons
Thanks For Visiting My Website: Grab Your Free Gift!

Hi, I'm Taylor, a busy mom with 3 kids, so I have lots of hands on experience with house cleaning, laundry and my fair share of spots, spills and other messy catastrophes. Thanks for visiting my site.
I update the website all the time with tips, tutorials, cleaning recipes, reviews of products from readers like you, and tests I've done on various cleaners, removers and laundry supplies.
I'd love to give you a gift! When you subscribe to my free weekly newsletter you will receive a free printable laundry stain removal chart that you can reference as needed.
I hope you enjoy this gift, and stop by again soon!
Related Pages You May Enjoy
How To Clean Upholstery Stains
Go From Upholstery Stain Removal Tips To Home Page
CAUTION: This website is provided for informational purposes only. It is provided as is, without warranties or guarantees. Some stains and messes just won't come out, and are permanent. Further, some cleaning methods can harm your item, so if what you want to clean or launder is sentimental or expensive call a professional. See disclaimer of liability for more information.