Upholstery Dry Cleaning Tips: How To Spot Clean Dry Clean Only Upholstery Fabric
Upholstery dry cleaning is the only method you should use on certain upholstered furniture stains and spots, depending on the type of fabric you've got on your furniture.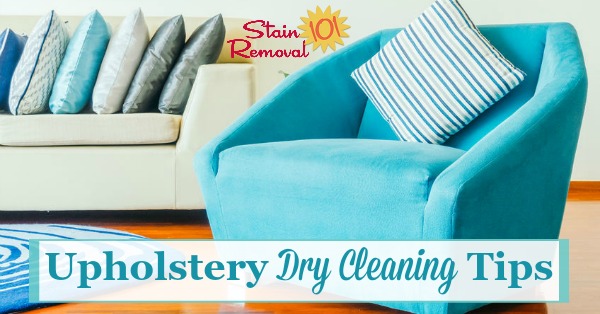 Not all upholstery fabric is made alike, and some fabrics can be cleaned only with water, others only with dry cleaning solvent, and others with either water or solvent.
How To Tell Which Methods Are Safe For Spot Cleaning Your Upholstery
Don't know what is safe to clean your upholstery with? Well, most manufacturers make this quite simple to find out, actually. All you do is look at the tag on your furniture, and it will tell you.
A "W" means you can clean it with water-based cleaners only, an "S" with solvent-based cleaners only, and a "WS" means you can use either one.
The rest of this article is about how to proceed when your upholstery has an "S" code, since dry cleaning solvent upholstery cleaning has its own tips and techniques that are different than the more common water based cleaning methods.
Decide Whether To Call In A Professional
The first thing you need to decide is whether you actually want to tackle your upholstery dry cleaning job yourself, or call in a professional.
Typically, any upholstered items whose tag requires a solvent only cleaner, or says something like "dry clean only" means it is a pretty expensive piece of furniture. Any time you do something yourself you take the risk into your own hands that you may ruin something, so you need to decide whether you want to do that or not.
Further, the more surface area you have to clean the more I would encourage you to just call a professional. The methods listed below are best for spot cleaning a small spill or stain, not cleaning an entire piece of furniture that has accumulated general dirt and grime over the years. If you need the latter just call a professional.
However, if you want to try to proceed to clean your own spot or small spill, after weighing the pros and cons, read on for tips for how to do it as safely as possible.
Gather Your Upholstery Dry Cleaning Supplies
The first thing to do is to gather the appropriate supplies for the job. Many readily available upholstery cleaners are actually water-based cleaning products, so read the labels carefully to make sure the product you choose is a "dry" upholstery cleaner.
I personally recommend using dry cleaning solvent, since it has lots of versatile stain removal uses not only for upholstery, but also for carpet and clothing too.
You can read my entire article on dry cleaning fluid (see the link above) if you want to learn more about it. Don't be confused by the fact that it is in liquid form. The word "dry" in this instance means it does not contain water, but instead is another type of solvent instead. I recommend Guardsman Dry Cleaning Fluid, although there are many other varieties available, including several in powder form made specifically for upholstery.
Here are some dry upholstery cleaner products you can choose from:
If you find one that worked really well for you (or that didn't work as well as promised) I would love for you to share your upholstery cleaners review here.
Steps For Safe & Effective Upholstery Dry Cleaning
Once you have the right tools it is time to begin cleaning your spot or stain. Here are the steps to take. Make sure, if possible, to work in a well ventilated area, since many of these dry cleaning solvents can have quite a strong smell.
1. Vacuum first - The first step is to vacuum your upholstery thoroughly, especially wherever the spot of stain is located. When you vacuum first you will remove any loose dirt and dust which could otherwise make a sort of mud or sludge which is hard to clean up and can make the spot worse.
2. Test the cleaner in an inconspicuous area - Next, test the dry cleaner you've chosen in an inconspicuous area of the upholstery, such as under a cushion, to make sure it does not harm your fabric before you use it directly on the spot or stain.
3. Apply a small amount of dry cleaning solvent with a white cloth - Each cleaner is slightly different so be sure to read the directions on the one you choose, but typically with dry cleaners a little goes a long way. It is typically best to apply a small amount to a cloth and then blot at the spot or stain with it, onto the upholstery fabric, instead of applying directly onto the upholstery itself.
4. Keep blotting - It may take a while, but blotting (not rubbing) is the best method for upholstery dry cleaning spots and stains. Keep at it, but make sure not to saturate the upholstery with too much solvent.
5. Blot up as much solvent as possible once the stain or spot is removed - You can't rinse out the solvent now that the stain is removed, since this is upholstery after all, but sometimes these solvents can leave a ring around the treated area if as much of it is not removed as possible. To avoid this use a new, slightly damp cloth to wick up as much solvent as possible from the area and let it dry thoroughly.
I hope these upholstery dry cleaning tips have helped you remove some spots and stains from your dry clean only upholstery. Tell me in the comments how it worked for you, or if you have any additional tips or ideas.
Thanks For Visiting My Website: Grab Your Free Gift!

Hi, I'm Taylor, a busy mom with 3 kids, so I have lots of hands on experience with house cleaning, laundry and my fair share of spots, spills and other messy catastrophes. Thanks for visiting my site.
I update the website all the time with tips, tutorials, cleaning recipes, reviews of products from readers like you, and tests I've done on various cleaners, removers and laundry supplies.
I'd love to give you a gift! When you subscribe to my free weekly newsletter you will receive a free printable laundry stain removal chart that you can reference as needed.
I hope you enjoy this gift, and stop by again soon!
Related Pages You May Enjoy
How To Clean Upholstery Of Spots, Stains & General Dirt
Go From Upholstery Dry Cleaning Tips To Home Page
CAUTION: This website is provided for informational purposes only. It is provided as is, without warranties or guarantees. Some stains and messes just won't come out, and are permanent. Further, some cleaning methods can harm your item, so if what you want to clean or launder is sentimental or expensive call a professional. See disclaimer of liability for more information.