Seventh Generation Disinfecting Multi Surface Wipes Review
by Taylor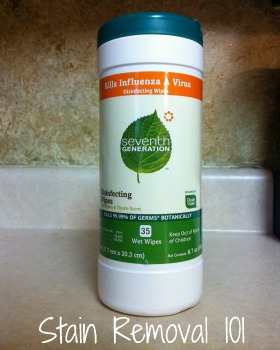 I bought and used an entire container of Seventh Generation disinfecting multi-surface wipes in my home, just to provide this review for you guys.


Normally my family is pretty on-board with the testing, and I just tell them when we're starting a new brand for testing to remember to tell me what they think of it if they happen to use it too, so I can report not only what I think but also what they think.
Well, thank goodness we only had to use 35 of these wipes, because I heard the same complaint every single time someone needed to use one in the
kitchen
or
bathroom
-- they would say, "do I have to?" And frankly, I thought the same thing.
We used the lemongrass and thyme scent, which is the only scent available, and it STINKS.
These wipes are advertised as a botanical way to kill 99.99% of germs, including the Influenza A virus.
The active ingredient on the package is listed as "Thymol," which is a disinfecting agent made from "botanically pure plant extracts."
I'm all for finding a natural disinfecting cleaner to replace my
homemade disinfectant recipe which uses chlorine bleach
, and like
eco-friendly cleaners
in general.
In addition, I typically have liked the
Seventh Generation cleaning products
I've tried. However, one of the things about the brand I like is that they have so many "free and clear" products, and these disinfecting wipes do not qualify as that!
Basically, these eco-friendly disinfecting wipes use the power of specific
essential oils
to disinfect naturally, and you just can't take the smell away from a product like that.
The problem is the scent is powerful, not in my personal opinion pleasant, and lingers for a long time both on the surface I wiped and on my hands.
I stopped letting my son use them to clean up messes because I was afraid he'd break out from the strong scent, since he tends to get allergic reactions, and I admit I would get a bit of a tickle in the back of my throat when I used them too.
On the bright side, if you can get past the smell (which I don't think my family can)
they worked really well, similar other disinfecting wipes I've tried. They were moist, and held up well to scrubbing.
To actually disinfect with them the instructions on the package state that you must wipe the surface and let it sit for 10 minutes, letting it air-dry, since it doesn't kill the germs immediately on contact but must have time to work (this is normal for all disinfectants, not just natural ones).
The touted advantage to using this natural version is that you don't have to rinse surfaces after using them, like you do with some other disinfecting wipes brands. However, the instructions do caution a rinse is still required for direct food contact surfaces, so really it isn't as rinse-free as some people claim, I guess.
There is also a spray version of this disinfecting product, if you don't want to use wipes. You can
read reviews of Seventh Generation disinfectant spray here
.
Overall, I know my family will not be using these wipes again since we just can't get past the smell. However, if you don't mind the scent they may be a good eco-friendly alternative you may like to try.
As with most Seventh Generation and other green cleaning products, these disinfecting wipes cost more than the non-green varieties, so be prepared to pay a premium for natural.
Has anyone else used this brand, or any other brand of disinfectant wipes and wish to share their opinions and experiences with it? If so, you can
share your disinfecting wipes review here
, or read other reviews that have already been shared.
Plus, if you only want to use natural products, then check out my
natural disinfectants reviews page
.
***Update: I compared these wipes to the
Scotch Brite botanical disinfecting wipes
in a review, to see if they were better, but unfortunately they were about the same, at least in the lemongrass scent. You can click the link to read my entire review.***
In addition, you can
share your Seventh Generation cleaning products reviews here
, or read others that have already been submitted.
Related Links At Stain Removal 101
Earth Friendly Cleaning Products: Which Brands Work Best?
House Cleaning Supplies Reviews
Go From Seventh Generation Disinfecting Multi-Surface Wipes Review To Stain Removal 101 Home Page
Thanks For Visiting My Website: Grab Your Free Gift!

Hi, I'm Taylor, a busy mom with 3 kids, so I have lots of hands on experience with house cleaning, laundry and my fair share of spots, spills and other messy catastrophes. Thanks for visiting my site.
I update the website all the time with tips, tutorials, cleaning recipes, reviews of products from readers like you, and tests I've done on various cleaners, removers and laundry supplies.
I'd love to give you a gift! When you subscribe to my free weekly newsletter you will receive a free printable laundry stain removal chart that you can reference as needed.
I hope you enjoy this gift, and stop by again soon!
CAUTION: This website is provided for informational purposes only. It is provided as is, without warranties or guarantees. Some stains and messes just won't come out, and are permanent. Further, some cleaning methods can harm your item, so if what you want to clean or launder is sentimental or expensive call a professional. See disclaimer of liability for more information.