Guide To Cleaning Garage Floors
Here are tips and tricks for cleaning garage floors in your home, both for regular maintance and removing stains caused by automotive drips and spills.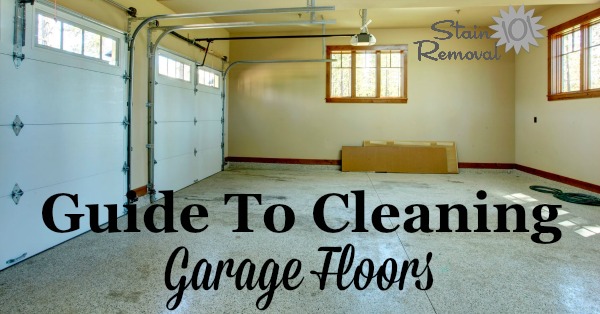 The first question you may be asking yourself, though, is why would you want to clean these floors at all? After all, it's just a garage.
My response is that if you go through the process of organizing your garage and clearing the floor of clutter, you might just begin to notice how dirty and stained it truly is.
Plus, even if you don't personally care, if you've got to sell your home having those stains and dirt ground into the concrete doesn't look good to potential buyers.
Therefore, here are step by step instructions for cleaning garage floors, in case you ever need to know how.
Step 1: Sweep Or Vacuum To Remove Dust & Loose Debris
Every couple of months you should sweep or vacuum your garage floor. That is really the only maintenance it needs on a regular basis.
You may need to do more frequent sweeping in the winter though, as salt is brought into the garage on your car's tires, and on your own feet, from snow and inclement weather.
Step 2: Wash Entire Floor With A Heavy Duty Cleaner & Degreaser
The problem with garage floors is that they don't just get normal dirt and mud on them, but because we park our cars over them they also get all types of automotive stains.
These stains range from oil and grease, anti-freeze, brake fluid, and transmission fluid to name a few.
Whether you've got a slow drip or a flood of fluids coming from underneath your car it can cause a mess quite quickly.
There are two main ways to go about cleaning up these stains, which involve either making your own heavy duty cleaner and degreaser, or buying one suited to the purpose.
Home Remedy For Removing Oil & Grease Stains From Concrete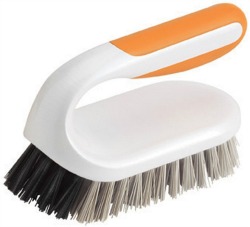 Use a stiff brush to scrub the cleaner into
the floor to remove the stains
[Click to purchase scrub brush on Amazon.com]
Many garage floors (but not all) are made of concrete, and since it is a pourous surface it absorbs grease and oil easily, and stains.
To clean these stains yourself you can clear the garage floor and sprinkle dishwasher detergent powder (in its dry form) onto the stained areas, letting it sit for approximately 45 minutes to an hour.
Then, pour a very small amount of boiling water onto the area making a thin paste. Once the water cools enough not to burn you use a stiff brush to scrub the cleaner into the stained area.
You'll need to use a lot of elbow grease, and keep scrubbing until you can't see anymore of the stain lifting.
Then, rinse the floor thoroughly, and repeat the process a couple more times until the stain is completely removed.
You can check out even more dishwashing detergent uses here for cleaning your home and removing stains, for more ideas of how to use this common product for making your own homemade cleaners.
Using A Garage Floor Cleaner Designed For Cleaning And Degreasing
If you don't want a do it yourself remedy, you can also use a heavy duty cleaner degreaser, designed for garages, to do the job.
I have some cleaner degreaser reviews here on the site, but I'll caution that garage floor cleaners are really in a league of their own.
There are a lot of products on the market, including the one I've linked to below.
All of these products are quite strong, especially in their undiluted form, but this may be necessary to remove the automotive stains from your concrete or garage floors.
CAUTION: Be careful not to buy a product that both cleans and etches concrete for cleaning garage floors unless you plan to apply a protective coating to your floors when you're done.
You can find even more tips for removing oil stains from concrete here.
Step 3: Rinse Floor
Finally, with whatever method you choose for cleaning the floor you'll need to rinse your floor to remove the cleaning residue after you've cleaned it.
That's why it's a good idea to clean your floor after you've decluttered and removed things from off the ground, so you don't accidentally get anything wet while rinsing.
Consider Protecting Your Garage Floor From Future Leaks And Spills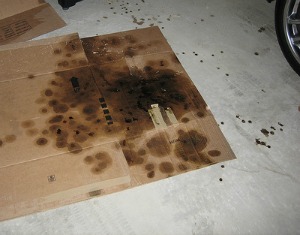 Place a mat or cardboard down on the floor if you
believe leaks are possible to protect the floor
as much as possible
Once you've gone to all the trouble to have a clean garage floor, you'll most likely want to keep it that way.
There are a lot of options you can consider to keep your floor protected, including garage floor coatings such as epoxys and paints, as well as other types of protectors and coatings.
Make sure whatever you choose is designed specifically for use in the garage because the heat emitted from your car and the tires, as well as the tremendous weight of the car rolling over the surface need to be taken into consideration.
Do You Have More Tips For Cleaning Garage Floors?
Although these are my tips for how to clean your garage floors, there are typically lots of good ways to accomplish any cleaning or household task, and this is no exception. That's why I'd love to hear your tips and tricks, or what methods you've used.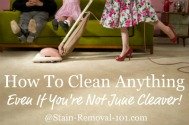 You can share your tips here. You can also click this link to read other tips from around my website that other readers have already submitted.
Further, this post is part of a series called "How to Clean Anything, Even if You're Not June Cleaver." I hope this series will become a good resource for you, with instructions on many different cleaning projects around your home.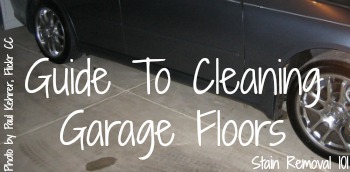 Want More Inspiration For Your Garage?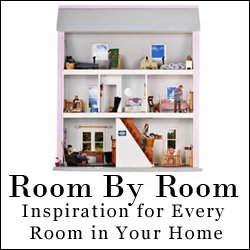 I'm honored to be part of a great group of blogging ladies who all discuss topics from around our homes. Each month we choose a different room as our theme, so we can all get some inspiration in this area of our homes. We call it the Room by Room Inspiration for Every Room in Your Home.
This month each of us is discussing some aspect of the garage. Please check out these other great blog posts from the group:
Fourth image courtesy of Amazon, showing use of Rustoleum degreaser product, fifth and seventh photos by Paul Kehrer
Thanks For Visiting My Website: Grab Your Free Gift!

Hi, I'm Taylor, a busy mom with 3 kids, so I have lots of hands on experience with house cleaning, laundry and my fair share of spots, spills and other messy catastrophes. Thanks for visiting my site.
I update the website all the time with tips, tutorials, cleaning recipes, reviews of products from readers like you, and tests I've done on various cleaners, removers and laundry supplies.
I'd love to give you a gift! When you subscribe to my free weekly newsletter you will receive a free printable laundry stain removal chart that you can reference as needed.
I hope you enjoy this gift, and stop by again soon!
Related Pages You May Enjoy
How To Clean Anything In Your Home Even If You're Not June Cleaver
Go From Guide To Cleaning Garage Floors To Home Page
CAUTION: This website is provided for informational purposes only. It is provided as is, without warranties or guarantees. Some stains and messes just won't come out, and are permanent. Further, some cleaning methods can harm your item, so if what you want to clean or launder is sentimental or expensive call a professional. See disclaimer of liability for more information.