Xtra Nice 'N Fluffy Fabric Softener Review - Didn't Make Clothes Feel Soft
by Heidi
(Illinois)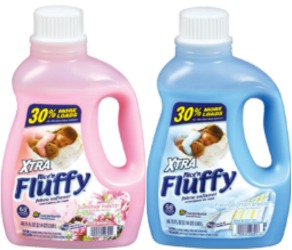 Summer Fiesta and Fresh Cotton Breeze Scents
Heidi has shared her Xtra Nice 'N Fluffy fabric softener review.
Heidi says:
In an effort to economize while still having fresh smelling and soft laundry I decided to try Nice and Fluffy Fabric Softener. Needless to say, I was less than thrilled with the results. I tried two scents...the Cotton Breeze and Summer Fiesta.
Cotton Breeze left behind a beautiful, fresh smell and there was no static, but the clothes were no where close to soft. I have had laundry come out softer with no Fabric Softener of any kind or with
Vinegar
. It was very disappointing as it truly did smell wonderful.
Summer Fiesta left no static, but hardly any smell at all and once again...clothes were not soft.
They will not go to waste though. I shall use them for
window/glass cleaner
and
dusting and polishing fluid
. Basically you add a couple teaspoons to a 32oz spray bottle of water and you clean your windows and mirrors with it, and use it to dust your furniture and electronics. It actually does work...and since I have two almost full bottles of fabric softener at my disposal, I will be sure to have plenty of cleaner for some time.
My fabric softener search continues.
Taylor says:
Thanks Heidi for sharing your review of Xtra Nice 'N Fluffy fabric softener, but sorry it disappointed you.
I did a little research about
these brand of liquid fabric softener after you sent me in this review, and found out it is made by the same company that makes
Xtra laundry detergent
. There are four scents of the fabric softener available, Lavender & Sweet Vanilla, Mountain Rain, Fresh Cotton Breeze, and Summer Fiesta, all of which coordinate with a scented variety of the detergent.
I did find it interesting that they don't make a Nice and Fluffy tropical passion scented fabric softener though, since at least from reviews I've received, this is the most popular scent of the detergent.
Has anyone else used this brand of liquid fabric softener? If so, I would love to hear your opinions about it too, good or bad. You can
share your fabric softener review here
, or
read more reviews of other brands already submitted here
.
In addition, thanks Heidi for sharing how you'll use the fabric softener even though you won't be using it in your laundry anymore. I basically understand how you could use it as a dusting product, but I guess I am curious how you use it to clean your windows and glass?
Most fabric softeners are oil based, and I can't see any evidence that Nice 'N Fluffy fabric softener is any exception. I would imagine if I wiped this on my mirrors, for example, even in diluted form, it would smear. Is there some trick I'm not understanding for using it for glass?
Join in and write your own page! It's easy to do. How? Simply click here to return to fabric softener.
I Like The Mountain Rain Scent
by Diana Welch
(Valparaiso,IN)
Diana shared a quick, but positive, review of this product, whereas the others (before and after) have been negative.
Diana says:
I love this product!
My clothes feel and smell great! I buy this for a lot less than other softeners.
Taylor says:
Thanks for sharing your review with me Diana.
I'm glad you've found a lower cost product you like, since in this economy that's a very good thing!
Join in and write your own page! It's easy to do. How? Simply click here to return to fabric softener.
Where Can I Find And Buy Nice & Fluffy Fabric Softener?
by Darlene Mund
Darlene's Question:
For years I have used this product by X-Tra.
I have been to every store and nobody carries it anymore.
I went on-line and found no place to call or to order. Please advise!
Taylor's Answer:
Hey Darlene, I sympathize with your problem.
I haven't personally seen this brand of softener available in stores that I frequent and I too came up empty handed when searching for it online, at least at a reasonable price and shipping costs.
I would therefore ask other readers to share in the comments where they've seen this product for sale, and hopefully someone can help you this way.
Further, if you're looking for a lower-cost product that is more readily available in store I would suggest trying
Suavitel
. Does anyone else have different low-cost brand suggestions for Darlene? If so, I'd love to hear them as well.
I've answered this question, at least to my ability, as part of the site where you can ask for laundry help. You can
ask me your own laundry questions here
, or see what types of things I've already answered.
Join in and write your own page! It's easy to do. How? Simply click here to return to fabric softener.
Nice N Fluffy Fabric Softener Caused Allergic Reaction Plus They Have Bad Customer Service
by SR101 Reader
An SR101 reader wrote in to share with me her experience with this low-cost fabric softener, and her experience with the manufacturer's customer service once she had a problem with it.
SR101 reader says:
I purchased Nice N' Fluffy fabric softener for the first time, and when I wore the clothes that had the fabric softener on it I broke out in a full body rash.
I bought Benadryl on the way home, dying to get out of those clothes, and had to rewash all the clothes I could think that would have the softener on it.
Today I called the customer service # and spoke with a rep named Shanae and she could not provide me with an ingredient list, after making me wait on hold for 10 minutes. She transferred me to her supervisor Shannon, who also put me on hold another 10 min. And still no ingredient list.
They don't know what is in it. So I did a little research and spoke with someone in Corp. Don't want to divulge his name, and he assured me that I would get a call back. Well about an hour later, I got a call from someone in charge of Customer Relations, and she said unfortunately she does not have an ingredient list to this particular product, and the person who would have it is gone for the day. And when she has it, she will email it or call me.
She at least offered a refund and to reimburse me for the Benedryl. However, I did mention to all those I spoke to, what if someone swallowed this? No one has the ingredients to provide to poison control or the hospital.
If it made me have such a bad skin reaction and no one has the ingredients to this very product, it is bad news. I'm very concerned.
Taylor says:
Thanks for sharing your experiences with this fabric softener with me.
I am getting more and more reviews from readers who are sharing with me not only their
laundry detergent allergies
, but also their reactions to other scented
laundry supplies
.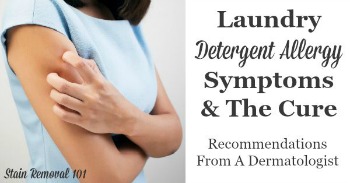 If anyone has a review of a hypoallergenic fabric softener or dryer sheets, I would appreciate receiving them to help people that want to use there products without as much fear of allergic reactions. You can
share your fabric softener review here
, and your
dryer sheets review here
.
Further, here are the
hypoallergenic laundry supplies reviews on the site already
.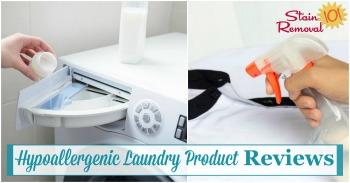 In regards to your customer service problems with the manufacturers of Xtra Nice N' Fluffy I'm really sorry to hear about that. It is always frustrating to get the run around.
Frankly, I'm pretty surprised though, because this product is manufactured by Church & Dwight Co., which also makes
Oxiclean
and Arm & Hammer products, among other things.
I suggest looking for the MSDS (Material Data Safety Sheet) for any product you may want to know the ingredients on. It still isn't going to provide all the details, but it will give more information than the ingredients list on the package of the product itself, typically.
I'm sorry I wasn't able to help you find anything either, but you are right, they should have all these MSDS's available for consumers to review if needed. If you hear anything back from the customer service rep I would love to hear an update.
You can check out more
laundry supplies reviews here
.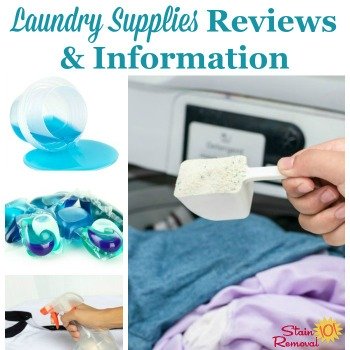 Related Pages You May Enjoy
Lots Of Homemade Cleaners Recipes
Laundry Tips And Tricks For Busy Moms
Go From Xtra Nice N' Fluffy Fabric Softener Reviews To Home Page
Thanks For Visiting My Website: Grab Your Free Gift!

Hi, I'm Taylor, a busy mom with 3 kids, so I have lots of hands on experience with house cleaning, laundry and my fair share of spots, spills and other messy catastrophes. Thanks for visiting my site.
I update the website all the time with tips, tutorials, cleaning recipes, reviews of products from readers like you, and tests I've done on various cleaners, removers and laundry supplies.
I'd love to give you a gift! When you subscribe to my free weekly newsletter you will receive a free printable laundry stain removal chart that you can reference as needed.
I hope you enjoy this gift, and stop by again soon!
CAUTION: This website is provided for informational purposes only. It is provided as is, without warranties or guarantees. Some stains and messes just won't come out, and are permanent. Further, some cleaning methods can harm your item, so if what you want to clean or launder is sentimental or expensive call a professional. See disclaimer of liability for more information.