Top Valentine's Day Stains
& How To Remove Them
Here's a list of the top 7 types of stains you're likely to encounter as a result of Valentine's Day, and how to remove them.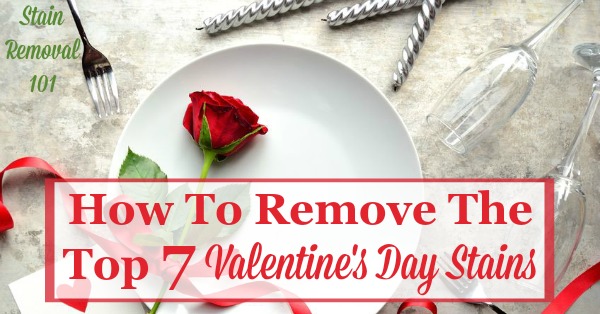 Valentine's Day is a celebration of love, and also friendship. Even with romance in the air though some of these stains can get quite messy.
Here's some tips for making the day lots of fun without worry!
1. Candle wax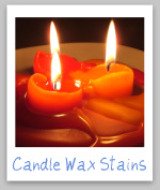 If you have a romantic candlelit dinner for two, drips of wax are unfortunately a real possibility, either on your clothes, tablecloth or even carpet.
Here's tips for removing candle wax so you can light all those romantic candles without fear.
2. Chocolate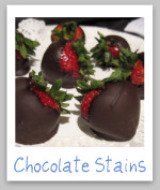 Your Valentine's Day sweetheart may present you with a box of chocolates, so dig in and enjoy every morsel.
Plus, if you've got kids you know they always get lots of candies and treats at their school's Valentine party, and can come back a huge mess.
No matter the source here's tips for removing chocolate to keep those sweet confections from becoming a disaster.
3. Glue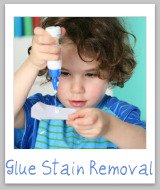 At first I didn't think about glue when I was thinking of the top stains for this page, but then I worked with my kids on creating their Valentine's Day cards for their friends and family. Then, I concluded that removing white glue stains was actually quite important on this holiday!
I swear, kids can get this stuff everywhere, can't they?
Here's the instructions for glue stain removal when you do lots of crafts for this holiday, with or without kids.
4. Lipstick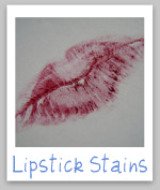 Getting back to the idea of romance, lipstick stains are a real possibility on this day.
It's fun to get dressed up for a nice date night, but make sure no permanent evidence is left from your night on the town with these instructions.
Plus, here's a collection of tips for removing makeup stains, in case you've got other similar types of spots and messes.
5. Perfume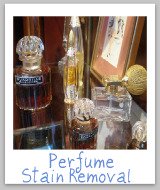 Another romantic type of stain is from perfume.
Be careful when applying or spraying this onto yourself when getting ready for your romantic rendezvous, but if an accident occurs now you'll now how to get everything cleaned back up!
6. Red Wine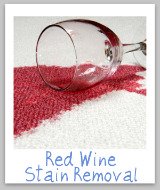 After you've gotten all dressed up and are sitting down for your romantic meal a nice glass of wine is definitely a treat.
Of course, it is way too easy to spill it all over your clothes, carpet, or just about anything else. Here's instructions for removing red wine from all types of surfaces.
7. Strawberries
Strawberries and chocolate (or champagne) is a fun tradition on this holiday. However, as with any berry they can make quite a mess if dropped on something.
Here's step by step instructions for strawberry stain removal so you can enjoy this treat.
In addition, make sure to check out the A-Z Stain Removal Guide if you've got any other types of food stains for just the right instructions for removing them. After all, I've got over 100 pages!
I wish everyone a happy and stain free Valentine's Day! Enjoy!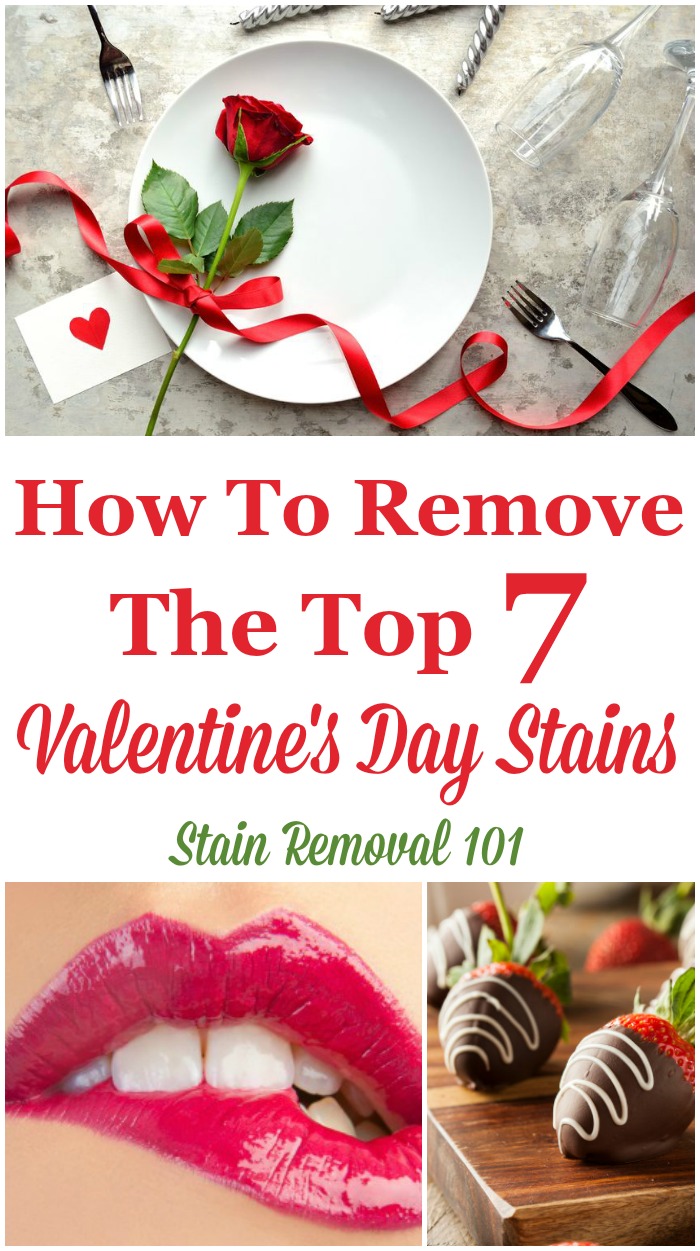 Thanks For Visiting My Website: Grab Your Free Gift!

Hi, I'm Taylor, a busy mom with 3 kids, so I have lots of hands on experience with house cleaning, laundry and my fair share of spots, spills and other messy catastrophes. Thanks for visiting my site.
I update the website all the time with tips, tutorials, cleaning recipes, reviews of products from readers like you, and tests I've done on various cleaners, removers and laundry supplies.
I'd love to give you a gift! When you subscribe to my free weekly newsletter you will receive a free printable laundry stain removal chart that you can reference as needed.
I hope you enjoy this gift, and stop by again soon!
Related Pages You May Enjoy
Top 10 Tips For Removing Stains Plus Glossary Of Techniques
Go From How To Remove Top Valentine's Day Stains To Home Page
CAUTION: This website is provided for informational purposes only. It is provided as is, without warranties or guarantees. Some stains and messes just won't come out, and are permanent. Further, some cleaning methods can harm your item, so if what you want to clean or launder is sentimental or expensive call a professional. See disclaimer of liability for more information.