How To Remove The Top 10 Thanksgiving Stains
Here's a guide to removing the most common types of Thanksgiving stains so you can stop worrying about clean up and just enjoy the day itself, and the rest of your long weekend.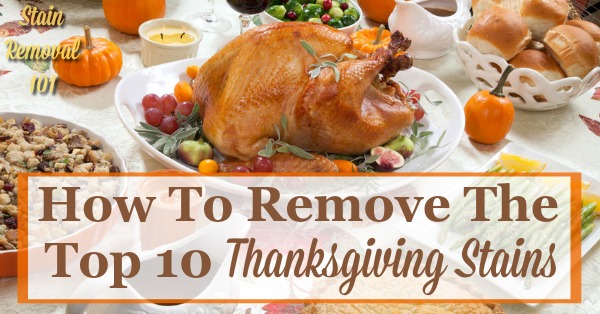 Of course the main part of Thanksgiving day is the big meal, and the celebrations surrounding eating (and drinking). Therefore, most of the common stains we get on this holiday have to do with food stains.
There are a couple of different kinds of stains, including greasy stains, tannin based stains, and protein based stains. There are also a couple of miscellaneous stains that aren't food related at all, like candle wax.
Here's a list of the pages in the A-Z Stain Removal Guide where you can get step by step instructions for how to remove these stains from your laundry, upholstery and carpet.
Greasy Thanksgiving Stains
Butter:
Butter is an integral part of any Thanksgiving feast, from buttering the rolls to adding it to many dishes. Any time you have melted butter though there is always a danger that you'll get drips everywhere.
The key to dealing with butter stains is to treat them quickly, and to remove the grease which you can't do with water alone. Instead, use a dab of dish soap, rub it into the stain, and then rinse away the soap and grease at the same time.
You can learn more about butter stain removal here.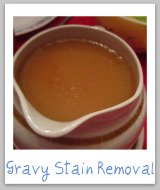 Gravy:
Gravy, by its very nature, just seems to get everywhere from a sleeve dipped in it, to the tip of your holiday tie, not to mention a little spill or two on the table linens.
Gravy is known as a "combination stain," because it contains grease and protein within it. Of course, the part that seems to stain more is the greasy part, so that's why I've placed it in this section.
You can learn how to remove gravy stains here.
Tannin Based Thanksgiving Stains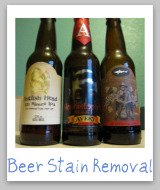 Beer:
Beer is often at family celebrations, and that includes Thanksgiving. But, as with any time beer is around some is prone to spilling on clothes, the couch or the carpet.
Don't let some spilled beer ruin your good time with your family and friends. Instead, follow these instructions for removing beer stains here.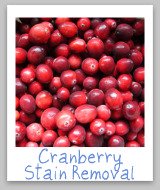 Cranberry:
What would Thanksgiving day be without cranberry relish, cranberry sauce, or cranberry jelly?
No matter how you eat your cranberries though, they can be messy and leave a big bright red stain on table cloths, clothes, carpet and more.
The secret to berry stains is to treat them quickly, to make sure they color doesn't set. You can get step by step instructions for removing cranberry stains here.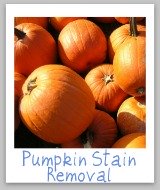 Pumpkin:
Another Thanksgiving day staple is pumpkin pie, and along with the pie comes some bright orange stains.
Although I've classified pumpkin stains as being tannin based, they are actually another classic example of combination stains once the pumpkin has been mixed with other ingredients, such as is the case when discussing pumpkin pie.
Here are the instructions for pumpkin stain removal, whether you've stain clothing, upholstery or carpet.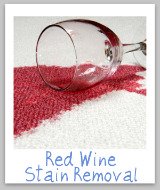 Red wine:
Along with beer, another classic Thanksgiving drink is a nice glass of wine with, or after the meal.
As you can see from the picture, however, if this stuff drips or spills it makes quite a mess on whatever it touches.
These are some of the toughest stains to remove, especially if you don't act quickly and have the right stain fighting supplies on hand. Here are the instructions for red wine stain removal to help you with this tricky stain.
Sweet potato:
Yet another of the classic Thanksgiving stains you need to watch out for is the orange stain caused by sweet potatoes.
Pumpkin and sweet potato stains look quite similar, but fortunately you don't have to be able to distinguish them since they are removed in just about the same way.
Because these stains are so bright, though, it is best to deal with them as quickly as possible before they spread or set. You can get instructions for sweet potato stain removal here.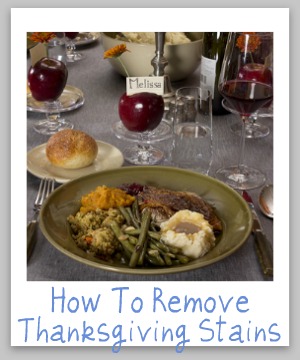 Protein Based Thanksgiving Stains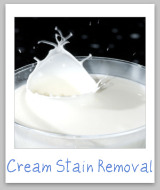 Cream:
Just like no Thanksgiving dinner is complete without butter, the same can be said for cream. Generally, though, the cream is not served on its own but is incorporated into various dishes and dessert toppings.
All protein based stains, such as cream should be initially treated with cold water, and not warm or hot water, so you don't set the stain.
You can read directions for how to remove cream stains here.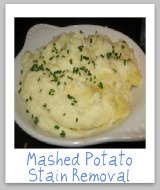 Mashed potato:
White potatoes (unlike sweet potatoes) don't typically stain things.
Instead, what stains if you plop a little mashed potato on yourself is the butter and cream within the potatoes. This is, therefore, a classic combination stain that can tricky to treat because protein based stains should be treated with cold water, whereas greasy stains are best removed with hot water.
Get directions for mashed potato stain removal here, to learn how to deal with this quandry.
Non-Food Based Stains For Turkey Day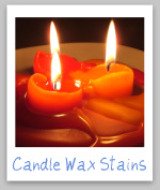 Candle wax:
The final of the common Thanksgiving stains is candle wax. Candles are notorious for dripping in all the wrong places while creating a nice ambience for a traditional Thanksgiving meal.
Candle wax is also a trick stain to remove, since it involves both removing the wax itself and also the stain that colored wax can leave behind on the fibers. Here are instructions for candle wax stain removal to help you with both issues.
I hope each of you has a wonderful Thanksgiving day this year filled with happy memories and good food, and few Thanksgiving stains!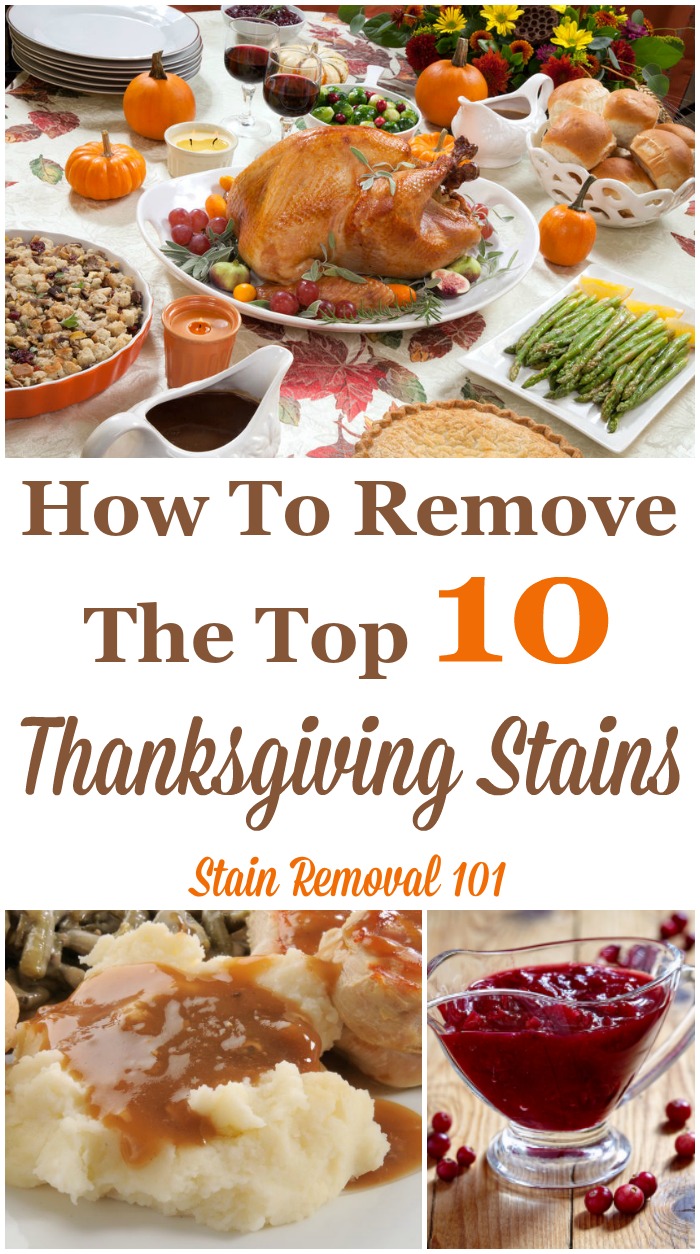 Middle Thanksgiving dinner photo by dinnerseries
Thanks For Visiting My Website: Grab Your Free Gift!

Hi, I'm Taylor, a busy mom with 3 kids, so I have lots of hands on experience with house cleaning, laundry and my fair share of spots, spills and other messy catastrophes. Thanks for visiting my site.
I update the website all the time with tips, tutorials, cleaning recipes, reviews of products from readers like you, and tests I've done on various cleaners, removers and laundry supplies.
I'd love to give you a gift! When you subscribe to my free weekly newsletter you will receive a free printable laundry stain removal chart that you can reference as needed.
I hope you enjoy this gift, and stop by again soon!
Related Pages You May Enjoy
Top 10 Tips For Removing Stains Plus Glossary Of Terms And Techniques
Top 10 Halloween Stains And How To Remove Them
Holiday Stain Removal Tips Video
Go From Guide To Removing Thanksgiving Stains To Home Page
CAUTION: This website is provided for informational purposes only. It is provided as is, without warranties or guarantees. Some stains and messes just won't come out, and are permanent. Further, some cleaning methods can harm your item, so if what you want to clean or launder is sentimental or expensive call a professional. See disclaimer of liability for more information.