Suavitel Softener Review - Morning Sun Scent
by Tonya
(Idaho Falls, Idaho)
Tonya has provided her Suavitel softener review, in the Morning Sun scent.
Tonya says:
Suavitel Morning Sun liquid fabric softener comes in a yellow bottle and can be found at a local Walmart, as well as lots of other stores.
This fabric softener is a latin branded product, however it is one of the best fabric softeners that I have found in the stores.
What makes it such a great fabric softener? For one, it has a wonderful scent, which is left on the clothes after washing and drying them. I don't have to use
dryer sheets
along with my Suavitel fabric softener.
Secondly, it doesn't cause my children to break out.
Suavitel performs well as a fabric softener while keeping any allergies to a minimum. Once you try it, you won't want to do without it.
Another great thing about this fabric softener is that it comes in a wonderful variety of essences such as field flowers and lilac.
This product will surprise lovers of other brands such as
Snuggle
.
I highly recommend it to anyone who wants wonderful fragrances along with an awesome performing fabric softener. Give it a try!
Taylor says:
Thanks so much Tonya for your Suavitel softener review.
If anyone else uses this product, in any scent, in either liquid or dryer sheet form, you can
share your Suavitel fabric softener review here
.
In addition, you can
share your fabric softener review here
, for any brand, telling me what you like, or dislike about it, and why.
Join in and write your own page! It's easy to do. How? Simply click here to return to Suavitel.
Suavitel Aroma Sensations Sunset Rose Scent Review
by Mary
(Mooresville, NC)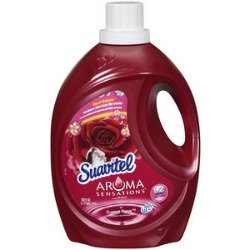 Mary provided a short review of the Suavitel softener scented like roses.
Mary says:
It smells nice, but not as good as
Downy
.
In addition, it leaves a weird film feeling on clothes. I don't know, maybe I'm just spoiled with using Downy or
Snuggle
for so many years. I bought it because it was 3 dollars less than the other brands.
Taylor says:
Thanks for sharing your review Mary. To me it seems like one of the biggest draws of this brand is the fact that it is lower in cost than the major ones.
Does anyone else have an opinion, good or bad, about this or any other fabric softener? If so, please
share your fabric softener review here
.
Join in and write your own page! It's easy to do. How? Simply click here to return to Suavitel.
I Won't Buy Suavitel Liquid Softener Again
by SR101 Reader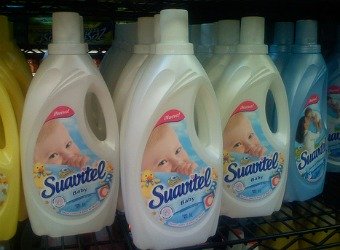 Here is another review of this fabric softener, from a reader.
SR101 Reader says:
The smell of Suavitel is awful. I opened a bottle and the smell was so strong I had to take it outside.
I have Parkinsons and my sense of smell is almost nill. If I could smell the product that strong something is wrong. They need to tone down the fragrance way down. I will not buy it again!!!!!
Taylor says:
Sorry to hear it really bothered you. I'm curious, has anyone else had an allergic or strong reaction to this fabric softener? If so, please share your experience with me.
Photo by dennis
Join in and write your own page! It's easy to do. How? Simply click here to return to Suavitel.
Suavitel Sunset Rose: I'm Hooked On This Scent
by Nell
(Arlington, TX)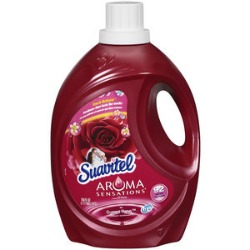 I had tried Suavitel before and it just could not compete with my Downy.

Then I tried the Suavitel Sunset Rose (reminds me of my mothers fresh cut roses). I hate you Suavitel, you have gotten me hooked and now I have aided in getting my sister hooked.

We call each other and compare notes after laundering on how we love sniffing our sheets at bedtime and our clothes after using this product (use this product and put your head down in your top/blouse/shirt during the day, you will look strange but ahhh, wonderful smell).

Now we are having a hard time finding it in our area because I think a lot of people have discovered it. The next time I find this product, I am sure to stock up. Thanks for the product.
Join in and write your own page! It's easy to do. How? Simply click here to return to Suavitel.
I'm Glad Others Like This Product Too - I Thought I Was The Only One
by Misty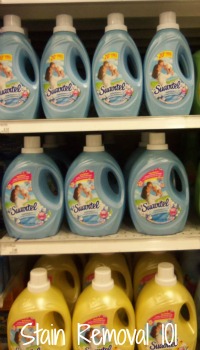 I really enjoy this product as well. What's funny is I didn't know a lot of other people did as well.

I'm doing a persuasive paper for school about a product. I could choose any product that I use. I decided to use Suavitel because I wanted others to know about it and use it, because I didn't think many people did, and they should. IT'S GREAT!!!
Join in and write your own page! It's easy to do. How? Simply click here to return to Suavitel.
Suavitel Ultra Liquid Fabric Softener Review - Field Flowers Scent
by Maria
(Chicago, IL)
Maria says:
Suavitel Ultra in the Field Flowers scent is one of the best fabric softeners I have found.
I originally bought it because it was cheap and in its blue bottle, it resembled my normal fabric softener purchase, and to my surprise, I found that it works as well as the more expensive brands and smells just as good!
I like the ultra formula because you get more loads in one bottle that is smaller and lighter than the regular fabric softener formulas and anything that is lighter and easier to pour is a plus, because I have neuropathy in my hands and have a hard time lifting even a gallon jug.
After checking out the label I was pleasantly surprised that it is manufactured by a reputable well known company, the Colgate Palmolive Company.
I have tried one other scent when the Field Flowers wasn't available and that was the Enchantment scent in the Ultra formula. I like that one, but not as much as the Field Flowers.
I've found there is need to use
dryer sheets
with a concentrated liquid softener. I used sheets for many years and was unhappy with the scent not lasting long enough.
Taylor says:
Thanks Maria for your review.
If you use this product, in either the liquid or dryer sheets form you can
share your review here
.
In addition, you can
share your fabric softener review here
, of any brand, to say why you love (or hate) it.
I will note that some readers have had
allergic reactions to this brand
. Click the link to read their stories or to share your own story if this has happened to you.
Related Pages You May Enjoy
Laundry Supplies & Products Reviews
Fabric Softener Information And How To's
Go From Suavitel Softener Reviews To Stain Removal 101 Home Page
There are affiliate links on this page, and if you purchase a product through them I receive a small commission. Purchasing through my links costs you nothing extra, but helps support the free information provided on this site and my family. To learn more please see my product review disclosure statement.
Thanks For Visiting My Website: Grab Your Free Gift!

Hi, I'm Taylor, a busy mom with 3 kids, so I have lots of hands on experience with house cleaning, laundry and my fair share of spots, spills and other messy catastrophes. Thanks for visiting my site.
I update the website all the time with tips, tutorials, cleaning recipes, reviews of products from readers like you, and tests I've done on various cleaners, removers and laundry supplies.
I'd love to give you a gift! When you subscribe to my free weekly newsletter you will receive a free printable laundry stain removal chart that you can reference as needed.
I hope you enjoy this gift, and stop by again soon!
CAUTION: This website is provided for informational purposes only. It is provided as is, without warranties or guarantees. Some stains and messes just won't come out, and are permanent. Further, some cleaning methods can harm your item, so if what you want to clean or launder is sentimental or expensive call a professional. See disclaimer of liability for more information.