Snuggle Free & Clear Dryer Sheets Review
by Liz
(Plainfield, IL)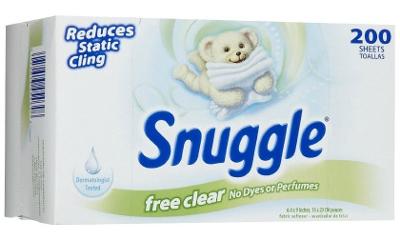 Liz shared her Snuggle Free & Clear review of these dryer sheets.
Liz says:
My 5 year old son, who has mildly sensitive skin and has never had any type of allergic reaction to any laundry soap or softener I have used in the past, has broken out in terrible welts all over after wearing clothes that have been dried with Snuggle scent free dryer sheets. (Children's Benadryl Allergy has cleared up the welts)
In the past I have always used
Bounce Free Clear dryer sheets
and have never had any skin issues with my son.
I recently bought the Snuggle brand this one time because it was on sale.
I highly recommend that if you have a child with mild allergies to stay away from this stuff, I don't know what is in it, but I am throwing them in the garbage and rewashing every piece of his clothing and drying them with the Bounce Free sheets.
Taylor says:
Liz, hoping your son has a speedy recovery, and thanks so much for sharing your review of this product with me.
I have not personally tried the Snuggle version before, but have tried many other scent free versions of dryer sheets so it is good to hear what happened to your family when you used them.
***Update: I have now tried this brand, and also had an allergic reaction. See my review below. ***End Update
I am curious whether others have experienced these same allergy issues, or whether they've successfully used the free and clear version without incident. You can
share your dryer sheets reviews here
, for this or any other brand, telling me what you like (or don't) about them, and why.
In addition, I understand that lots of people need to use not only
hypoallergenic laundry detergent
, but also fabric softeners. Thats why I've created a list of
hypoallergenic fabric softeners and dryer sheets
that you can reference to find the right one for you.
I'll be adding a link to this review to that page so others can know about this incident you've had with it.
Join in and write your own page! It's easy to do. How? Simply click here to return to Snuggle fabric softener.
Snuggle Free Clear Gave A Faint "Rancid" Odor To Clothes
by Frances
(Elm City, NC, USA)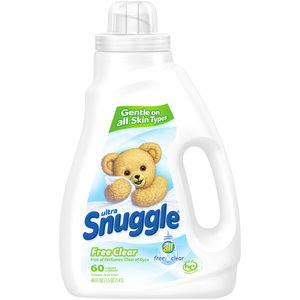 Frances tried the liquid version of this fabric softener, but was less than impressed with it.
Frances says:
I purchased a 32oz bottle of the New Snuggle free clear liquid fabric softener and used it according to directions on the label.
After my clothes were dried, as I was folding them I could smell a faint "rancid" odor.
When I put on one of the garments I could still smell this odor.
I went to the laundry room and opened the bottle to see if that was what was causing the odor and sure enough I could smell this same odor.
I will have to go back to using the scented Snuggle or use another brand of softener that has no perfumes and dyes.
I love some of the Snuggle softeners with perfumes, but not all of them, some of them are too strong.
Taylor says:
Thanks so much for sharing your review of the hypoallergenic version of Snuggle, Frances.
You're the first person to share your opinions about the scent free liquid version of this product.
It is not as readily available as the dryer sheets it appears, and I have not personally tried it. You can see my review of the sheets below though!
Join in and write your own page! It's easy to do. How? Simply click here to return to Snuggle fabric softener.
I Had An Allergic Reaction To The Scent Free Snuggle Dryer Sheets
by Taylor
Recently I was at Meijer and they were having a sale on the free and clear dryer sheets for this brand, and since I had not personally tried them I grabbed a box for testing, so I could report them to you.

As you may know from reading other reviews I've written for this site, I strongly prefer to use scent and dye free products when doing laundry, since my son has allergies.

Come to find out, I myself have some sensitivities to certain laundry products as well.

***UPDATE: I HAVE NOW FIGURED OUT I WAS ALLERGIC TO THE DETERGENT, NOT TO THESE DRYER SHEETS. I WAS TOO QUICK TO BLAME! ***END UPDATE

I had used these sheets for a couple of days, and was beginning to notice a slight itch, feeling a tightness in my skin, especially where the waistband of my pants rubbed on my skin and the front of my neck and chest, where I pull the blankets up around myself.

I basically ignored it for a day or two, not realizing what it was, and then putting on some hydrocortisone cream, hoping this would deal with the problem.

However, after a couple more days it kept getting more and more severe, beginning to really bother my back as well, and the cream alone was not dealing with the problem.

It was then I realized, duh, I was dealing with a laundry detergent allergy. One of the most popular sections of my site here discusses these allergies, and it still took me a while to figure it out for myself.

Apparently, I am rather dense sometimes. :)

I was also using a new laundry detergent at the time, Era Free & Clear, and so I immediately stopped using both, and rewashed all my clothes using Purex Free & Clear without any dryer sheets at all, adding an extra rinse.

This solved the problem. No more itching, and much needed relief. It was a pain though to rewash about 5 loads of laundry because of this problem though.

I cannot be totally sure that it was not the Era which was causing the allergy yet, since I have frankly been scared to try it again, sticking with the Purex for the time being. However, I have a gut feeling it was the Snuggle sheets which caused the allergy.

***Update: As stated above -- my gut was wrong. I later tried the ERA Free again, and again had the allergic reaction. It was the darn detergent, not the sheets! Click here to read my review of ERA Free. ***End Update

Perhaps if I ever get the courage to finish using the jug of Era I'll update this page with the final results, but until then these dryer sheets are NOT being used again.

It's too bad too, since I have a huge box of the sheets, most of which haven't been used. However, there is no way I would dry my clothes in something that caused that kind of skin irritation again. Laundry allergies are no laughing matter folks! They are horrible!

***Update: Now that I figured out it was the detergent, and not the softener, I have begun using the rest of this huge box. They work well, getting rid of static cling, which is getting bad again with the dry winter air. They don't last more than one time of use normally, but they are perfectly adequate. I'm sorry I was so quick to judge! *** End Update

Has anyone else used the (so-called) hypoallergenic version of this product? If so, I'd love to hear your reviews, good or bad. You can share your experience here or read other reviews already submitted.


Related Pages You May Enjoy
Laundry Supplies & Products Reviews
Hypoallergenic Laundry Product Reviews & Experiences
Go From Snuggle Free & Clear Reviews To Stain Removal 101 Home Page
There are affiliate links on this page, and if you purchase a product through them I receive a small commission. Purchasing through my links costs you nothing extra, but helps support the free information provided on this site and my family. To learn more please see my product review disclosure statement.
Join in and write your own page! It's easy to do. How? Simply click here to return to Snuggle fabric softener.
Thanks For Visiting My Website: Grab Your Free Gift!

Hi, I'm Taylor, a busy mom with 3 kids, so I have lots of hands on experience with house cleaning, laundry and my fair share of spots, spills and other messy catastrophes. Thanks for visiting my site.
I update the website all the time with tips, tutorials, cleaning recipes, reviews of products from readers like you, and tests I've done on various cleaners, removers and laundry supplies.
I'd love to give you a gift! When you subscribe to my free weekly newsletter you will receive a free printable laundry stain removal chart that you can reference as needed.
I hope you enjoy this gift, and stop by again soon!
CAUTION: This website is provided for informational purposes only. It is provided as is, without warranties or guarantees. Some stains and messes just won't come out, and are permanent. Further, some cleaning methods can harm your item, so if what you want to clean or launder is sentimental or expensive call a professional. See disclaimer of liability for more information.