How To Remove Pet Hair From Clothing In The Wash?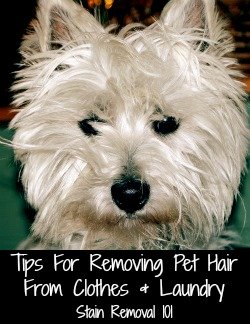 Question:
How do you remove pet hair and lint from tee shirts and tops in the washing?
Taylor's answer:
Thanks for asking me this laundry question.
There are lots of ways to remove hair shed by your pets, including both cats and dogs, from clothing.
Just washing cotton and polyester fabric will generally remove most pet hair.
However, if you wash certain fabrics, such as flannel and other fabric that has lots of static cling you will notice that the hair will just embed further if you wash and dry it. This is why it is often difficult to get pet hair off blankets, for example.
You can pick hair off with your fingers, of course, but this can take quite a bit of time and unless you are very patient you may not get it all. Certainly, you can't pick it off as fast as it gets on there, typically.
Therefore, one of the best ways to remove it is to use a pet hair lint roller (such as the
Scotch pet hair roller
, or a dry sponge, to help pick up the pet hair before you wash it.
You can read
reviews of pet hair removers here
, to find one that will work well for you.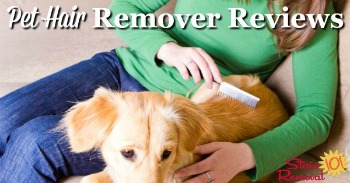 You should also shake out all clothing out before you wash it, and also once it comes out of the wash and before you put it in the dryer.
Further, if you reduce static cling this will also help remove pet hair from your clothing, because it will loosen it from the clothing and let the washing machine and dryer remove it from the clothing. Therefore, use both
liquid fabric softener
and
dryer sheets
.
If you're looking for something a bit more natural, you can use a
rinse of vinegar
when washing clothes, which also can help loosen both lint and pet hair from clothing.
You can see more laundry uses for vinegar here: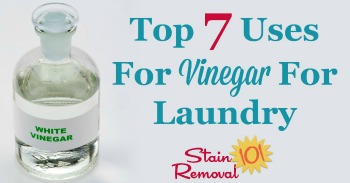 Finally, wipe out your washing machine and clean out the lint trap of your dryer after you wash clothing full of pet hair, to remove any from the machines and keep it from getting on subsequent loads of laundry.
Those are some of my tips for how to remove pet hair from clothing in the wash. Does anyone else have any other tips that work well for you? If so, please share your ideas in the comments.
I've answered this question as part of my
laundry questions
section of this site. You can ask me your own questions there, or see what else I've already answered.
Photo by Randy Son Of Robert
My Secret: Duct Tape & Damp Washcloth
by SewGirlJudy
(Lovely Columbiaville, MI)
Judy shared her secrets for removing pet hair from clothes.
SewGirlJudy says:
Yep, that's what I use.
I wrap the duct tape sticky side out around my hand loosely and push pull repeatedly turning the tape as necessary.
It works best for loose weave like felted wool and sweaters.
Smooth fabrics respond quite well with a damp terry washcloth.
Taylor says: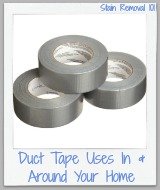 Thanks so much for sharing these simple but effective home remedies for getting up cat or dog fur.
I would love to hear from even more people sharing their tips and tricks for cleaning up this sometimes pesky problem. You can
share your remedies and tips here
, and I'll add them to the site.
In addition, did you know there are lots of uses for duct tape around your home. I've started collecting the ones people have shared with me. You can
click here to read more uses
, or share your own.
Related Pages You May Enjoy
Laundry Tips & Tricks For Busy Moms
Lots Of Homemade Cleaners Recipes
Pet Stain Removal Guide
Go From Tips For Removing Pet Hair From Clothes & Laundry To Home Page
There are affiliate links on this page, and if you purchase a product through them I receive a small commission. Purchasing through my links costs you nothing extra, but helps support the free information provided on this site and my family. To learn more please see my product review disclosure statement.
Thanks For Visiting My Website: Grab Your Free Gift!

Hi, I'm Taylor, a busy mom with 3 kids, so I have lots of hands on experience with house cleaning, laundry and my fair share of spots, spills and other messy catastrophes. Thanks for visiting my site.
I update the website all the time with tips, tutorials, cleaning recipes, reviews of products from readers like you, and tests I've done on various cleaners, removers and laundry supplies.
I'd love to give you a gift! When you subscribe to my free weekly newsletter you will receive a free printable laundry stain removal chart that you can reference as needed.
I hope you enjoy this gift, and stop by again soon!
CAUTION: This website is provided for informational purposes only. It is provided as is, without warranties or guarantees. Some stains and messes just won't come out, and are permanent. Further, some cleaning methods can harm your item, so if what you want to clean or launder is sentimental or expensive call a professional. See disclaimer of liability for more information.