Pledge Multi Surface Wipes Review And Uses Around My Home
by Yolanda
(Lansing)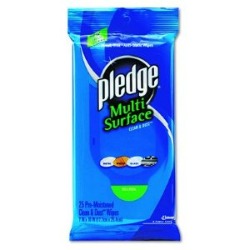 Yolanda has shared how she uses Pledge Multi Surface wipes in her home.
Yolanda says:
In my opinion, this one product has revolutionized the cleaning of my house. These wipes have literally changed the way I clean and has freed up so much of my time, I cannot imagine dusting with anything else.
I use three wipes, two times a month. Because these wipes trap the dirt and dust, I don't see much of the returning dust in the first week after I clean.
I move seamlessly throughout the house, moving from one item to the next freely because I don't have to worry anymore about changing products, wipes, cloths, etc. I pull out one wipe and start at one side of the room and move to the other, literally touching anything I see dust on and wiping it off.
I clean and dust from the flatscreen TV, to entertainment center, to the glass doors on the entertainment center, to the gaming systems (PS3) in the entertainment center, to the picture frames on top of the center, and then turn to the leather accents on our microfiber couch, before turning to our wood coffee tables and such.
I also clean and dust my computer, computer screen, and keyboard, along with glass doors and shelves, wood doors, baseboards, cabinets, and picture frames. I can also
clean stainless steel
, my metal fireplace front, the outside of my kitchen appliances, and mirrors. All this can be safely cleaned with these wipes!
You would think that they would dry out quickly or leave the left over dust behind once they get used; but they don't.
I can clean half the house with one wipe before it will dry out! In addition to that, I only need to buy a new pouch of the Pledge Multi Surface Wipes every three months, and I use every last wipe. Each one, from the
very first wipe to the very last wipe, is just as good as the one before it.
The packaging is easy to use, reseals properly so they don't dry out, stores easily and takes little space. I think for the time I save and how often I need to buy this product they are very fairly priced, as well.
I know these wipes aren't antibacterial or disinfecting, but that really doesn't matter to me since I'm not using this product anywhere that I would want to be disinfected (like cleaning trash can lids,
stove tops
,
toilets
, etc.).
I really can't say enough about these wipes. Everyone I talk to about cleaning, I tell to go pick them up and see how their lives change by using them.
Taylor says:
Thanks Yolanda for sharing your Pledge Multi Surface wipes review.
After you sent me in this review I did a bit more research about these products, and I was really amazed at all the uses there were for them. I like how they can be used not only on sealed wood, marble and
granite
, but also on glass without leaving streaks. That is often difficult for cleaning wipes. I can see how this would save you time, not having to switch between cleaners between various jobs.
I would note that although traditional Pledge wipes, which are basically wipes with Pledge furniture polish, are said to be safe for leather, there is no mention of the multisurface wipes being safe for it, so be careful when using these wipes on your leather accents in the future.
Has anyone else used this, or another disposable cleaning wipe that they really like? If so, you can
share your disposable cleaning wipes review here
, for this or another brand, or read other reviews already submitted.
Further, you can read more
dusting tools reviews here
, or share what your own favorite products are for removing dust from surfaces around your home.
Pledge Multi Surface Dusting Wipes Are Great For Quick Clean Ups
by Sherri
(Indiana)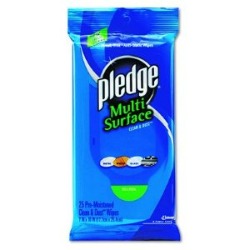 Sherri has shared her Pledge wipes review, for multi-surfaces.
Sherri says:
These wipes are very convenient, because I can just pop one out and start dusting quickly, without finding a dust cloth or needing to spray anything.
They are great because they pick up dust on both wood and electronics.
I hate switching back and forth between products, but these wipes allow me to do one job with one cleaning product.
They are also great for glass, and don't leave any waxy, greasy residue behind.
The only thing that I don't like about them is they seem to dry out really fast when I'm using them and they aren't good for moisturizing wood. In that case, I need to get a better duster/polisher, because I don't think these wipes have any moisturizing ingredients at all.
They are very mild and great for quick dusting jobs. One packet of wipes costs about $5 - $7, depending on where I buy them, and they seem to last a fair amount of time, but not as long as actual dusting sprays.
It is nice to use these wipes on electronics because they attract so much dust and are in constant need of a wipe off. Pledge wipes are perfect for that.
Taylor says:
Thanks Sherri for sharing your review of these Pledge Multi Surface wipes with me.
It is interesting that you say they dry out fairly quickly, since the reviewer above said they seem to last a while. I guess the size of the area you are using it on matters, and I don't know what the two sizes are for comparison.
I would love to hear from others, sharing how long these wipes seem to last them, and whether they dry out quickly or not. That is, of course, a major disadvantage of any type of wipe -- that it can dry out more quickly.
You can
share your disposable cleaning wipes review here
, or read other reviews already submitted.
In addition, you can
share your wood furniture cleaner or polish review here
, telling me what product you use on your wood furniture, or read other reviews which have already been submitted.
Related Pages You May Enjoy
House Cleaning Equipment Reviews
General Purpose Cleaner Reviews
Pledge Multi Surface Spray Cleaner Reviews
Pledge Wood Floor Cleaner Reviews
Glass And Window Cleaner Reviews
Cabinet Cleaners Reviews
Stainless Steel Cleaners Reviews
Pledge Pet Hair Remover Reviews
Lemon Pledge Furniture Polish Reviews
Go From Pledge Multi Surface Wipes Reviews To Home Page
There are affiliate links on this page, and if you purchase a product through them I receive a small commission. Purchasing through my links costs you nothing extra, but helps support the free information provided on this site and my family. To learn more please see my product review disclosure statement.
Thanks For Visiting My Website: Grab Your Free Gift!

Hi, I'm Taylor, a busy mom with 3 kids, so I have lots of hands on experience with house cleaning, laundry and my fair share of spots, spills and other messy catastrophes. Thanks for visiting my site.
I update the website all the time with tips, tutorials, cleaning recipes, reviews of products from readers like you, and tests I've done on various cleaners, removers and laundry supplies.
I'd love to give you a gift! When you subscribe to my free weekly newsletter you will receive a free printable laundry stain removal chart that you can reference as needed.
I hope you enjoy this gift, and stop by again soon!
CAUTION: This website is provided for informational purposes only. It is provided as is, without warranties or guarantees. Some stains and messes just won't come out, and are permanent. Further, some cleaning methods can harm your item, so if what you want to clean or launder is sentimental or expensive call a professional. See disclaimer of liability for more information.