5 Entryway & Mudroom Ideas
To Keep It Clean & Inviting
Here are five entryway and mudroom ideas to make sure people don't track in dirt and drips into your home, plus at the same time make them feel welcomed and invited when they come inside.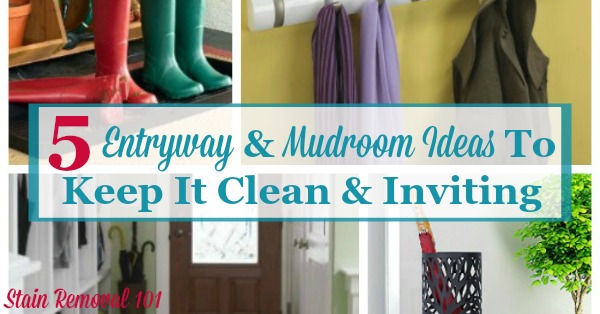 Nothing makes you feel more invited than having a host or family member anticipate your needs as you enter their home, by having a place to lay your coat, as well as other things you may have carried inside with you.
At the same time, your entryway or mudroom can get quite dirty quickly, especially in wet or snowy weather, as people, and especially kids, track dirt, mud, snow and ice into your home.
Fortunately, you can make people feel welcome and keep things cleaner at the same time with these ideas. If you really like one of these ideas please note that each image is clickable for you to purchase it, or a similar one to your liking.
Idea 1: Place A Welcome Mat Outside Your Home
Click to purchase on Amazon.com
Rolling out the welcome mat is not just a saying, but also a great thing to do at every entrance to your home.
We bring a lot of dirt and grime into our home on our shoes, so putting a cute but sturdy mat outside each door that both expresses your personality and allows everyone to wipe their feet before entering is a great mudroom idea you can implement before anyone even enters your home.
While you're at it, if you really want to impress, make sure your front door is clean. Here's how to clean your door to your home, with instructions for both wooden doors and aluminum ones.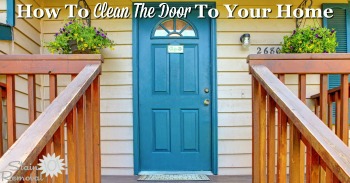 Idea 2: Have Entry Rugs With Safety Backings Inside The Door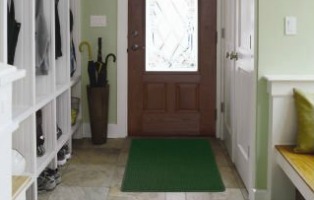 Click to purchase on Amazon.com
Having a welcome mat outside your door is great, but to make sure you catch the majority of dirt and drips also add a rug indoors at the door as well.
While your outside welcome mat should be sturdy to withstand the harsh outdoors, your inside one should be a softer (but still sturdy) fabric which is washable (perferably machine wash), so you can spruce it up periodically.
Further, make sure you either get one with safety backings to prevent slipping, or add your own, to keep guests and family members from slipping and sliding on the floor as they step on it.
Idea 3: Create Space For A Boot Tray For Dirty, Dripping Shoes
Click to purchase similar
item on Amazon.com
Often, even with your welcome mats and doormats, shoes continue to be yucky even after some wiping. This can especially happen with mud, rain and snow.
Make sure there is a good place to hold shoes and boots at the door so people can take off their shoes and not track mud and dirt into your home.
You can either get a boot tray like the one shown, or make your own by using a large rimmed baking sheet with a wire mesh rack layed on top.
Make sure whatever kind you get is easy to clean periodically.
Idea 4: Place An Umbrella Stand In Your Mudroom Or Foyer To Keep Drips Off Floor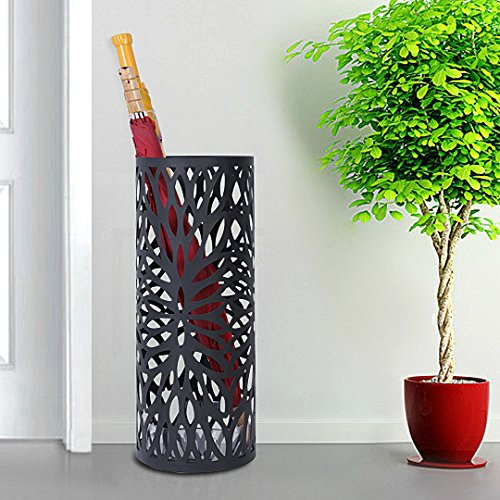 Click to purchase on Amazon.com
If you've ever come in from the pouring rain with an umbrella in tow, you know it can be very aggravating not to have a place to put it to drip dry. An umbrella stand or holder is the perfect little piece to add to a room to fix this common problem.
Many umbrella stands are wire, with an open bottom, which means if the umbrella is wet when its placed in there the stand will allow drips to get all over the floor. However, you can get some which have a drip tray (such as the one shown to the left) which help catch some of those drips.
Even still, depending how torrential the rain is, you may want to have a towel or two handy to lay under your stand to catch all the drips and keep water spots from harming your floor (this is especially important if you have hardwood floors).
Be careful of closed umbrella stands, since if you leave a wet umbrella in there too long the lack of air circulation can cause mildew or mold to develop. Further, be careful of wood umbrella stands since prolonged wetness can cause them to rot.
Idea 5: Have Area To Hang Wet Clothing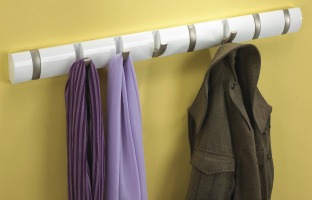 Click to purchase on Amazon.com
Finally, it is inviting to come into a home which has a place for you to place your coat.
This can be doubly important when someone comes in from the weather, with snow, or rain, on their coats, as well as in the winter when they've also got hats, scarves, gloves and more to keep track of.
Wet clothing is not something you want to lay on the floor or other furniture. In addition, piling wet clothes on top of each other does not allow them to dry easily because there is not air circulation.
Therefore, have either a coat rack or some pegs on the wall where visitors and family members can hang these clothes to dry out while they're inside.
Do You Have More Entryway Or Mudroom Ideas?
Although these are my entryway and mudroom ideas, I'm sure there are lots more great ones out there too. That's why I'd love to hear your tips and tricks too.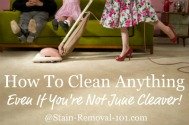 You can share your house cleaning tips here. You can also click this link to read other tips from around my website that other readers have already submitted.
Further, this post is part of a series called "How to Clean Anything, Even if You're Not June Cleaver." I hope this series will become a good resource for you, with instructions on many different cleaning projects around your home.

Want More Inspiration For Your Entryway Or Mudroom?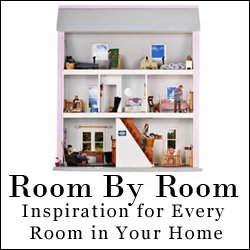 I'm honored to be part of a great group of blogging ladies who all discuss topics from around our homes. Each month we choose a different room as our theme, so we can all get some inspiration in this area of our homes. We call it the Room by Room Inspiration for Every Room in Your Home.
This month each of us is discussing some aspect of our foyers, entries or mudrooms. Please check out these other great blog posts from the group: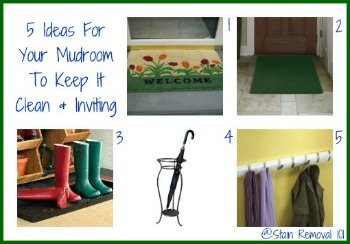 Thanks For Visiting My Website: Grab Your Free Gift!

Hi, I'm Taylor, a busy mom with 3 kids, so I have lots of hands on experience with house cleaning, laundry and my fair share of spots, spills and other messy catastrophes. Thanks for visiting my site.
I update the website all the time with tips, tutorials, cleaning recipes, reviews of products from readers like you, and tests I've done on various cleaners, removers and laundry supplies.
I'd love to give you a gift! When you subscribe to my free weekly newsletter you will receive a free printable laundry stain removal chart that you can reference as needed.
I hope you enjoy this gift, and stop by again soon!
Related Pages You May Enjoy
How To Clean Anything Even If You're Not June Cleaver
Go From 5 Entryway & Mudroom Ideas To Home Page
There are affiliate links on this page, and if you purchase a product through them I receive a small commission. Purchasing through my links costs you nothing extra, but helps support the free information provided on this site and my family. To learn more please see my product review disclosure statement.
CAUTION: This website is provided for informational purposes only. It is provided as is, without warranties or guarantees. Some stains and messes just won't come out, and are permanent. Further, some cleaning methods can harm your item, so if what you want to clean or launder is sentimental or expensive call a professional. See disclaimer of liability for more information.