Homemade Carpet Deodorizer - How To Make Your Own
by Taylor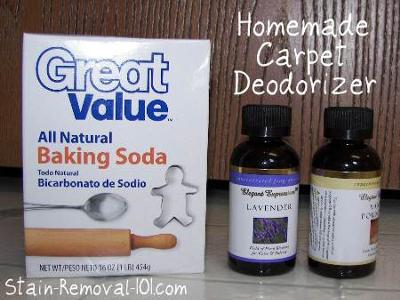 Here is how to make your own homemade carpet deodorizer, so you don't have to buy those expensive ones from the store anymore.


Another great reason to make your own carpet deodorizer, besides saving money, is to be able to choose your own scent, if you want it, for the deodorizer.
Basically all carpet deodorizer is is
baking soda
, which is an excellent odor absorber.
You sprinkle the baking soda onto the carpet, let it sit for at least fifteen minutes (preferably overnight), and then vacuum up the baking soda and the unwanted smells.
Where it gets fancy in regard to the recipe is what scent, if any, you want to add to your carpet while removing the stinky smells.
Possible Natural Scents For Your Carpet Deodorizer
Here are some great ideas for good smelling, natural ingredients that you can add to the baking soda carpet deodorizer:
Fragrant flowers, such as lavender, all crushed up and combined with the baking soda (1/2 cup flowers, 1 cup baking soda)


7-10 drops of essential oil (your choice of oil, but here are some suggested essential oil recipes you can use) combined with 1 cup baking soda (Hint: the essential oil will tend to clump in the baking soda, and you must try to break up the clumps and evenly distribute the oil

throughout the baking soda before it is sprinkled on the carpet)


4 teaspoons of ground cinnamon and 4 teaspoons of ground cloves, combined with 1 cup baking soda
Each of these ingredients, combined with the baking soda, will make your room smell nice and fresh, and allow you to choose the scent, and the amount of scent, that you want in your carpet.
Equipment That Is Helpful When Sprinkling Baking Soda On Your Carpet - Large Hole Shakers
If you make your own carpet deodorizer regularly you should invest in a large hole shaker, which you can use to apply the scented baking soda to your carpet.
You can label the shaker just for use for your carpet deodorizers.
Here is one available that will suit your needs well, because it is large enough to hold all the carpet deodorizer you make and have large enough holes to adequately sprinkle it onto the carpet.
Taylor says: Here are links to buy this or related products. If you make a purchase I receive a small commission which helps support this site and my family.
In addition, you could wash an old parmesan cheese container to hold your mixture since it also has nice large holes for shaking out the carpet deodorizer.
Video About Using Baking Soda To Deodorize Carpets
Here is a video that shows how you can use baking soda as a homemade carpet deodorizer.
Do you have a homemade cleaner recipe to share? If so,
submit your own homemade cleaner recipe here
, or read other recipes already submitted.
Join in and write your own page! It's easy to do. How? Simply click here to return to essential oil uses.
Essential Oils Suggested For Use For Deodorizing Carpet
by Taylor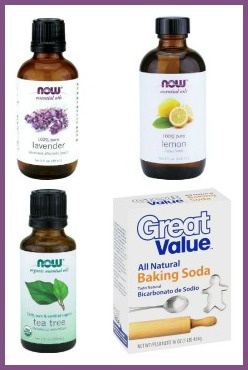 If you are unfamiliar with essential oils than you may not know which one to choose for mixing with the baking soda to help deodorize your carpet.

I would suggest either vanilla or lavender. However, it is such a personal choice.

For example, one recipe uses the following essential oils combined with one 16 ounce box of baking soda:

10 drops tea tree oil
10 drops lemon oil
20 drops lavender oil

Got any other ideas or favorite essential oil mixes you use? If so, share them with me here in the comments.

Here are some suggested essential oil starter kits you can use to begin with.


Join in and write your own page! It's easy to do. How? Simply click here to return to essential oil uses.
Reduce Carpet Odor With Essential Oils
by Lila Ann
(Georgia)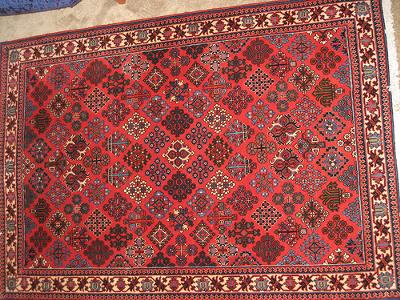 Lila Ann has shared how she reduces carpet odors with essential oils.
Lila Ann says:
If I feel like my carpet, and the air in a room with carpet in it is feeling a bit off I change my vacuum bag to a fresh one, and add a cotton ball into the new bag with a few drops of vanilla essential oil on it.
I then vacuum my carpet and it really makes a huge difference in how the room smells.
I love my vanilla essential oil!
I will sometimes also add lavender essential oil too, for a nice blend of the two fragrances.
Taylor says:
Thanks for the great tip for how to use essential oils in your home.
So, does anyone else have any suggestions for how to use essential oils as part of homemade cleaners?
If so,
submit your own essential oil uses around the home here
, or read lots of other uses already shared.
Photo by ccarlstead
Related Pages You May Enjoy
Lots Of Homemade Cleaners Recipes
How To Use Essential Oils For Cleaning Your Home
Baking Soda Uses For Cleaning, Laundry & Stains
Go From Homemade Carpet Deodorizer Recipes To Home Page
There are affiliate links on this page, and if you purchase a product through them I receive a small commission. Purchasing through my links costs you nothing extra, but helps support the free information provided on this site and my family. To learn more please see my product review disclosure statement.
Thanks For Visiting My Website: Grab Your Free Gift!

Hi, I'm Taylor, a busy mom with 3 kids, so I have lots of hands on experience with house cleaning, laundry and my fair share of spots, spills and other messy catastrophes. Thanks for visiting my site.
I update the website all the time with tips, tutorials, cleaning recipes, reviews of products from readers like you, and tests I've done on various cleaners, removers and laundry supplies.
I'd love to give you a gift! When you subscribe to my free weekly newsletter you will receive a free printable laundry stain removal chart that you can reference as needed.
I hope you enjoy this gift, and stop by again soon!
CAUTION: This website is provided for informational purposes only. It is provided as is, without warranties or guarantees. Some stains and messes just won't come out, and are permanent. Further, some cleaning methods can harm your item, so if what you want to clean or launder is sentimental or expensive call a professional. See disclaimer of liability for more information.