Walmart Great Value Dish Soap Review: Green Apple Scent
by Taylor
I love a good deal, so I was excited to try Walmart's Great Value dish soap, in the green apple scent.


Generally, I have been pretty pleased with store brand and generic versions of cleaning products, finding that they clean well and save money at the same time, which is a hard to beat combination!
This particular product, on the other hand, I'm sad to say disappointed me.
I was pleased to finally finish my bottle of this apple scented dish soap, and not ever use it again.
My main problem with it -- it is thin, thin, thin.
It seemed very watery to me, like I had to pour lots onto the sponge to get my dishes clean.
Because of that I seemed to use it up quite quickly, since a little did not go a long way.
It makes me think it didn't save me very much money like I hoped it would, because I used the entire bottle much more quickly than I would have many other thicker brands of dish soap.
It was especially irksome to me that I had this complaint, since it claimed it was "ultra-concentrated so you use less." I know I definitely didn't feel this was a true statement!
Once I felt like I had enough soap to wash something I felt it did a decent job, but I kept having to add more onto the sponge to make sure I had enough to cut through all the grease and grime on my pots and pans.
Overall, I have been pleased with Walmart's Great Value brand products, so I was disappointed that this one didn't live up to my standards.
In fact, I was so disappointed by it that it took me quite a while to work myself up to trying another variety of this brand for dish soap, but I did eventually do it.
You can see my review of the pomegranate scented variety of dishwashing liquid below, which is touted to be similar to the Dawn Hand Renewal products.
In addition, I would love to hear from other people who've used this or any other brand of dish soap and wish to share your review, including of generic or store brands. You can
share your dishwashing soap review here
, or read many others that have already been submitted.
***Update: I eventually tried Target's Up & Up brand, in the green apple scent, and I loved it quite a bit more. You can
read my Target Up & Up dishwashing soap review here
, if you'd like to learn more about it. ***End Update
Join in and write your own page! It's easy to do. How? Simply click here to return to dishwashing soap.
Great Value Dishwashing Liquid Hand Rejuvenation Review: Pomegranate Scent
by Taylor
After not being willing to try a Great Value dishwashing liquid product for quite some time, after the bad experience I had with the Green Apple scented variety (see my review above), I finally took the plunge again, this time trying the pomegranate scented hand rejuvenation formula.

I have to admit I was intrigued by it, since it is basically a generic version of Dawn Hand Renewal with Olay Beauty dish soap, even coming in the same pomegranate scent (click the link for reviews of the name brand version from readers).

In the winters I tend to suffer from very dry skin, which is exacerbated by washing dishes in hot water and can cause my hands to get pretty rough, and even crack some. Therefore, in the winter I tend to wear yellow rubber gloves as I do the dishes to avoid getting my hands wet.

I wondered if this soap would help my hands feel better and softer, so I could avoid that problem.

Now, the test was not perfect since I ended up actually trying the product in the summer so I may retest in the winer sometime just to see if there are any differences.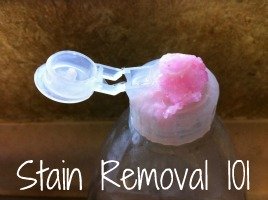 However, I didn't really notice any increased softness in my hands when using this dish soap, but I know it didn't dry out my skin either.
I did, however, get annoyed by the fact that the soap obviously had lotion in it which caused the spout to get all clogged up and gross. (See the picture to the right).
On the bright side, I really liked the scent, and I thought the soap cleaned my dishes, pots and pans quite well.
My big complaint with the Green Apple scented version I tried first was that it was very thin, and I felt I needed to add more to my sponge often to keep it working its best. This soap was not thin like that, presumably because of the addition of the lotion like stuff contained within it.
I was also concerned that the pomegranate scented soap itself would feel greasy, or leave a greasy film on my dishes from the lotion within it, but it didn't do that at all. It cut grease quite well and even my husband, who was very skeptical of it when I brought it home, really didn't have a complaint about how it worked after trying it a couple of times.
We both didn't like the fact that it got hard to pour any soap out of the top of the bottle when it got all gooped up though, but overall that was a minor complaint.
Overall, the Walmart Great Value brand redeemed itself in my eyes a bit with my testing of this hand rejuvenation variety. I would buy this soap again, and most likely will try it again in the winter to see if it helps my hands not feel so dry, and then I'll try to update this review again.
Has anyone else used this brand of dish soap in one of its many scents or varieties? If so, I'd love to hear your opinions and experiences with it. You can
share your dishwashing soap review here
or read other reviews that have already been submitted.
***Update: I received this comment from Beth W. who said:
I wholeheartedly agree with your review. I believe in generic and it was worth a try, but am so excited for it to be GONE so I can go back to Dawn Hand Renewal. This may be cheaper, but it is not the same product!!
***End update
Join in and write your own page! It's easy to do. How? Simply click here to return to dishwashing soap.
Walmart Version Of Dawn Hand Renewal Helped With Dry Winter Hands
by Carrie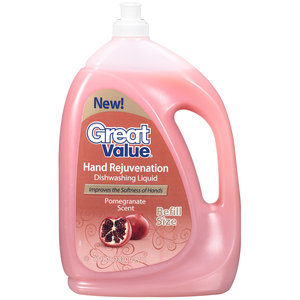 My husband bought me the Walmart version of Dawn hand renewal due to my horrible winter skin I get every year (dry, cracked, bleeding hands).

I didn't think it'd make any difference, but it actually seems to work pretty well.

Not a cure, mind you, but definitely a difference when I was washing dishes in regular Dawn vs the hand renewal.
Join in and write your own page! It's easy to do. How? Simply click here to return to dishwashing soap.
GV Dishwashing Detergent Has A Sickening Fragrance
by SR101 Reader
SR101 Reader says:
I like the GV dishwashing detergent in general and didn't find it "thin," but there is an overpowering perfume to this product.
I believe dishwashing products should be unscented since fragrance can attach itself to cookware, serveware and storage items.
Who wants to smell an obnoxious perfume instead of the food?
Fragrances in particular can attach themselves to plastics and you will never get rid of that scent!
Taylor says:
Thanks for sharing your review with me!
So now we've got a friendly disagreement on our hands - is this product thin or not? I'd love to hear your opinion if you've used it.
Plus, what do others think of the scents available? Are they too strong, not strong enough. You can
share your review here
.
Related Links At Stain Removal 101
House Cleaning Supplies Reviews: Which Products Work Best?
Great Value Dishwasher Detergent Powder Review: Fresh Scent
Go From Walmart Great Value Dish Soap Reviews To Stain Removal 101 Home Page
There are affiliate links on this page, and if you purchase a product through them I receive a small commission. Purchasing through my links costs you nothing extra, but helps support the free information provided on this site and my family. To learn more please see my product review disclosure statement.
Thanks For Visiting My Website: Grab Your Free Gift!

Hi, I'm Taylor, a busy mom with 3 kids, so I have lots of hands on experience with house cleaning, laundry and my fair share of spots, spills and other messy catastrophes. Thanks for visiting my site.
I update the website all the time with tips, tutorials, cleaning recipes, reviews of products from readers like you, and tests I've done on various cleaners, removers and laundry supplies.
I'd love to give you a gift! When you subscribe to my free weekly newsletter you will receive a free printable laundry stain removal chart that you can reference as needed.
I hope you enjoy this gift, and stop by again soon!
CAUTION: This website is provided for informational purposes only. It is provided as is, without warranties or guarantees. Some stains and messes just won't come out, and are permanent. Further, some cleaning methods can harm your item, so if what you want to clean or launder is sentimental or expensive call a professional. See disclaimer of liability for more information.