Finish Orange Gelpacs Leave A Bad Smell And Don't Dissolve Well
by SR101 Reader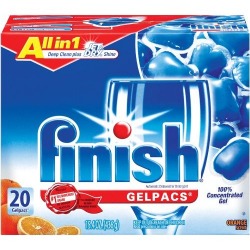 I received this Finish gelpacs review, in the orange scent, from an reader.
SR101 Reader says:
I've used
Finish dishwashing packs
before with great results and decided to try the gel packs - the extra packaging of the other version irritated me, so I hoped the gel packs would be the answer.
After the very first one, I noticed a horrible smell in my dishwasher. My 9yo daughter called it 'rotten soap' smell. It's the gel packs. They don't dissolve completely and the smell is very strong, a plastic-y soap smell.
The box says 'orange scent' but that's not what we've encountered.
Taylor says:
Thanks for your review of the orange scented version of this product.
I keep being surprised that I keep getting negative reviews of this product, but I guess by now I shouldn't be. It just amazes me that every thing I've heard about these gel pacs is negative (at least so far).
I would love to hear other people's reviews and opinions of this product, since it appears to be an issue with the gel pacs alone, and not all Finish dishwashing products.
You can
share your dishwasher detergents review here
, for this or any other brand, telling me what you like or dislike about it, and why. You can also read other reviews which have already been submitted.
Join in and write your own page! It's easy to do. How? Simply click here to return to dishwasher detergents.
Orange Scented Finish Gel Packs Have A Horrible Smell
by SR101 Reader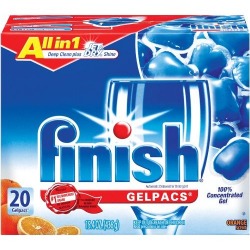 I received this comment from an SR101 reader, which happens to be pretty similar to another experience I had already published about the smell of the Orange scented Finish Gel Packs dishwasher detergent.
SR101 Reader says:
I accidentally bought the "orange" scented Finish gelpacks. They don't smell at all like orange unless orange smells like extremely cheap chemically perfume. Horrible.
The smell has lingered in most of my plastics and seems like it won't come out of the washer itself.
I wrote the company with my complaint, and they chalked it up to "personal preference". I don't think anyone prefers for their dishes to smell overwhelmingly like chemical perfume.
Taylor says:
Thanks for sharing your experience. I have to say, this is very similar to another reader who has a similar opinion of the orange scent (see above).
I would be interested to know what other people think of this scent, if you've used it. In addition, what would be a good alternative to using this detergent, in people's opinion, since this one seems to be pretty low on everyone's opinion list. You can
share your own review and recommendation here
, or read reviews of other brands and varieties of dishwasher detergent that have already been submitted.
***Update: This odor issue seems to be quite common, unfortunately, especially for the orange scented gel pacs. Another SR101 reader wrote in to share the following with me:
I'm having the rotten garlic smell issues too. I thought it was my imagination until my sister said to me "I know this is weird but those gel packs you gave me made my dishes smell like rotten garlic". So then I knew I wasn't crazy...what's up with this?
***End Update
There are even more reviews of Finish dishwasher products here on the site, including the following:
Related Links At Stain Removal 101
House Cleaning Supplies Reviews & Ratings
House Cleaning Tips & Tricks For Busy Moms
Go From Finish Gelpacs Orange Scent Reviews To Stain Removal 101 Home Page
Thanks For Visiting My Website: Grab Your Free Gift!

Hi, I'm Taylor, a busy mom with 3 kids, so I have lots of hands on experience with house cleaning, laundry and my fair share of spots, spills and other messy catastrophes. Thanks for visiting my site.
I update the website all the time with tips, tutorials, cleaning recipes, reviews of products from readers like you, and tests I've done on various cleaners, removers and laundry supplies.
I'd love to give you a gift! When you subscribe to my free weekly newsletter you will receive a free printable laundry stain removal chart that you can reference as needed.
I hope you enjoy this gift, and stop by again soon!
CAUTION: This website is provided for informational purposes only. It is provided as is, without warranties or guarantees. Some stains and messes just won't come out, and are permanent. Further, some cleaning methods can harm your item, so if what you want to clean or launder is sentimental or expensive call a professional. See disclaimer of liability for more information.