Cheer Laundry Detergent Makes Me Terribly Itchy
by Casey M.
(Ithaca NY)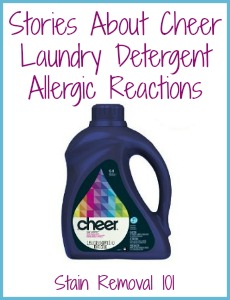 There have been an amazing number of people who's shared their Cheer laundry detergent reviews who've had the same problem -- it caused an allergic reaction. Here are some of these reviews. The first is from Casey.
Casey says:
I discovered back in '97 that I am terribly allergic to Cheer.
I had such a bad case of hives at one point the allergist had me taking Benadryl, Allegra and Zyrtec and I still couldn't stop clawing my skin off. The only thing that knocked the hives back was prednisone.
The hives went away when I re-washed all of my and my partner's clothes and bedding with something else.
I now use
All Free & Clear detergent
and fabric softener sheets, or sometimes
Bounce Free sheets
.
Taylor says:
Sorry to hear that you had such a bad reaction to this detergent Casey.
Since you obviously suffer from
laundry detergent allergies
it makes sense that you're using both
hypoallergenic laundry detergent
as well as other
scent free laundry supplies
.
If you're interested in still using this brand, I would suggest trying the
Cheer Free & Gentle version
.
I'd love to hear from even more people telling me their experiences, positive or negative, with this detergent. You can
share your review here
, or read others that have already been submitted.
Join in and write your own page! It's easy to do. How? Simply click here to return to Cheer laundry detergent.
Cheer Detergent Review - Not Good For Allergies
by Wendy
Wendy provided this review of Cheer detergent.
Wendy says:
I found out I had a laundry detergent allergy after using Cheer for a while. I couldn't figure out why my back was so broken out and why I was itchy all the time.
I progressively changed things I was using. Eventually I got to the laundry detergent. Bingo! That was the problem!
As soon as I changed and rewashed everything, no more problems.
Now I use Sun & Earth. (You can read Wendy's
review of Sun & Earth laundry detergent here
).
Taylor says:
Thanks Wendy for sharing your review of Cheer detergent.
Yes, laundry detergent can be a significant cause of allergic reactions, especially of the skin, in many people.
If you haven't had a chance to check out my article about
laundry detergent allergy symptoms and cures
you may want to. It includes an exclusive video interview with a dermatologist who discusses the issue, along with my own suggestions based on research and experience (my son suffers from laundry allergies himself.)
I would be interested to hear from others to know if they've had problems with Cheer detergent in regard to allergy issues. You can tell me in the comments, or you can also
share your own Cheer laundry detergent reviews here
, or read other reviews of Cheer detergent already submitted.
Of course, using a perfume and dye free version of any laundry detergent, according to the dermatologist I spoke to, helps many people immensely, so there may be a difference between scented and free and clear Cheer. (Here is my
list of hypoallergenic laundry detergents available
if you are looking for something new to try.)
In addition, each person is individual and what works well for one person may not work for another, so everyone can also
share their own laundry detergent reviews here
, saying which one works best for you, in regard to allergies, scents, removing stains or anything that is important to you.
Join in and write your own page! It's easy to do. How? Simply click here to return to Cheer laundry detergent.
Cheer Powder Doesn't Rinse Completely And Causes Me Laundry Allergies
by Chloe Burlington
(Vermont)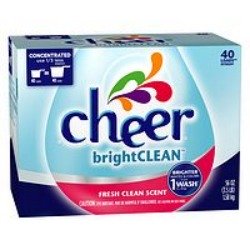 Chloe has shared her opinions and experiences with Cheer powder detergent.
Chloe says:
Cheer doesn't seem to rinse completely out of the laundered clothes.
When using the powder there is a visual residue left on the items after the rinse cycle. I've tried to remedy this by setting my washing machine to go through an additional rinse cycle. This does remove the powdery residue.
However, my skin remains sensitive to the detergent no matter how many rinse cycles I use. I develop an itchy rash after using this detergent. I'm assuming that it's contact dermatitis because it is evident wherever the laundered fabric touches my skin. The reaction is nearly immediate and is quite severe. Lotions don't help at all.
The only way I find relief is to launder everything in a different detergent and rinse everything at least twice.
I've tried this product more than once over the past few years. I clearly shouldn't try it again because nothing seems to change. I end up feeling like I've wasted my time and my money as well as damaging my skin.
Cheer powder detergent does not leave me so cheery.
Taylor says:
Thanks Chloe for sharing your review.
You are actually not the first person to tell me that this detergent causes them to experience
laundry detergent allergies
(see a review above for an example).
However, all of these experiences with detergent allergies with Cheer have occurred with the scented versions. Cheer also has a
free and gentle version
(click link for a review), so I wonder if this would help, if you want to continue using the brand?
Since several people have now mentioned this issue about allergies I would love to hear from others, sharing if the free and gentle version was OK for them or not, and also if allergies issues are common with this detergent.
You can
share your Cheer laundry detergent review here
, or read others already submitted.
In addition, you can
share your laundry detergent review here
, of any brand, telling me what you like or don't about it, and why.
Join in and write your own page! It's easy to do. How? Simply click here to return to Cheer laundry detergent.
Thought I Was Allergic To My Cats But Really This Detergent
by Seth
I recently got a second cat (kitten in this instance). After I brought him to the doc I discovered he had some sort of parasites in his ears.

I treated the ears and then started to itch on my bottom at around this same time period.

The itching progressively got worse and worse, until two days later I felt there must be fleas all over the house.

I 'bombed' (fogged) the house and thought to myself the itching was slightly getting better the next day.

Then another day past and I also got a new bed and after that night I was a ton worse after sleeping....it has to be the detergent.

I'd never bought Cheer before, I don't know why, I suppose it was among the high dollar detergents I ignored and steered to Tide or others similar instead.

This brand seemed to clean pretty good and the scent was real nice, but ohhhh baby the rest of this detergent is being tossed in the garbage.

Kitty's, I'm sorry I thought it was you!
Join in and write your own page! It's easy to do. How? Simply click here to return to Cheer laundry detergent.
Cheer Laundry Detergent Review: I'm Constantly Itchy From It
by Jade
Jade says:
I recently switched from
Tide
to Cheer just because I wanted to try something new.
I love how it
removes stains
easily and leaves a wonderful scent.
Since this brand however, I have been constantly itchy. I was surprised as I always thought Tide was the harshest and most perfumed detergent on the market and I haven't had a reaction to that.
So for those of you with sensitive skin or if you have suddenly started to feel itchy, this detergent could be why. Bummer!
Taylor says:
Thanks Jade for sharing your experiences.
You are actually not the first person to tell me you experienced a
laundry detergent allergy
from Cheer (see a couple more above).
Of course, there is a free and clear version of this product too.
Plus, I've created an entire list of
hypoallergenic laundry detergent brands
you may also want to try, to relieve your laundry allergies.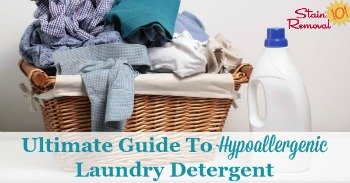 Do you, or have you in the past, used Cheer to wash your clothing? If so, please
share your review here
, or read more information and reviews about it that have already been submitted.
You can also
share your laundry detergent review here
, for any other brand, telling me what you like, or don't like, about it, and why.
Related Pages You May Enjoy
Laundry Supplies & Products Reviews
Go From Cheer Laundry Detergent Reviews: Allergic Reactions To Home Page
There are affiliate links on this page, and if you purchase a product through them I receive a small commission. Purchasing through my links costs you nothing extra, but helps support the free information provided on this site and my family. To learn more please see my product review disclosure statement.
Thanks For Visiting My Website: Grab Your Free Gift!

Hi, I'm Taylor, a busy mom with 3 kids, so I have lots of hands on experience with house cleaning, laundry and my fair share of spots, spills and other messy catastrophes. Thanks for visiting my site.
I update the website all the time with tips, tutorials, cleaning recipes, reviews of products from readers like you, and tests I've done on various cleaners, removers and laundry supplies.
I'd love to give you a gift! When you subscribe to my free weekly newsletter you will receive a free printable laundry stain removal chart that you can reference as needed.
I hope you enjoy this gift, and stop by again soon!
CAUTION: This website is provided for informational purposes only. It is provided as is, without warranties or guarantees. Some stains and messes just won't come out, and are permanent. Further, some cleaning methods can harm your item, so if what you want to clean or launder is sentimental or expensive call a professional. See disclaimer of liability for more information.