Woolite Pet Stain Remover Plus Oxygen Review
by Nicole
(Ocala, FL)
Nicole has provided a Woolite Pet Stain Remover Plus Oxygen review.
Nicole says:
Woolite Pet Oxygen is my favorite for removing pet stains.
I have two cats in the house with sensitive stomachs. They are also quite neurotic so they tend to lick themselves furiously when something upsets them. As you can imagine, the results are lots of hairballs and regurgitated food.
I had used all sorts of products. I had fairly good luck with using
car upholstery cleaner
but it was too expensive to use on a regular basis...and I didn't need the brush head it included.
Then came Woolite Pet Stain Remover Plus Oxygen, truly a godsend for me and my home.
I have two colors of carpet in my house, dark gray and off white and it removes the stains from both colors effectively while still remaining colorfast.
It lathers up a lot (I guess that is the "Oxygen" part) which seemed to be key to the effectiveness of the car upholstery cleaner.
At $6.50 or so for 22 ounces it is much more affordable, and I can often find a coupon for it in the Sunday paper.
It's readily available at the grocery store with the other cleaning products.
It is good for not just pet stains - I have used it to remove
white wine and
beer spills
after parties and regular dirt and grime such as
muddy footprints
.
One bottle lasts a long
time, almost 6 months, even after weekly use. A little goes a long way!
My only complaint about it is that they don't make an unscented version, at least not a readily available one. It has quite a perfumey scent which bothers me, I'm sure most people like it. I prefer using fragrance free products whenever possible, except
Method products
don't bother me because they are botanical products.
I try to use "natural" products whenever I can, but I wouldn't trade Woolite Pet Stain Remover Plus Oxygen for anything. It is the only carpet cleaner I use now to successfully clean up my cat's messes!
Fortunately my cats are young and still in control of their...other bodily functions...so I can't say how well they work in that regard. But for
throw up stains
(which can be very difficult to clean, especially if they sit a while) and hairballs there is nothing better, at least not for this price.
Trust Woolite Pet Oxygen to remove your stains and not the color on your carpet!
Taylor says:
Thanks Nicole for your Woolite pet stain remover plus Oxygen review.
Has anyone else used this pet stain remover successfully (or unsuccessfully) on their
carpet pet stains
? If so, tell me how it worked for you in the comments, or you can
share your own pet stain removers reviews here
, or read other reviews already submitted.
In addition, you can
share your carpet stain remover reviews here
, or read other reviews already submitted.
Woolite Pet + Oxygen Stain Remover Great On Red Wine Stains Too
by Gwen M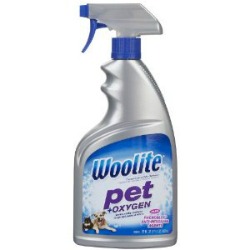 Gwen responded to the review above, plus shared her own experience with Woolite's pet stain remover plus oxygen.
Gwen says:
I too keep Pet + Oxygen on hand because it does a great job on pet stains from both ends, but I got up this morning and found that Kitty had
knocked a glass of red wine
over and it spilled and DRIED on my light carpet.
I thought it would be permanent. I sprayed the Woolite and rubbed for a few moments with my fingers and blotted with a clean dry cloth. Voila, stain out completely!! REALLY REALLY GREAT STUFF!
Taylor says:
Wow, that's great to hear. Thanks for sharing this experience Gwen.
Does anyone else use Woolite pet stain remover of this variety, or any of the varieties that the company makes? If so, I would love to hear your review and experiences too.
You can
share your Woolite carpet cleaner review here
, or read other reviews already submitted.
In addition, you can
share your pet stain removers review here
, or read many reviews of other brands too.
Related Pages You May Enjoy
Stain Remover Reviews: What's The Best Product To Remove Your Stain?
Wine Stain Remover Reviews
Pet Stain Removal Guide
Carpet Stain Remover Reviews
Go From Woolite Pet Stain Remover Plus Oxygen Reviews To Home Page
Thanks For Visiting My Website: Grab Your Free Gift!

Hi, I'm Taylor, a busy mom with 3 kids, so I have lots of hands on experience with house cleaning, laundry and my fair share of spots, spills and other messy catastrophes. Thanks for visiting my site.
I update the website all the time with tips, tutorials, cleaning recipes, reviews of products from readers like you, and tests I've done on various cleaners, removers and laundry supplies.
I'd love to give you a gift! When you subscribe to my free weekly newsletter you will receive a free printable laundry stain removal chart that you can reference as needed.
I hope you enjoy this gift, and stop by again soon!
CAUTION: This website is provided for informational purposes only. It is provided as is, without warranties or guarantees. Some stains and messes just won't come out, and are permanent. Further, some cleaning methods can harm your item, so if what you want to clean or launder is sentimental or expensive call a professional. See disclaimer of liability for more information.