Upholstery Spot Cleaning Tips For An Unknown Stain
by Chris
(NY, NY)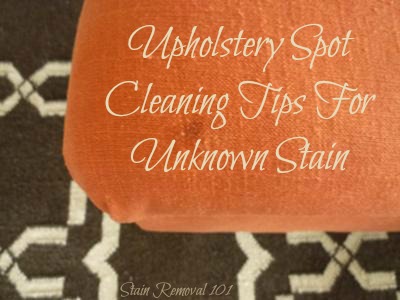 Here are several tips and tricks for removing upholstery spots and stains.




First, Chris asked a question about removing a mystery stain from an upholstered ottoman.
Chris's Question:
I got a small stain on our brand new linen/cotton upholstered ottoman. I don't know what the stain is...some sort of liquid dripped on it...could be
grease
or
coffee
or
baby formula
or
sweat
...I'm not sure!
Anyway, the care instructions for the fabric are "dry clean only." But obviously I can't dry clean an upholstered piece of furniture- the fabric isn't removable. The fabric is 70% linen 30% cotton.
Do you have any advice on how to handle this? Do I need to contact a professional cleaning company? Is there something I can do at home?
I already blotted the stain with a damp cloth but it did nothing. Thanks!
Taylor's Answer:
Chris, I hate mystery stains! Unfortunately they are very common.
I would first start by reading my article on
how to remove stains when you don't know what they are
.
Of course, you've already done the first step, which is to look at the care tags for your upholstery to determine how it should be cleaned. I am assuming it provided a "S" code based on your description that you said it should be dry cleaned only.
I understand your confusion when it says this, since you are imagining taking it to a dry cleaners like you would a dirty shirt. However, what that terms means is that you should not use a water-based solvent to clean it, unless the tag has the
code "WS" which means you can use either water-based or solvent-based cleaners on the upholstery. If it is dry clean only, then you should only use
dry cleaning solvent
, or some non-water based solvent which may still be in liquid form, but is "dry" because it does not contain water.
I've given more detailed directions for
upholstery dry cleaning here
, including suggested dry upholstery cleaners you can use (my favorite of which is Guardsman Dry Cleaning Fluid.)
Basically, to answer your question, you can try using a dry upholstery cleaner on the spot, but always test first in an inconspicuous location to make sure it does not harm the upholstery. My motto is that if it is too precious to ruin don't try it on your own, but instead call a professional!
Upholstery spot cleaning is actually a lot easier when you are allowed to use water-based solvents, because then you can use a more readily found
upholstery cleaner
, or even make your own
homemade upholstery cleaner
.
With either dry cleaning or water based methods make sure you get the upholstery only as wet as possible to remove the spot or stain, and not wetter, blot, not rub the spot, and let it dry thoroughly!
I hope these tips help you with your small upholstery stain!
I answered this question as part of the site where I provide
stain removal help
. You can ask your own questions, or check out what I've already answered!
In addition, you can
share your own upholstery cleaning tips here
, or read even more tips already submitted (including the one below which was submitted by Judy).
Join in and write your own page! It's easy to do. How? Simply click here to return to upholstery cleaning tips.
How To Remove Many Types Of Upholstery Spots & Stains
by SewGirlJudy
(Lovely Columbiaville, MI)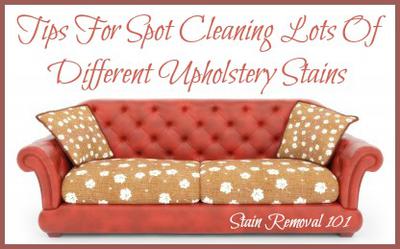 SewGirlJudy says:
When you get a spot or spill on your upholstered furniture the first thing you need to do is assess what the stain is, which helps you decide what you're going to clean it up with.
First try using a product that matches the stain if it is compatible with the fabric. For instance
wine
and
mustard
should have
white vinegar
.
Rubbing alcohol
is pretty much an all purpose cleaner.
It is usually quite successful when used as a first line of treatment on a stain, followed by other methods described. Consider what it does for oily skin.
The exception here would be for vinegar based stains.
Lipstick
or other oily substances should have alcohol; rubbing alcohol is cheaper than vodka and leaves fewer trace elements behind.
I have also had success with orange oil based cleaners on these stains.
For sticky things like stickers, tape residue and
gum
, I use orange oil followed by alcohol.
For sugary things you may have to break down and use water. Just water and blot, rinse, blot repeatedly. See below.
Food coloring stains such as
orange soda
and
kool-aid
type drinks can be removed fairly well with an
oxygen bleach
solution if treated immediately. Rinse and blot repeatedly as below.
Biz
is wonderful for
dirt
. So is
ammonia
water, little ammonia lot of water. Follow with a vinegar rinse and blot repeatedly with plain water.
I use a LOT of white cloths with a pour and blot method, with slight agitation or tamping of the area with a natural bristle brush and more pour and blot.
Always ALWAYS follow with dry cloth blotting, and a weight on a dry cloth will help pull the cleaner out.
When the side or back is involved, you may have to lay the furniture on its side or back for a thorough blot with a weight. This avoids the water ring that forms as it dries. : )
Taylor says:
Thanks so much for these wonderful tips on how to remove many different types of upholstery spots and stains Judy!
You can see even more tips for cleaning various types of spills from upholstery in the
A-Z Stain Removal Guide
, where I've written more than 100 different articles about various types of stains.
I'd also love to hear your tips and tricks for cleaning upholstery. You can
submit your own tips here
and I'll add them to the site, or check out more that have already been submitted!
Related Links On This Site
Stain Removal Tips & Tricks For Busy Moms
How To Clean Upholstery
Adhesive Removal Product Reviews
Go From Tips For Removing Upholstery Spots To Home Page
There are affiliate links on this page, and if you purchase a product through them I receive a small commission. Purchasing through my links costs you nothing extra, but helps support the free information provided on this site and my family. To learn more please see my product review disclosure statement.
Thanks For Visiting My Website: Grab Your Free Gift!

Hi, I'm Taylor, a busy mom with 3 kids, so I have lots of hands on experience with house cleaning, laundry and my fair share of spots, spills and other messy catastrophes. Thanks for visiting my site.
I update the website all the time with tips, tutorials, cleaning recipes, reviews of products from readers like you, and tests I've done on various cleaners, removers and laundry supplies.
I'd love to give you a gift! When you subscribe to my free weekly newsletter you will receive a free printable laundry stain removal chart that you can reference as needed.
I hope you enjoy this gift, and stop by again soon!
CAUTION: This website is provided for informational purposes only. It is provided as is, without warranties or guarantees. Some stains and messes just won't come out, and are permanent. Further, some cleaning methods can harm your item, so if what you want to clean or launder is sentimental or expensive call a professional. See disclaimer of liability for more information.