Meat Tenderizer Uses For
Stain Removal & Cleaning
Did you know there are meat tenderizer uses for things other than the obvious, of tenderizing your meat?

In fact, you can use the chemical powdered version of this substance (not the tool version, of course) to clean your home and help you remove certain types of stains.
I've collected several tips from around the site, shown below, where using this commony pantry item is suggested, so you can do it yourself.
This ingredient works best for protein based stains, or where at least part of the stain contains such proteins.
If you think of why, this becomes obvious. Meat tenderizer is used to break down the proteins within meat, making it softer and easier to chew. Just as it breaks up protein bonds within meat, so does it break up protein stains, thus helping you more easily remove them.
These powdered tenderizers do this by being composed of enzymes, which are activated with water. Generally the enzymes that are used come from natural sources, including the two most common enzymes, bromelain, which is found in pineapple, and papain, which is found in papaya.
Meat Tenderizer Uses Already Submitted
Here are all of the uses for this ingredient that have already been submitted on the site, to give you an idea of how this product is used around your home.
Caution: Make Sure You Use The Unseasoned Variety
One word of caution, however, about using a tenderizer to clean up or remove stains from items around your home -- make sure you use an unseasoned version for this type of use.
If you use a seasoned version the seasonings themselves may stain your clothes or other items you use them on.
How To Use Meat Tenderizer For Stain Removal & Cleaning
The simplest way to use this common household ingredient to clean and remove stains in your home is to mix it with just a little water and use it as a paste.
Place the paste on whatever item you're trying to clean up, and let it sit for a while. The chemical process of breaking down proteins takes time, and is not instantaneous. Therefore, allow at least 5 minutes typically, and perhaps more, for the paste to work on the item before rinsing it off.
How Do You Use Meat Tenderizer Around Your Home?
Making and using your own cleaning supplies is becoming quite popular. One of the most common homemade cleaning supplies is meat tenderizer.

I'd love for you to tell me how you use this product around your home for laundry, cleaning or stain removal?

You can also share your recipes for homemade cleaning solutions which feature this product here.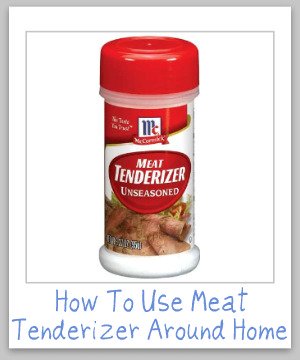 Thanks For Visiting My Website: Grab Your Free Gift!

Hi, I'm Taylor, a busy mom with 3 kids, so I have lots of hands on experience with house cleaning, laundry and my fair share of spots, spills and other messy catastrophes. Thanks for visiting my site.
I update the website all the time with tips, tutorials, cleaning recipes, reviews of products from readers like you, and tests I've done on various cleaners, removers and laundry supplies.
I'd love to give you a gift! When you subscribe to my free weekly newsletter you will receive a free printable laundry stain removal chart that you can reference as needed.
I hope you enjoy this gift, and stop by again soon!
Related Pages You May Enjoy
Lots Of Homemade Cleaners Recipes
Go From Meat Tenderizer Uses For Stain Removal & Cleaning To Home Page
There are affiliate links on this page, and if you purchase a product through them I receive a small commission. Purchasing through my links costs you nothing extra, but helps support the free information provided on this site and my family. To learn more please see my product review disclosure statement.
CAUTION: This website is provided for informational purposes only. It is provided as is, without warranties or guarantees. Some stains and messes just won't come out, and are permanent. Further, some cleaning methods can harm your item, so if what you want to clean or launder is sentimental or expensive call a professional. See disclaimer of liability for more information.