Liquid Plumr Foaming Pipe Snake Review - Cleared Slow Bathroom Drains
by Darcy
(Anaheim, CA)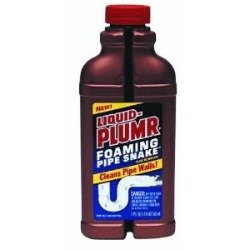 Darcy has shared her review of the Liquid Plumr Foaming Pipe Snake product.
Darcy says:
I had 2 drains that were draining really slowly in the same bathroom, the sink and the tub.
First I pulled the drain stoppers and removed the hair, but even with this both still drained slowly.
I finally got tired of the standing water in my sink and bath tub so I went to the store and bought one bottle of Liquid Plumr Foaming Pipe Snake. It's a very easy product to fined in your local chain stores like Meijer, Krogers...etc. Plus, it is way cheaper then calling a plumber at $40 to $90 and hour, to clear out your drain.
By the time I got home all the water had finally drained out of sink and tub. Because it is some pretty strong stuff I was very careful not to get it on my hands or clothing.
I read the instructions and poured 1/2 of the bottle in the sink and the rest in the tub drain. I poured it very slowly, like the directions said, into the drains. You definitely don't want this stuff splashing back up into you face or on your skin so follow the directions carefully.
There are actually two liquids in this product, and when you pour it into your drain the two liquids combine and make a foam that the product says dissolves the stuff blocking your drain.
Then, I waited an hour. It was very easy to use. After the hour I flushed the drains with HOT water. The clogs were gone and everything is flowing freely again, and I was very pleased with
the product.
When I told my husband about it though, he cautioned me to be careful with Liquid Plumr products in the future. He said that some water PVC pipes don't do well with them.
I didn't know that at the time, but now I know to always check to make sure that my plumbing is compatible with the product I use. Fortunately, the Foaming Pipe Snake product says it is safe for PVC and plastic pipes, so I didn't harm anything with it!
If I have another clogged drain I will definitely get this again, since it worked so well.
Taylor says:
Thanks Darcy for your review of Liquid Plumr's Foaming Pipe Snake product.
Liquid Plumr has a few different products, all designed to do something slightly different. After receiving your review I did a bit more research about these drain cleaners and found that they recommend using this product for "slow running drains" and "dirty pipe walls." It sounds like it did a good job for you, for your bathroom drains.
I would love to hear from even more people who have used this, or any other drain cleaning product in their home. You can
share your drain cleaners review here
, for this or any other product, sharing what you liked or didn't, about it and how it worked for you in cleaning or clearing a blocked or slow drain. You can also read other reviews of other products already submitted.
Related Links At Stain-Removal-101.com
House Cleaning Supplies Reviews - What To Stock In Your Cleaning Closet
Drain Cleaning Tips For Unclogging A Slow Drain
Homemade Drain Cleaner Recipes
Go From Liquid Plumr Foaming Pipe Snake Review To Stain-Removal-101.com Home Page
Thanks For Visiting My Website: Grab Your Free Gift!

Hi, I'm Taylor, a busy mom with 3 kids, so I have lots of hands on experience with house cleaning, laundry and my fair share of spots, spills and other messy catastrophes. Thanks for visiting my site.
I update the website all the time with tips, tutorials, cleaning recipes, reviews of products from readers like you, and tests I've done on various cleaners, removers and laundry supplies.
I'd love to give you a gift! When you subscribe to my free weekly newsletter you will receive a free printable laundry stain removal chart that you can reference as needed.
I hope you enjoy this gift, and stop by again soon!
CAUTION: This website is provided for informational purposes only. It is provided as is, without warranties or guarantees. Some stains and messes just won't come out, and are permanent. Further, some cleaning methods can harm your item, so if what you want to clean or launder is sentimental or expensive call a professional. See disclaimer of liability for more information.