Libman Freedom Spray Mop Review: I Love It!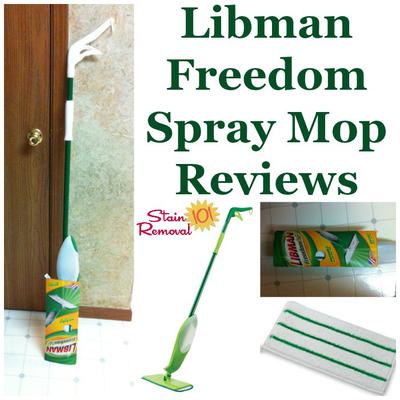 I recently purchased a Libman Freedom Spray Mop with plans that I would clean my kitchen floor with it, and I have not been disappointed. It was a great decision for me family and home.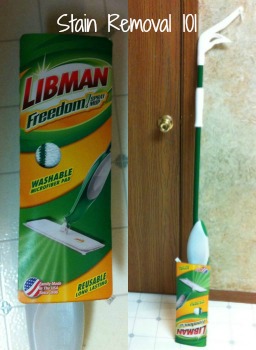 In the past I have tried to just mop my floor weekly, but it was always such a pain to drag out the mop, get the floor cleaner mixed and ready in the bucket, move all the chairs, etc. that I would put it off until the floor was filthy.
Plus, my floor is often filthy since I have three kids, and we cook meals regularly, instead of eating out.
Something needed to change, and I kept seeing advertisements for these mops with disposable cleaning pads, where you just spray on the cleaner, wipe, and you're done. It looked great, but I am also rather frugal, and I hated that I had to buy their floor cleaner and that I had to keep re-buying the cleaning pads. That made it an expensive solution.
Then, I saw this spray mop in the store, and thought this looked like a great alternative because I can use my own floor cleaner (and it is refillable, no buying replacement bottles) and you can wash the microfiber pad so it can be reused over and over again (it said it could be washed up to a max of 50 times).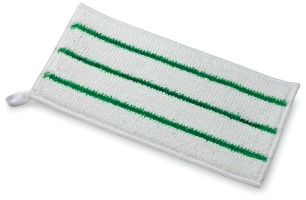 A picture of the refill pad is shown on the right. You just take one pad off and pop on the new one while you wash the other one.
Therefore, although this product was a bit expensive I decided I would give it a try. I bought the mop and one refill pad, so I could have one on the mop while one was in the wash.
This product has been a great purchase for my family. It is so easy to squirt the cleaner out (you just pull a trigger on the handle of the mop and the cleaner squirts out in front of the mop) that both my 11 year old and 8 year old can do it. I bet
my 5 year old could do it, but I don't trust her not to try to use it on the carpet next to the kitchen. ;)
That means I just assign kitchen floor cleaning as a chore now, and have one of the kids do it. Yay!
Just supervise kids the first few times to make sure they're not trigger happy with the cleaner, or you'll get really wet floors. It doesn't take much liquid to clean your floor, just a squirt or two every couple of swipes.
Now our kitchen floor is clean more regularly and I'm not the one doing the cleaning! That's what I call a great product. :)
With this method of cleaning the floor there is no rinse of the cleaner after it the floor is mopped so I think it is a good idea to use a
natural floor cleaner
where possible. (You can check out reviews at the link.)
But I haven't noticed build up on the floor from the cleaner, and I do still periodically drag out the more traditional mop for a thorough cleaning, like when company is coming, but it is much less frequent now.
This cleaning tool is also great for spot cleaning, such as when one of the kids comes in and gets dirt from their cleats all over a spot on the floor. I can make them remove their offending shoes and grab the mop and clean it up really quickly.
You still need to sweep up major crumbs and dirt first before using this product, just like with a regular mop, but it really saves time and makes it easier to keep your floor clean on a regular basis.
I highly recommend the Libman Freedom Spray Mop, or a similar product from another manufacturer (they've got something similar with the
Swiffer WetJet
, although it doesn't have resuable pads, and Rubbermaid also makes something like this as well).
Plus, after I wash these reusable pads more I'll update my review again, to share how that has been going, and report on wear and tear. ***Update, see that report below.***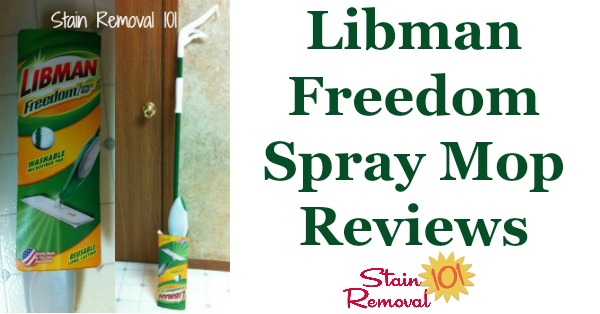 Libman Freedom Spray Mop Refill Is Great!
As I promised I told you after I'd used this mop for a while I would share how the refill held up for me.

It has been really wonderful.

I can wash it and reuse it, which saves me so much money instead having to buy refills over and over again, and so far it has held up really well (over 6 months now).

Further, it is so easy to take off the old yucky one to throw it in the washer and put the new one on. It's all velcro so quite simple.

I couldn't be happier with my purchase and still use it all the time!


Have you used this product, or another mop or broom that you've liked? If so, I'd love to hear your experiences as well. You can
share your own mop or broom review here
or read others that have already been submitted.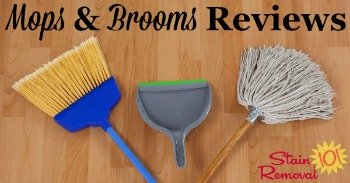 Related Pages You May Enjoy
House Cleaning Equipment & Tools Reviews
Go From Libman Freedom Spray Mop Review To Home Page
There are affiliate links on this page, and if you purchase a product through them I receive a small commission. Purchasing through my links costs you nothing extra, but helps support the free information provided on this site and my family. To learn more please see my product review disclosure statement.
Thanks For Visiting My Website: Grab Your Free Gift!

Hi, I'm Taylor, a busy mom with 3 kids, so I have lots of hands on experience with house cleaning, laundry and my fair share of spots, spills and other messy catastrophes. Thanks for visiting my site.
I update the website all the time with tips, tutorials, cleaning recipes, reviews of products from readers like you, and tests I've done on various cleaners, removers and laundry supplies.
I'd love to give you a gift! When you subscribe to my free weekly newsletter you will receive a free printable laundry stain removal chart that you can reference as needed.
I hope you enjoy this gift, and stop by again soon!
CAUTION: This website is provided for informational purposes only. It is provided as is, without warranties or guarantees. Some stains and messes just won't come out, and are permanent. Further, some cleaning methods can harm your item, so if what you want to clean or launder is sentimental or expensive call a professional. See disclaimer of liability for more information.