Lenor Softener Problem - I Keep Getting Fabric Softener Stains
by Kelly
(London)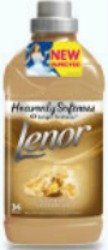 Lenor Heavenenly Softness - Sensual Infusions Gold Orchid
Kelly has written about Lenor softener, sharing her experiences with it, and how she keeps getting fabric softener stains from it.
Kelly says:
This fabric softener is such a lovely smell, but I'm afraid I'm getting stains on my clothes. I'm only putting a small amount in and its a brand new washing machine.
I just got rid of my old washing machine because my clothes were getting stains but now I realize it must be the softener doing it.
It only does it on a few items on each wash, but even if I don't put softener in it's still doing it.
Please can you help me? I don't know what I'm doing wrong. Thanks.
Taylor says:
Thanks for asking me your laundry question Kelly.
First, here is my article on
how to remove fabric softener stains
. This will help you get rid of the stains you already have on your clothing.
Many people like to use liquid fabric softeners, because they really do make clothes feel softer against your skin, but one of their downsides is that they can cause stains. That is because most softeners are made with oils, which coat the fabric, and we all know oils can cause stains.
There is a technique to properly using fabric softener to lessen the possibility of staining. I've also written detailed instructions on
how to use liquid fabric softener in your washing machine
. Make sure to review this article to see
if you can identify any problems with they way you've been adding the softener which may be causing your problems.
However, the fact that you say the stains are occurring even when you don't add the Lenor softener makes me wonder what is really happening. One possibility is that the softener is still coating the inside of the machine even after the wash, so even if you don't add extra the next time it may still cause stains.
To fix this issue try
cleaning the inside of your washing machine
. For example, there are quite a number of washing machine cleaners on the market you can use. In addition, you can try to clean it yourself, with hot water and bleach to see if this solves the problem.
I hope this advice helps, so you can continue to enjoy your Lenor softener. I have to say, it sounds like a good scent, with a "hint of honey," as the website states.
(For those of us here in the states, Lenor is mainly available in the UK, and a couple other countries in Europe, and is made by Procter & Gamble.)
Has anyone else used Lenor for softening their clothes and want to share a review? You can
share your fabric softener review here
, or read other reviews that have already been submitted.
I've answered Kelly's question as part of the
laundry questions and answers
section of my site. You can ask your own questions, or read other ones I've already answered!
Join in and write your own page! It's easy to do. How? Simply click here to return to fabric softener.
Lenor Softener Gives Me An Allergic Reaction
by Dave
(England)
Dave has shared a problem he has with this fabric softener.
Dave says:
My wife uses this product. It is the triple concentrated type, and the smell is so strong if I use a handkerchief it makes my nose bleed and also when my bedding has been changed the next morning I wake up with a horrific thick head.
This stuff is slowly killing me. How can I tell the wife the damage it is causing to my health? The problem is because it is triple concentrated. She still puts a full cap in the washer. I tried telling her, but she says the smell last longer.
Taylor says:
I'm sorry to hear you are having such a severe allergic reaction to Lenor softener Dave, without the ability to get relief.
Normally, when someone experiences an allergic reaction to any type of laundry supply the first and most effective step is to stop using that product to stop the reaction from continuing. Unfortunately, this doesn't sound like such a simple step in your case since the person doing laundry doesn't wish to stop using it.
I don't feel capable of touching on advice about marriage, so I won't. However, I will say you are right to want to stop using so much of the scent.
They have now come out with some hypoallergenic fabric softeners which are unscented. Perhaps this could be a compromise in your household, so your wife gets the softness she wants but you don't have to smell the scent.
I hope it all works out for you!
Has anyone else used Lenor fabric softener? If so, I would love to hear your review and opinions about it. You can
share your fabric softener review here
for this or any other brand.
Related Pages You May Enjoy
Laundry Supplies & Products Reviews
Stain Removal Help And FAQs
Laundry Detergent Allergy Symptoms And Relief
Go From Lenor Softener Reviews & Problems To Home Page
There are affiliate links on this page, and if you purchase a product through them I receive a small commission. Purchasing through my links costs you nothing extra, but helps support the free information provided on this site and my family. To learn more please see my product review disclosure statement.
Thanks For Visiting My Website: Grab Your Free Gift!

Hi, I'm Taylor, a busy mom with 3 kids, so I have lots of hands on experience with house cleaning, laundry and my fair share of spots, spills and other messy catastrophes. Thanks for visiting my site.
I update the website all the time with tips, tutorials, cleaning recipes, reviews of products from readers like you, and tests I've done on various cleaners, removers and laundry supplies.
I'd love to give you a gift! When you subscribe to my free weekly newsletter you will receive a free printable laundry stain removal chart that you can reference as needed.
I hope you enjoy this gift, and stop by again soon!
CAUTION: This website is provided for informational purposes only. It is provided as is, without warranties or guarantees. Some stains and messes just won't come out, and are permanent. Further, some cleaning methods can harm your item, so if what you want to clean or launder is sentimental or expensive call a professional. See disclaimer of liability for more information.