Laundry Safety Tip: Keep Supplies Out Of The Reach Of Kids & Pets
by SR101 Reader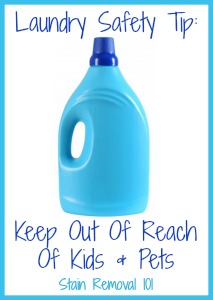 This experience, shared by a reader, should remind us all of an important laundry safety tip which should remember for detergent and all laundry products -- keep them out of the reach of kids and pets!
SR101 Reader's scary experience:
It seems that the
Free And Clear Kirkland Laundry Detergent
is attractive to dogs.
I have kept the laundry detergent bottles on the floor of the laundry room for many years with no problem.
Recently I noticed the the Free and Clear bottle said "improved". There is no dog warning on the bottle.
A couple of weeks ago my black lab took a 1.4 gal bottle of Free and Clear to his bed, unscrewed the cap and drank the laundry detergent. Somehow the other lab drank it also.
I am wondering if there is something in this paticular detergent that attracts the dogs?
They threw up all over the house and I called the Vet and ASPCA Poison Control.
I took them to the Vet and they got a shot and some medicine to take for a week.
They thew up many times and had a gagging cough. The gagging cough continued for a couple of weeks and I kept them quiet in the kitchen.
Around 3 weeks later one dogs is fine and the other still has intermittent coughing.
I have no idea about the long term
harm on their liver and kidneys that this event might have caused.
Taylor says:
I'm so sorry this happened to you and your pets. I hope all of you feel better soon.
I know you mentioned this incident as specific to one detergent, and perhaps there is a safety issue dealing with this bottle and packaging, but this unfortunately a common problem.
We seem to forget that laundry supplies in general, both detergents and other products, should be kept out of reach to keep our kids and pets safe. I know I have been guilty of this many times, and this just reminds me to look at my laundry room and put things back away where everyone will be safer!
Everything should be on a high shelf or behind cabinet doors with kid safety latches.
Plus, remember that while all detergents are not good to ingest
laundry detergent pacs
, which are highly concentrated and look yummy to little children, are even more dangerous. Here's an example of
problems people have had with Tide Pods
.
Does anyone else have any laundry safety tips to share, or stories similar to this that you'd like to share? If so, you can
share your tips here
.
Related Links At Stain Removal 101
Laundry Tips & Tricks For Busy Moms
Laundry Products Reviews & Ratings
Laundry Detergent Information & Reviews
Go From Laundry Safety Tip To Stain Removal 101 Home Page
Thanks For Visiting My Website: Grab Your Free Gift!

Hi, I'm Taylor, a busy mom with 3 kids, so I have lots of hands on experience with house cleaning, laundry and my fair share of spots, spills and other messy catastrophes. Thanks for visiting my site.
I update the website all the time with tips, tutorials, cleaning recipes, reviews of products from readers like you, and tests I've done on various cleaners, removers and laundry supplies.
I'd love to give you a gift! When you subscribe to my free weekly newsletter you will receive a free printable laundry stain removal chart that you can reference as needed.
I hope you enjoy this gift, and stop by again soon!
CAUTION: This website is provided for informational purposes only. It is provided as is, without warranties or guarantees. Some stains and messes just won't come out, and are permanent. Further, some cleaning methods can harm your item, so if what you want to clean or launder is sentimental or expensive call a professional. See disclaimer of liability for more information.