Downy Dryer Sheets Review - Simple Pleasures Lavender Serenity Scent
by Kathleen
(Owensboro, KY)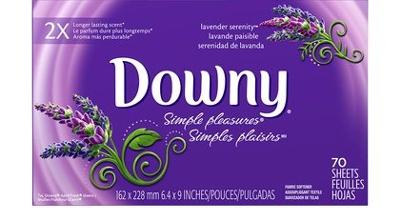 Kathleen has shared her Downy dryer sheets review, in the Simple Pleasures Lavender Serenity scent.
Kathleen says:
I love the feeling of freshly washed fabrics, and it's important to me that my soft fabrics stay soft and cuddly.
As a city dweller who has to carry laundry and supplies up and down stairs and walk blocks to a Laundromat, I like to keep my laundry routine as simple and efficient as possible.
Downy Simple Pleasures fabric softener dryer sheets keep my clothes, towels, and sheets smelling nice and feeling soft, without requiring me to lug more bottles along with me, such as for
liquid fabric softener
.
I particularly like Lavender Serenity fabric dryer sheets. The fresh smell reminds me of aromatherapy, and sleeping in lavender-scented sheets helps me be calm and relaxed.
My clothes are always soft without the slightly sticky residue or uneven color you can sometimes get from other
fabric softener dryer sheets
.
I have sensitive skin, and Downy Lavender Serenity imparts a nice fragrance without irritating my skin like some other scented brands.
Taylor says:
Thanks Kathleen for your Downy dryer sheets review.
Many people like to impart a nice scent to their clothes, but I understand what you mean about not wanting to lug around extra bottles to a laundry mat. I an fortunate enough to have a washing machine in my home now, but I lived for many years without one within easy walking distance, and it does make a big difference!
I know that
Tide detergent
, which is also made by Procter & Gamble, like Downy is, makes a detergent which has a
"Touch of Downy" lavender scented detergent
, which may give you even more lavender fragrance without more bottles to lug around.
Below is another review of these same dryer sheets, in the lavender scent also, where she says she uses this detergent.
You can also
share your own Downy fabric softener reviews here
, of either the liquid version or the Downy dryer sheets, to say what you think about them.
Further, you can
share your dryer sheets reviews here
for any other brand, telling me which kinds (and scents) you like, or don't like, and why.
Join in and write your own page! It's easy to do. How? Simply click here to return to Downy fabric softener.
Downy Vanilla And Lavender Sheets Review
by Carrie
(Kansas City)
Carrie has shared her review of Downy Vanilla and Lavender dryer sheets.
Carrie says:
I use Downy Simple Pleasures dryer sheets with vanilla and lavender scent. I really like these dryer sheets because they make my clothes smell fresh, long after I remove them from the dryer.
I like the Downy brand better because my clothes come out the dryer very soft and with no static cling.
I also like Downy dryer sheets because I have never had an issue with
staining or spotting
.
When I use the Vanilla and Lavender scent dryer sheets with the corresponding
lavender detergent from Tide
it gives my clothes and towels an even longer-lasting scent. (I used to use the Tide with Vanilla and Lavender scent, but that got discontinued, so I switched to the Tide with a Touch of Downy in lavender scent.)
I appreciate the fact I only have to use one dryer sheet per load to obtain the results I want.
I also use the dryer sheets in my dresser drawers to keep the scent fresh.
I like the fact that Downy comes in different scents, should I choose to change but I prefer the vanilla and lavender scent for sheets and towels, because it is such a relaxing scent.
I have not had any skin reactions to this particular dryer sheet nor have I witnessed any extra wear and tear to my fabrics.
The only drawback to using Downy products may be the price. They are more expensive than other brands. But the manufacturer usually provides coupons for this product which helps lower the price and make it more affordable.
Taylor says:
Thanks Carrie for your review of these Downy dryer sheets.
Lavender is a very popular scent for laundry products for the very reason you've stated -- it is so relaxing. I've actually written a whole article on
common essential oil scents for cleaning and laundry products
, that you might find interesting.
Has anyone else used dryer sheets from Downy, in any scent? If so, you can
share your Downy fabric softener review here
, or read other reviews already submitted.
You can also
review other dryer sheets here
, telling me what you like or don't about them.
Related Pages You May Enjoy
Laundry Supplies Reviews - What To Stock In Your Laundry Room
Dryer Sheets Information And Reviews
Liquid Fabric Softener For Your Washing Machine - Information And Reviews
Go From Downy Dryer Sheets Reviews To Home Page
Thanks For Visiting My Website: Grab Your Free Gift!

Hi, I'm Taylor, a busy mom with 3 kids, so I have lots of hands on experience with house cleaning, laundry and my fair share of spots, spills and other messy catastrophes. Thanks for visiting my site.
I update the website all the time with tips, tutorials, cleaning recipes, reviews of products from readers like you, and tests I've done on various cleaners, removers and laundry supplies.
I'd love to give you a gift! When you subscribe to my free weekly newsletter you will receive a free printable laundry stain removal chart that you can reference as needed.
I hope you enjoy this gift, and stop by again soon!
CAUTION: This website is provided for informational purposes only. It is provided as is, without warranties or guarantees. Some stains and messes just won't come out, and are permanent. Further, some cleaning methods can harm your item, so if what you want to clean or launder is sentimental or expensive call a professional. See disclaimer of liability for more information.