Liquid Cheer Detergent Review
Keeps My Clothes Colorful
I got a chance to review a free bottle of liquid Cheer detergent, and tested it on some tough dirt and odors. See how it worked for my family.
You may have noticed that I've been trying all kinds of new products for cleaning my house and clothes lately. With the economy staying on the down slump I think it is more and more important to be trying new things to make sure you are getting the best value for your money.
That's why I jumped at the chance to try out Cheer's Stay Colorful Free and Gentle liquid detergent when I was given a bottle by Procter & Gamble, and asked to share my opinions about the product with you.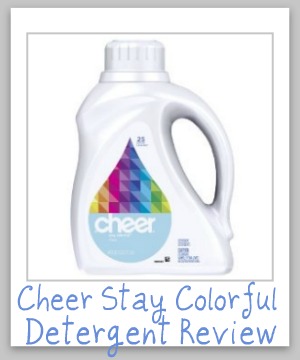 My family needed to use the hypoallergenic version of this laundry detergent because of allergies we have in our home to scent, and I will say this detergent did not disappoint. I closely watched my son's skin to make sure he did not have any allergic reaction to laundry detergent from it, as I always do when I try something new, and thankfully there was no reaction.
Therefore, with that preliminary but important test out of the way I went on to give this detergent some major everyday challenges washing all the laundry for my family of 5, to see if it was up to the task, and I have to say it passed with flying colors!
Test 1: How Well Does Cheer Detergent Get Out Ground In Dirt And Mud? Final Grade: A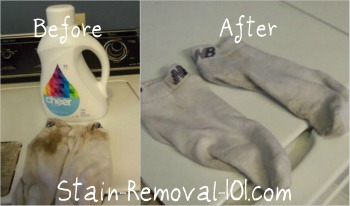 One of the first loads I did with this detergent gave it quite a work out, because my husband provided me with some very dirty socks to wash. What happened was that he fell while mountain biking, and his socks basically got rolled around in the dirt, mud and sand on the trail.
Typically, when I try to remove mud stains I do a lot of pretreating to them before they even get washed, but I thought, "why not see what this detergent can do?" So I threw them into the washer with the rest of the clothes, washing everything in hot water, and letting the whole load soak in the hot water and detergent for 30 minutes before letting the washer continue on to finish all its cycles. I didn't add any laundry stain removers or pretreaters to the load at all.
To my happy surprise the mud and dirt were gone at the end of the load. You might see a bit of mud faintly, but not enough to be noticeable. As you can see, there is quite a difference between the before and after pictures! Plus, no dirt or mud got transferred or deposited onto the other clothes in the load. That is wonderful!
Test 2: How Well Does Cheer Laundry Detergent Remove Odors? Final Grade: B+
Next, I thought I would test out another big problem here in our house -- odor from athletic clothes.
Both my husband and my older children are into sports and outdoor activities, and get really sweaty in the process. That means all those athletic clothes they wear, with the special fabrics that help wick away moisture from their bodies, seem to hold onto odors even more than normal clothes.
Typically, when I wash athletic clothes I throw in a cup or so of baking soda into the load, along with the detergent, which helps neutralize and reduce these odors. I thought I would try liquid Cheer detergent without this laundry booster just to see how it would do.
Well, overall as you can see by my final grade of B+, it did not remove all the odors without the assistance of the baking soda. However, it significantly reduced the odor in the clothes, and when I added baking soda for subsequent loads it performed quite well in the odor removal department. (To be fair I haven't found any detergent that can remove all these odors without assistance yet!)
Test 3: How Well Does Cheer Detergent Clean Clothing Overall? Final Grade: A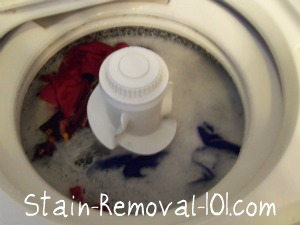 The final test I gave to this detergent was basically a cumulative test, since I used it exclusively to wash my whole family's laundry for two weeks. I wanted to see how it would work, over time, for cleaning the clothes.
One of the first things I noticed about the detergent was that it made a lot of suds, even when I used the minimum amount of detergent recommended for a load. (See the picture to the right.) Of course, I don't have an HE machine, so I used the regular version. Cheer also makes an HE version which would not suds so much.
It did a great job with all the clothes I threw in my machine, including all the brightly colored clothing. My girls, especially, really love wearing bright colors and this laundry detergent kept everything looking just as bright, with no notiecable fading, even though I typically wash in hot water to clean everything well.
Overall, I have to say I was quite pleased with liquid Cheer detergent. It worked well with all the typical issues in our home, and kept the clothing looking clean and bright. It's hard to ask for more!
You can read even more reviews of this detergent here, from other readers, or share your own review too if you've used it before.
Pursuant to FTC regulations please be aware that Cheer provided me with a free jug of detergent to use for writing this review, and that I was compensated for my time for using the product, and writing this review. However, all opinions expressed are my own, and have not been influenced by Cheer.
Thanks For Visiting My Website: Grab Your Free Gift!

Hi, I'm Taylor, a busy mom with 3 kids, so I have lots of hands on experience with house cleaning, laundry and my fair share of spots, spills and other messy catastrophes. Thanks for visiting my site.
I update the website all the time with tips, tutorials, cleaning recipes, reviews of products from readers like you, and tests I've done on various cleaners, removers and laundry supplies.
I'd love to give you a gift! When you subscribe to my free weekly newsletter you will receive a free printable laundry stain removal chart that you can reference as needed.
I hope you enjoy this gift, and stop by again soon!
Related Pages You May Enjoy
Best Laundry Detergent For You - Reviews & Ratings Of Major Brands
Hypoallergenic Laundry Detergent Reviews & Information
Go From Liquid Cheer Detergent Review To Home Page
CAUTION: This website is provided for informational purposes only. It is provided as is, without warranties or guarantees. Some stains and messes just won't come out, and are permanent. Further, some cleaning methods can harm your item, so if what you want to clean or launder is sentimental or expensive call a professional. See disclaimer of liability for more information.