Biokleen All Purpose Cleaner Review
by SAJ
(Reno, NV, USA)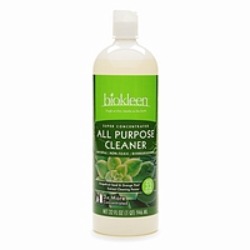 SAJ has provided this Biokleen all purpose cleaner review.
SAJ says:
To clean my bathroom, kitchen and many other parts of my house I use the all purpose cleaner from Biokleen.
I prefer to use this because it's non-toxic, biodegradable, and made with natural ingredients.
Sometimes I buy the kind that is in the spray bottle but mostly I buy the super concentrated kind so that I can mix it with a bit of water and clean.
It's really easy to use because all I have to do is spray it on whatever surface I am going to clean and wipe with a cloth. I don't have to worry about rinsing it off because it won't damage the counters, ceramic, or anything like that.
What's great is that you can use it for light, moderate, or heavy cleaning.
When I first moved into this house, it was a mess. The previous owners left and didn't bother to clean, in fact, it looked like they never cleaned the entire time they lived here.
Sometimes I'm nervous that natural products won't be able to clean really bad grime but this worked miracles on the
walls
,
kitchen
and especially
bathroom
.
It has a really soft clean scent that you can only smell if you actually open and sniff the bottle.
Aside from it's cleaning power, I think that it is the best because I don't have to worry about practically suffocating while cleaning in the winter.
Taylor says:
Thanks SAJ for your Biokleen all purpose cleaner review.
I notice you use this cleaner to clean all kinds of things in your home, which is really what the point of "all purpose cleaners" really is, and why they are so great.
I would love to hear from others too, to
share your general purpose cleaner review here
, telling me which one you like, and why.
In addition, does anyone else use Biokleen products? If so,
share your house cleaning supplies reviews here
, either about Biokleen or any other cleaning products you use, and how they work for you.
Join in and write your own page! It's easy to do. How? Simply click here to return to general purpose cleaner.
Biokleen Spray & Wipe All Purpose Cleaner Review
by Lea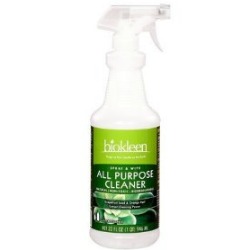 Lea has shared her Biokleen spray and wipe all purpose cleaner review.
Lea says:
I bought this cleaner at my local natural food market (PCC Natural Markets).
I purchased it not only because the label says it's natural and biodegradable, but most importantly, it is non-toxic. I have a young child at home and having non-toxic cleaners in the home is important to me.
I have used this cleaner quite a bit and I absolutely love it. I mainly use it to
clean my kitchen
counters,
sink
and
stove top
, and to
clean my bathroom
counters and sink. It cleans all of those surfaces very well and leaves everything nice and shiny.
I like that there is no residue left behind so that the newly cleaned counters are never sticky. I also love the scent. It is light and airy and not heavy and perfumy. I also like that since it's non-toxic, my young son can help me with the cleaning! He loves to help and I feel good about allowing him to help.
Biokleen products aren't the easiest to find, however that seems to be changing now since more stores are embracing natural/organic goods.
I can get Biokleen products at my local natural food market, however, I have seen Biokleen products in a local grocery store (QFC), which has a good organic/natural goods selection.
Taylor says:
Thanks Lea for your Biokleen all purpose cleaner review.
You are right, it can be difficult to find these products on your store shelves, but fortunately you can find them easily on the Internet, such as through the Amazon links below. Of course, if you did buy from Amazon it would be in bulk, which may not suit your desires.
Therefore, I would love to hear from others sharing where they purchase their Biokleen products, either from the Internet or from stores, to help people find them if they are interested.
Further, I am always looking for more reviews of green cleaning supplies. You can
share your Earth friendly cleaning products review here
, if there is a eco-friendly product you really enjoy using, telling me about it.
Further, if you're looking for a natural all purpose cleaning product, check out the whole page on the site I've devoted to
natural all purpose household cleaners reviews
.
Related Links At Stain Removal 101
House Cleaning Supplies Reviews - What To Stock In Your Cleaning Closet
Green Cleaning Products Reviews & Ratings
General Purpose Cleaner Reviews
Natural Kitchen Cleaner Reviews
Natural Bathroom Cleaner Reviews
Cooktop Cleaner Reviews
Biokleen Bac Out Stain & Odor Eliminator Review
Go From Biokleen All Purpose Cleaner Reviews To Stain Removal 101 Home Page
Join in and write your own page! It's easy to do. How? Simply click here to return to general purpose cleaner.
Thanks For Visiting My Website: Grab Your Free Gift!

Hi, I'm Taylor, a busy mom with 3 kids, so I have lots of hands on experience with house cleaning, laundry and my fair share of spots, spills and other messy catastrophes. Thanks for visiting my site.
I update the website all the time with tips, tutorials, cleaning recipes, reviews of products from readers like you, and tests I've done on various cleaners, removers and laundry supplies.
I'd love to give you a gift! When you subscribe to my free weekly newsletter you will receive a free printable laundry stain removal chart that you can reference as needed.
I hope you enjoy this gift, and stop by again soon!
CAUTION: This website is provided for informational purposes only. It is provided as is, without warranties or guarantees. Some stains and messes just won't come out, and are permanent. Further, some cleaning methods can harm your item, so if what you want to clean or launder is sentimental or expensive call a professional. See disclaimer of liability for more information.