Wonder Wash Plus Spin Dryer - Alternative To The Laundry Mat
by Rawny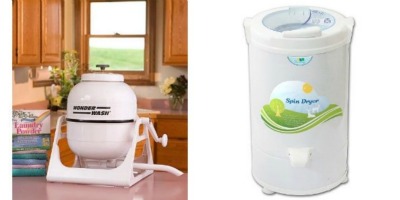 I received this review of the Wonder Wash, a portable miniature washing machine, and an accompanying product, the Spin Dryer, from Rawny, on my other site, Household Management 101's Facebook page.




She graciously let me quote here here, to tell you about these machines, since I know I myself had been wondering about it for a while, and whether it really worked or not.
Rawny says:
We were using a laundry mat and spending between $100-130 a MONTH and there are only two adults and a one year old in my house! So we went on the Internet and bought a Wonder Wash. It sounds and looks ridiculous, but I promise you it works SO well.
We also purchased a spin dryer, which pulls all the water out of the clothes, leaving them slightly damp. We hang them around the apartment and they dry in about 1 to 2 hours.
The washer loads take 2-3 minutes to wash, a minute to rinse and about 30 seconds to dry. Just thought I would share for anyone in the same situation!
Taylor says:
Thanks Rawny for sharing this information about these products with me. I know people are always looking for alternatives to the laundry mat, especially for small apartments and dwellings that don't have space for a washer and dryer.
I would love to hear from other people who have tried either of these products, either of this brand or any other, to tell me how they've worked for them, and whether they are a good use of money or not.
You can
share your laundry supplies review here
, for this or any other product, or
read other reviews already submitted
.
Join in and write your own page! It's easy to do. How? Simply click here to return to laundry supplies.
The Wonder Wash Actually Works!
by Barbara
(Ottawa, Canada)
Barbara also shared how this product has worked for her, responding to the review above.
Barbara says:
I agree with Rawny, the Wonder Wash is a great product.
It does sound a silly thing to use for laundry, but it actually works!
I usually wash for about 4-5 min. and rinse for about 30 sec. and it does as good a job as a regular washer.
I always have a fear of water leaking with a portable machine, and reviews of those machines mention that can and does happen, but not with this product.
I would recommend it to anyone who does not want to spend a lot of money, but would like to get their clothes cleaned in their own place.
Good value for the money. It will pay for itself in about 2 months.
Hope this helps!
Taylor says:
Thanks for offering your experience Barbara. It is always good to hear a second opinion for more details.
I'd love to hear from even more people who've used this product, to share what you've thought of it, good or bad. You can
share your review here
.
Related Links At Stain Removal 101
Best Laundry Detergent For You - Reviews Of Major Brands
Laundry Tips For Busy Moms
Go From Wonder Wash And Spin Dryer Reviews To Stain Removal 101 Home Page
Join in and write your own page! It's easy to do. How? Simply click here to return to laundry supplies.
Thanks For Visiting My Website: Grab Your Free Gift!

Hi, I'm Taylor, a busy mom with 3 kids, so I have lots of hands on experience with house cleaning, laundry and my fair share of spots, spills and other messy catastrophes. Thanks for visiting my site.
I update the website all the time with tips, tutorials, cleaning recipes, reviews of products from readers like you, and tests I've done on various cleaners, removers and laundry supplies.
I'd love to give you a gift! When you subscribe to my free weekly newsletter you will receive a free printable laundry stain removal chart that you can reference as needed.
I hope you enjoy this gift, and stop by again soon!
CAUTION: This website is provided for informational purposes only. It is provided as is, without warranties or guarantees. Some stains and messes just won't come out, and are permanent. Further, some cleaning methods can harm your item, so if what you want to clean or launder is sentimental or expensive call a professional. See disclaimer of liability for more information.