Wink Ink Stain Remover Review
by Michelle P.
(Green Bay, WI. US)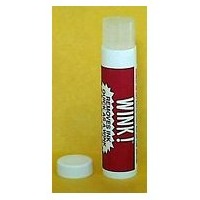 Michelle has provided this WINK! Ink Stain Remover review.
Michelle says:
I use Wink, a product that comes in a stick, to remove my ink stains.
I work in an office writing with pens all day. One day I accidentally got an
ink stain on my favorite shirt
when I left a pen laying on the desk.
After searching online I saw a product called Wink and figured I would order it and give it a try. The stick says it's safe for all washable materials.
It was reasonably priced at around $4.
I put a little bit of Wink ink stain remover on my shirt, rubbed it in, washed it and the stain was gone.
I like that it doesn't have a strong or stinky smell.
I also put Wink on my suede couch after my daughter got an ink stain on it while doing her homework. I rubbed the stick on the couch, added a couple drops of water, rubbed it then rinsed it with a clean damp cloth and the stains came right out.
I would recommend this to everyone looking for an ink stain remover.
Taylor says:
Thanks Michelle for your Wink ink stain remover review.
As you said this stain remover is safe for washable fabrics, and suede upholstery is definitely not washable. I'm glad it worked to get out the ink stain on your suede couch, but I just want to make sure anyone else who reads this attempts such stain removal for themselves with caution, since this is not what the product is formulated to do.
I would love to hear from others, in the comments, or by
sharing your own ink spot remover reviews here
, what ink stain or spot remover works best for you (or didn't work as promised). You can also read other reviews of ink stain and spot removers already submitted.
Join in and write your own page! It's easy to do. How? Simply click here to return to ink spot remover.
WINK Stick Ink Spot Remover Review
by Arleen
(Elizabeth, NJ)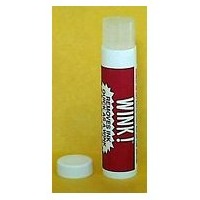 Arleen has shared her review of WINK, the ink spot and stain remover in a stick.
Arleen says:
I have used WINK on three different kinds of ink stains.
The first time I tried it, I didn't really think it would work, partly because it was so inexpensive--less than $4.00 for the stick.
I had a
ball point ink stain
in the cuff of a cotton blouse--it was a really BIG stain. The pen had just started leaking when the point seemed to come loose and it covered about 1/3 of the cuff.
I was ready to throw the blouse out, but thought I'd give WINK a try. I rubbed WINK into the stain really hard--it had been setting for over 2 weeks. Nothing seemed to happen. Then I kept rubbing it while I was running the luke warm water and it was just gone. No marks around the edges, no ink stain. I still can't believe that this little $4 stick did what none of the other pricier "stain removers" could not do.
Since then I've used it successfully on suede gloves and a silk scarf. It works every time.
Taylor says:
Thanks Arleen for sharing your WINK ink spot and stain remover review.
You are not the first reviewer to share that it worked well for them on
suede
, but I still want to note that the instructions say it is safe for all "washable" fabrics. Neither suede nor silk are washable, so always use stain removers cautiously if not used as directed.
I would love to hear from more people about this spot remover. You can
share your ink spot remover review here
, or read other reviews for other products that have already been submitted.
Related Links At Stain-Removal-101.com
Stain Remover Reviews
Ballpoint Ink Stain Removal
Go From Wink Ink Stain Remover Reviews To Stain-Removal-101.com Home Page
Join in and write your own page! It's easy to do. How? Simply click here to return to ink spot remover.
Thanks For Visiting My Website: Grab Your Free Gift!

Hi, I'm Taylor, a busy mom with 3 kids, so I have lots of hands on experience with house cleaning, laundry and my fair share of spots, spills and other messy catastrophes. Thanks for visiting my site.
I update the website all the time with tips, tutorials, cleaning recipes, reviews of products from readers like you, and tests I've done on various cleaners, removers and laundry supplies.
I'd love to give you a gift! When you subscribe to my free weekly newsletter you will receive a free printable laundry stain removal chart that you can reference as needed.
I hope you enjoy this gift, and stop by again soon!
CAUTION: This website is provided for informational purposes only. It is provided as is, without warranties or guarantees. Some stains and messes just won't come out, and are permanent. Further, some cleaning methods can harm your item, so if what you want to clean or launder is sentimental or expensive call a professional. See disclaimer of liability for more information.