Target Up & Up Dishwasher Detergent Review
by Carla
(Las Vegas, NV)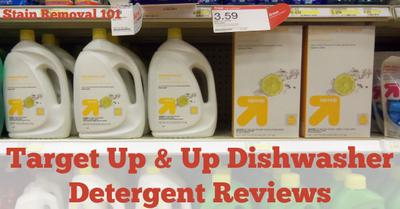 Carla has provided her review of Up & Up dishwasher detergent, from Target.
Carla says:
Up & Up is the new Target Store generic label. One can find the label by looking for the upward pointing arrows on the product boxes.
The boxes are often white with very bright colors. This is a move away from the more generic packaging used in the past with starkly contrasting colors branded with a target symbol.
The Up and Up Dishwasher Detergent comes in the usual assortment of scents. The one in particular I have used is the lemon scent.
The scent isn't overly strong. There isn't a strong lemon aroma when I open the door of my automatic dish washer. The scent is there just enough to know that my dishes are clean. And my dishes are clean.
I have compared the performance of this brand to that of other "Brand Name" detergents and I was much happier with the performance of the Up & Up brand. My dishes were cleaner with less obnoxious scent, and I paid a lot less for this superior product.
Overall, I was very happy with this detergent, and am definitely going to be buying it again.
Taylor says:
Thanks Carla for your review of Target's Up & Up dishwasher detergent.
I love it when I can find generic or store brand cleaning and laundry supplies that work just as well, or better, than name brand ones, because buying them saves so much money.
Does anyone else use any generic or store brand cleaning supplies that they are really happy with (or that turned out to be duds), and want to share? If so, you can
share your household cleaners reviews here
, telling me about it.
In addition, you can
share your dishwasher detergents review here
, for this or any brand, telling me what you like or don't about it. You will also read other reviews already submitted if you click the link.
Join in and write your own page! It's easy to do. How? Simply click here to return to dishwasher detergents.
Target Up & Up Packs Sticking Together & Not Disbursing Powder
by MN Mom
After 1 year+ of use, I was right there with Carla's review on every point.

But now, suddenly, more often than not, the pods are sticking and not disbursing the powder.

I tried the usual suspects, drying the soap dispenser before every wash, changing the storage bin, moving the storage bin to a more obviously dry location...still sticking.

I've been through one box and one bag with same result.

I'm stopping use. It's a waste of time and water to have to figure it out/return to the store repeatedly.
Join in and write your own page! It's easy to do. How? Simply click here to return to dishwasher detergents.
Not Impressed With Lemon Scented Up & Up Dishwashing Detergent Powder From Target
by Taylor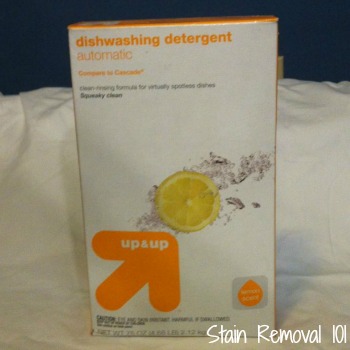 A long time ago my Dad read in Consumer Reports that the "best buy" for dishwasher detergent was Walmart's Great Value brand, because it worked really well and was the lowest cost.

Thus began my love affair with this detergent, which I have used happily for many years, and through a couple of formula changes brought upon by the banning of phosphates in dishwasher detergent a few years ago. (You can read my Great Value dishwasher detergent powder review here).

When I was at Target recently I saw they had a similar store brand, called Up & Up, in the powder version. It was lemon scented and I had already received a positive review from another reader, Carla (see above), so I thought why not, I'll try it myself and see if it is as good as Walmart's version.

I am still using the box, and will most likely continue until I use it all, but I can already tell you I won't be purchasing it again.

Soon after I purchased it I noticed that my dishwasher's soap dispenser began to get stuck, and lots of the powder would stay undissolved through the cycle and would make almost a glue in the dispenser that I would have to pry out with a dull knife.

Then, our dishwasher broke. Now, I don't think that had anything to do with the Target detergent, since it was an electrical issue with the control panel. However, when we were getting it repaired the repairman told us we had a large accumulation of soap at the bottom of the dishwasher which was causing over sudsing and also causing the machine not to drain properly.

I have not had this problem before, and he suggested running the machine empty a couple of times to get it cleaned out, and potentially also using a dishwasher cleaner to clean it up a bit. I cannot know for sure, because of the issue of the dishwasher being old and potentially not working as well, but I think this soap may have caused some of the trouble we've been having.

The repairman suggested using significantly less detergent each time we run the dishwasher, which we have been doing since, and hopefully this will keep the problem from occurring again. However, I don't think I'll be purchasing this store brand again, at least of this variety.

I have been happy with several Up & Up products I've tried, just not this one.

I'd love to hear from even more people who've used this product, or any other store brand dishwasher detergent sharing how it has worked for you, positive or negative. You can share your review here, or read lots of other reviews of brands that have already been submitted by other readers.


Related Pages You May Enjoy
House Cleaning Supplies Reviews & Ratings From Readers
House Cleaning Tips & Tricks For Busy Moms
Up & Up Disinfecting Wipes Review: Works Great And Less Expensive
Go From Target Up & Up Dishwasher Detergent Reviews To Home Page
Thanks For Visiting My Website: Grab Your Free Gift!

Hi, I'm Taylor, a busy mom with 3 kids, so I have lots of hands on experience with house cleaning, laundry and my fair share of spots, spills and other messy catastrophes. Thanks for visiting my site.
I update the website all the time with tips, tutorials, cleaning recipes, reviews of products from readers like you, and tests I've done on various cleaners, removers and laundry supplies.
I'd love to give you a gift! When you subscribe to my free weekly newsletter you will receive a free printable laundry stain removal chart that you can reference as needed.
I hope you enjoy this gift, and stop by again soon!
CAUTION: This website is provided for informational purposes only. It is provided as is, without warranties or guarantees. Some stains and messes just won't come out, and are permanent. Further, some cleaning methods can harm your item, so if what you want to clean or launder is sentimental or expensive call a professional. See disclaimer of liability for more information.