Surf Detergent Review - I've Used It For Over 14 Years
by Joan K. Baltz
(Covington, TN USA)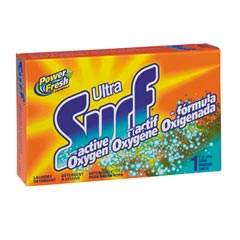 I have been using Surf Detergent, regular powder, in a variety of scents (my favorite is Morning Breeze) for over 14 years. I have used other types of detergents and they just don't seem to do the job like Surf.


My clothes come out spotless and I'm even able to use the laundry detergent as a spot cleaner. I make a paste, rub it in, let it set for a few minutes and toss it into the wash.
When I have switched to cheaper brands, they never had that clear, clean, and fresh scent like Surf. It lingers in your clothes even after drying them.
I have a confession to make, I tried taking out an ink stain and used Surf to do this. I even left it on the shirt overnight. I thought for sure the shirt would lose its color. I washed the shirt and the ink stain was still there, but to my surprise the fabric and coloring were unharmed.
Otherwise, Surf has taken out
grass stains
, a
wine stain
, and even a mysterious
oily grease stain
.
It leaves my whites and my darks looking very clean and fresh.
I have a grandson who is
highly allergic to scented soaps
and I accidentally washed his underwear with ours. Unknowingly, he put the underwear on and wore them that day. No rash appeared whatsoever.
Another trait of Surf detergent that I like is they don't add any phosphorous and it is biodegradable.
I never have had any problem with it caking on my clothes (since I use the powder) or leaving residue in my soap dispenser on my machine. All in all, it is a very good product.
Taylor says:
Thanks for sharing your Surf detergent review with me.
It is always good to know what types of stains the detergent helps to remove, and those it does not. Frankly, I'm not surprised Surf didn't help remove the ink stain, since those are some of the most difficult stains to remove, and if the ink is oil based, as I suspect your stain was, it needs more than just detergent.
Does anyone else have a detergent that they've used for a long time, like Joan, that they want to review for me? If so, you can
share what you believe is the best laundry detergent here
, choosing whatever detergent you want to review.
You can also see more
information and reviews of Surf laundry detergent here
.
Join in and write your own page! It's easy to do. How? Simply click here to return to Surf laundry detergent.
I'm So Glad They're Bringing Surf Detergent Back, Plus In Liquid Form!
by SR101 Reader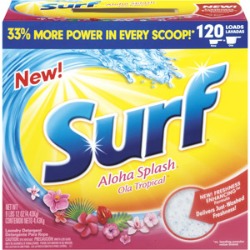 I learn new stuff all the time, and this time it was from an SR101 reader, who alerted me to the fact that Surf detergent now comes in liquid, as well as powdered versions.
SR101 reader says:
I too used to use Surf for several years and then it virtually disappeared from the market for about a decade.
I was very disappointed because I used it all the time. The only product you could find was All with Surf in it. It wasn't the same though.
However, finally I see Surf is back and even available in liquid HE! I am so glad because now I will make the switch back permanently after years using of a rotating brand of the month laundry detergent. Surf is the best!
Taylor says:
Thanks so much for alerting me to the news about this detergent.
In the past this was a powder only detergent, and I guessed the brand was on its way out, since you're right, they didn't do anything with it for a long time.
However, a new check of their website shows Sun Products Corporation plans to make a new push with this detergent brand, and has introduced several new scents and, you're right, two versions in liquid HE. I'll be updating the main
Surf laundry detergent page
with this information.
In addition, I would love to hear from even more people who have used this detergent, especially since the new fragrances and liquid version were added. In addition, tell me what stores you've seen it in. I have noticed it in
Walmart
(click link to see search results for Surf), but I would love to know of even more places you've seen it.
In addition, I haven't seen any pictures of the liquid version, so I would love for someone to send me one in please! :)
You can
share your Surf reviews here
.
Join in and write your own page! It's easy to do. How? Simply click here to return to Surf laundry detergent.
I Love This Stuff!
by Michael
(North Bergen, NJ )
Michael has shared his review of this detergent.
Michael says:
This detergent smells so, so good and it is so cheap.
It seems to work well on getting everyday stains out but I usually don't have very heavy stains.
There are always coupons.
My only complaint is that I can't find it in an HE version.
The smell also doesn't really stay in the clothes but that may be because when I used this detergent I was using it at a laundromat so I couldn't let the clothes soak for five or ten minutes.
Taylor says:
Thanks for your review Michael.
My understanding is that there are HE versions of Surf detergent available, but as far as I can tell it is only for the liquid versions, which are relatively new (see the review above for more details).
Hope that helps you find what you're looking for!
Join in and write your own page! It's easy to do. How? Simply click here to return to Surf laundry detergent.
Surf Is Good Enough!
by Ellie
(Annapolis, MD)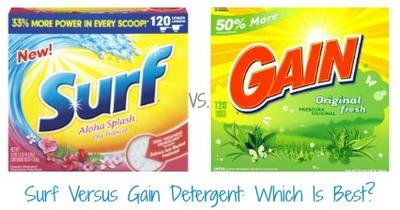 Ellie says:
I use Surf when my go to detergent,
Gain
, is not on sale and I have a coupon making SURF be on sale.
It does a good job of cleaning normal use laundry for over 60 with no children but I do not like the scent as much as Gain!
Join in and write your own page! It's easy to do. How? Simply click here to return to Surf laundry detergent.
I Don't Like Surf For Many Reasons
by SR101 Reader
I don't like this detergent because it doesn't rinse well, leaves deposits on clothes, and caused me a bad rash.

I have been using it for a couple of weeks.

It wasn't the greatest for cleaning, nor was it rinsing well out of the clothes, but instead it left soapy deposits.

But I figured I was going to use it up before buying something else.

After 2 weeks I developed a bad case of blistery and itchy contact dermatitis.

It took a couple of weeks of suffering to figure out it was from the detergent.

So, I rewashed all my clothes in the gentle detergent from the Whole Foods.

Beware, this is very harsh detergent, not for sensitive skin, especially babies and children.
Join in and write your own page! It's easy to do. How? Simply click here to return to Surf laundry detergent.
Reviews Of Surf Laundry Detergent From SR101 Facebook Fans
by SR101 Facebook Fans
When I shared this page about Surf detergent reviews on Stain Removal 101's Facebook page I got quite a few additional comments about this brand of detergent, and I wanted to gather them up here to save to help others thinking about whether to purchase this particular brand or not.

Here's what SR101's Facebook fans said about it (click here to see the original post):
Jennifer says:
We used it too. However, last summer on a trip out of town, I bought a box to do laundry before returning and brought what was left back home.
Our clothes were stiff and you could feel the soap still on the clothes. I finally threw it out. I use
liquid Arm & Hammer
and am pleased with it. I will not be changing again.
I should have stated that we have very hard water here. I am sure that makes a difference. I will never use a powder again.
Melissa says:
I've used Surf for years... I love that it's inexpensive and you get a really big box. It makes our clothes clean, smell good, feel good, and I've never had any issues with it... and I've used it with both city water and well water... that's my opinion.
Erin says:
I have used it for years. It's cheap, about $3 a box. It's nice and fresh with heaps of fragrances and the liquid is good too.
Taylor says:
Thanks to all the Facebook fans who shared their opinion about this detergent.
I'm always looking for more experiences and opinions about this laundry soap, or any other. You can
share your laundry detergent review here
, or read others that have already been submitted to find the best brand of detergent for you.
Related Links At Stain Removal 101
Best Laundry Detergent - Reviews, Ratings And Information
Hypoallergenic Laundry Detergent Reviews & Recommendations
Go From Surf Detergent Reviews To Stain Removal 101 Home Page
Thanks For Visiting My Website: Grab Your Free Gift!

Hi, I'm Taylor, a busy mom with 3 kids, so I have lots of hands on experience with house cleaning, laundry and my fair share of spots, spills and other messy catastrophes. Thanks for visiting my site.
I update the website all the time with tips, tutorials, cleaning recipes, reviews of products from readers like you, and tests I've done on various cleaners, removers and laundry supplies.
I'd love to give you a gift! When you subscribe to my free weekly newsletter you will receive a free printable laundry stain removal chart that you can reference as needed.
I hope you enjoy this gift, and stop by again soon!
CAUTION: This website is provided for informational purposes only. It is provided as is, without warranties or guarantees. Some stains and messes just won't come out, and are permanent. Further, some cleaning methods can harm your item, so if what you want to clean or launder is sentimental or expensive call a professional. See disclaimer of liability for more information.