Stain Rx Stain Remover Got Berry Stains Out!
by Judy Christensen
(Milwaukee, WI)
Judy has shared her Stain Rx stain remover review, and how this specialty product worked for her.
Judy says:
I love berries of any kind (especially
raspberries
and
blackberries
), but I always manage to get stains on my white tops.
I have several tops with berry stains that just never come out. (Luckily, I have a "messy" job, so it's OK to wear those shirts when I'm working!).
But I recently tried Stain Rx on a new shirt with berry stains, and they came right out, even before washing! I couldn't believe it when I put a couple of drops on the stain, rubbed just a bit, and the stain was gone.
There was probably a little residue, but I was so excited, I didn't even notice. Once I washed the shirt, the stain was COMPLETELY gone.
I've tried a few other products, but they didn't work as well, and I was pretty much resigned to the fact that berry stains just don't come out. But now I have a product that works and I couldn't be happier! Thanks for pointing me to this product!
Taylor says:
Judy, I'm so glad to hear this product worked well for you.
Previously, I got a chance to review this product and also found it worked well as a berry stain remover. You can
read my complete review here
, with before and after pictures and tests of how it worked on various types of stains.
I would love to get even more reviews of this product, sharing how it worked for you. You can
share your own review here
of this product, or share your other
laundry stain removers reviews here
.
In addition, I have more reviews of this product and a video demonstration below.
Join in and write your own page! It's easy to do. How? Simply click here to return to Stain Rx.
Stain Rx (a.k.a. Erado-Sol) Is Best Ready To Use Stain Remover For Red Wine Stains And More
by Gary
(Florida)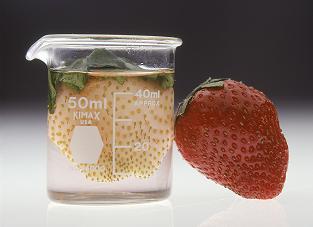 Strawberry in Stain Rx for 2 - 2 1/2 hours
Stain Rx is the best stain remover out there.

I have been using it on red wine stains since 1969.

Just touch it to red wine, iodine, berries (including pomegranate), fruit punch, cranberry juice, and the stains disappear in a second.

Stains such as mascara, lipstick, blood, balsamic vinegar, vanilla extract and others come out with a little massaging and rinsing.

Soak your diamond, gold and platinum jewelry in it for 20 minutes to overnight, you won't believe it!

By the way, the University of California – Davis did a study on red wine stain removal and the #1, ready to use winner was Stain Rx (a.k.a. Erado-Sol).

It killed Wine Away which is available everywhere.

As far as carpeting and upholstery: I use Stain Rx on carpeting and upholstery all the time and have the method down.

First, I vacuum the entire carpet or piece of upholstery being treated.

Then I clean the entire carpet or upholstery with my Hoover SteamVac
, a carpet shampooer is at least as good, plus, I ONLY use warm water - no detergent at all.

The Hoover sprays in water and vacuums it out.

For the carpet I use the Steam-Vac and on upholstery I use the Steam-Vac attachments to do this.

While the carpet or upholstery is still wet from this step, do the following; Depending on the size of the stain, put a "dot" of Stain Rx on your fingertip and rub out one stain at a time.

After treating a stain, remove all the soapy residue from that area using the instructions below and go on to the next stain.

Here is the most important part: You have to remove all the soapy residue using the attachments from the Steam-Vac, carpet shampooer or a wet/dry shop vacuum.

Rinse out all of the soapy residue using water and the vacuum.

If you leave Stain Rx in the area, dust will stick forming a gray spot in a few weeks. If this happens, just add water and remove all of the soapy residue.

Let dry and marvel at the job you did.

Stain-Removal-101.com says:
Gary, thanks for your contribution.
I had not heard of this study from the University of California - Davis, and if you would like to submit a link to the study we will put it up. ***Update #3, here's a link to the
University of California - Davis study
(opens into a PDF in another window).***
Please note these are Gary's opinion's about Stain RX, and not necessarily those of Stain Removal 101. ***Update #2, I've since received a free sample of this product from the company, and have done my own tests. You can see
my review of Stain RX here
, which includes my extensive testing of the claims regarding clothing stains. (I took lots of before and after pictures of stains!)***
I would love to hear even more reviews of Stain RX from other readers. You can
share your reviews here
.
UPDATE #1:
I found this video on YouTube of an individual using StainRX on their white t-shirt, demonstrating how it got out red wine stains. Here is the video:
You can also
submit your own wine stain remover review here
, or read other reviews that have already been submitted.
Related Links At Stain-Removal-101.com
Submit Your Own Stain Remover Review
Submit Tips For Red Wine Stain Removal
Go From Stain Rx Stain Remover Reviews To Stain-Removal-101.com Home Page
Join in and write your own page! It's easy to do. How? Simply click here to return to Stain Rx.
Thanks For Visiting My Website: Grab Your Free Gift!

Hi, I'm Taylor, a busy mom with 3 kids, so I have lots of hands on experience with house cleaning, laundry and my fair share of spots, spills and other messy catastrophes. Thanks for visiting my site.
I update the website all the time with tips, tutorials, cleaning recipes, reviews of products from readers like you, and tests I've done on various cleaners, removers and laundry supplies.
I'd love to give you a gift! When you subscribe to my free weekly newsletter you will receive a free printable laundry stain removal chart that you can reference as needed.
I hope you enjoy this gift, and stop by again soon!
CAUTION: This website is provided for informational purposes only. It is provided as is, without warranties or guarantees. Some stains and messes just won't come out, and are permanent. Further, some cleaning methods can harm your item, so if what you want to clean or launder is sentimental or expensive call a professional. See disclaimer of liability for more information.