Scrubbing Bubbles Fresh Brush Max Review - Better Than A Toilet Brush
by Jackie R.
(Dallas, Texas)
Jackie has provided her review of the Scrubbing Bubbles Fresh Brush Max toilet brush and pads, all in one.
Jackie says:
What can I say? I love this stuff. It is so much better than using the old toilet bowl brush.
Scrubbing Bubbles Fresh Max comes with a brush when you buy a starter kit. You just pop one of the pads onto the brush, go about cleaning, and pop it off. You don't have to touch it or store what went in the toilet.
It's a lot more sanitary, at least in my opinion. Plus, I get grossed out with a regular toilet brush, like when it drips on the floor or something. You don't have to worry about that at all with this product.
There is not any gross smell that comes with it either, and it cleans how it's supposed to. No complaints there.
After using the Scrubbing Bubbles toilet brush and disposable pads I would not go back to using a regular toilet bowl brush. However, I must say that there is a lot of packaging and trash that you have to dealing with (since each brush is individually wrapped and you're disposing of a little sponge every time you clean the toilet.)
Just something to think about for the environmentally conscious.
Taylor says:
Thank Jackie for your Scrubbing Bubbles Fresh Brush Max review.
You make two good point about the disposable nature of the product. On one hand you don't have to touch and store stuff that is dirty this way, because once you
clean your toilet
you just throw the dirty pad away. On the other, that seems like a lot of waste and expense too, because you have to buy refill pads for the brush over and over.
I would love to hear other people's opinions about this product. You can
share your toilet cleaner reviews here
, of this or another product, or read other reviews already submitted.
Join in and write your own page! It's easy to do. How? Simply click here to return to toilet cleaner.
Scrubbing Bubbles Fresh Brush 2 In 1 Toilet Cleaner Makes Cleaning The Toilet Easier Than Ever
by Anita
(Tampa, FL)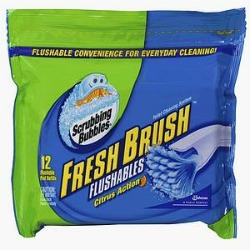 Anita has also shared her review of this product.
Anita says:
One of the best toilet cleaning products my husband and I have used in our home is the Fresh Brush 2 in 1 Toilet Cleaner.
Before buying this product the only other way we cleaned the toilets was with a gel and a reusable dirty toilet brush. This was both disgusting and unsanitary to keep in the bathroom.
After buying and using the Fresh Brush kit we quickly got accustomed to its easy and simple way to clean a toilet.
Firstly, you can hang the handle on the storage hook, right on your toilet to access it quickly. Secondly, the grip hand on the end makes it easy to grab the scrubbing pads. The handle locks the pad in place without you ever touching the cleaner. Then when using it to clean the toilets it gets to all the hard to reach places without any strain.
The scrubbing pads does the same job as a cleaning gel, if not better. Then when finished the scrubbing pad can be disposed of by unclasping the pad from the handle and flushed right down the toilet. The grime and germs go right down with the flush, leaving no dirty brush behind in the bathroom!
This process makes cleaning the toilet easier than ever, and I'll never go back to yucky toilet brushes ever again!
Taylor says:
Thanks Anita for sharing your experiences with the Scrubbing Bubbles fresh brush. I have to say, a disposable way to clean your toilet does sound pretty appealing, especially when the toilet brush itself starts to look really gross after many uses.
You aren't the first person to sing these little disposable toilet brushes praises. However, I still have to wonder about how environmentally friendly this is. Can anyone else comment on the amount of packaging with this product? Plus, anyone want to share on the costs of this product, since you have to keep getting refills?
I would love to hear even more reviews of this product, or any other toilet brushes you use. You can
share your toilet brush review here
, for this or any other brand, telling me what you like, or don't, about it and why. In addition, you can read other that have already been submitted.
Related Links At Stain Removal 101
House Cleaning Equipment & Tools Reviews
Scrubbing Bubbles Automatic Shower Cleaner Reviews
Go From Scrubbing Bubbles Fresh Brush Toilet Cleaner Reviews To Home Page
There are affiliate links on this page, and if you purchase a product through them I receive a small commission. Purchasing through my links costs you nothing extra, but helps support the free information provided on this site and my family. To learn more please see my product review disclosure statement.
Join in and write your own page! It's easy to do. How? Simply click here to return to toilet cleaner.
Thanks For Visiting My Website: Grab Your Free Gift!

Hi, I'm Taylor, a busy mom with 3 kids, so I have lots of hands on experience with house cleaning, laundry and my fair share of spots, spills and other messy catastrophes. Thanks for visiting my site.
I update the website all the time with tips, tutorials, cleaning recipes, reviews of products from readers like you, and tests I've done on various cleaners, removers and laundry supplies.
I'd love to give you a gift! When you subscribe to my free weekly newsletter you will receive a free printable laundry stain removal chart that you can reference as needed.
I hope you enjoy this gift, and stop by again soon!
CAUTION: This website is provided for informational purposes only. It is provided as is, without warranties or guarantees. Some stains and messes just won't come out, and are permanent. Further, some cleaning methods can harm your item, so if what you want to clean or launder is sentimental or expensive call a professional. See disclaimer of liability for more information.