Removing Gum From Carpet With Goo Gone - Reader Experiences
by Taylor
Removing gum from carpet can be one of the hardest things to do, especially without the right tools.


One of the most commonly used tools for the job is
Goo Gone
(click the link for a review and even more uses for this product).
However, many people are concerned about using Goo Gone for this purpose, and not without reason. You can't wash your carpet after applying this product, and so it can be worrisome to decide whether you'll actually try it or not.
Therefore, below I've gathered several reviews and experiences as reported by SR101 readers, sharing the pros and cons of using this product for gum removal from carpets.
Basically, the pros include that it works, but the big con is that it can leave a greasy spot on your carpet where you applied the product. Fortunately, there are some tips you can use to mitigate the problems with the greasy spots that can occur, and I discuss these towards the end of the article.
If you've used this, or another product to remove gum from any surface, I'd love it if you
shared your chewing gum remover here
(or you can read reviews of many other products here too).
Background of photo by stevendepolo
Join in and write your own page! It's easy to do. How? Simply click here to return to Goo Gone.
Goo Gone To Get Gum Off Of Carpet
by Erin
Erin shared her experiences using Goo Gone for removing gum from carpet.
Erin says:
Last summer I walked into my son's room and felt something sticky on my foot. I looked down and saw a huge piece of watermelon bubble yum on his light green carpet. I was so mad.
I told him to get a towel and to get on his knees and clean it up. He tried, but he just could not get it off the carpet.
I went to Walgreens and bought Goo Gone. We brought it home and I let it sit for a while and then I tried to clean it up.
I was actually surprised because it worked better than I thought it would. It did manage to get all of the gum up. The only problem is that there is still a spot on the carpet from where my son and I tried to scrubbed.
My suggestion is if anyone has gum on their carpet they should use Goo Gone to get it up right away, and not scrub first since that seems to be what caused the stain that remains.
Taylor says:
Thanks for sharing your experience Erin. It can be tempting to tackle a stain right away, but taking just a few seconds to make sure you are using the right products and technique to get it up right the first time can save yourself some grief later.
Here are some more experiences that have also been shared with me below.
Join in and write your own page! It's easy to do. How? Simply click here to return to Goo Gone.
Goo Gone Spray Gel Removed Gum Off Carpeting On Stairs
by Paula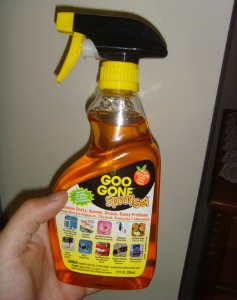 Paula used Goo Gone gel spray on the chewing gum on stairs.
Paula says:
I didn't foresee myself needing a chewing gum remover, but one day I found a sticky mess of gum ground into the carpeting on the stairs in my apartment. I'm still not sure how it got there, I guess someone tracked it in.
I went online to find a product to remove it and found Magic American Goo Gone Spray Gel. There were several formulas of Goo Gone but I decided to go with the spray gel because it promised not to leave drips which was important on stairs.
I spent a few days carefully avoiding the gum before my bottle of Goo Gone arrived in the mail. Then, I sprayed the gel onto the gum and it did cling to the mess with no drips exactly as promised.
It took several applications to get rid of all the gum but it did remove it eventually as promised. I haven't tried any other
gum removers
but Goo Gone gets the job done and the price is not too expensive.
Taylor says:
Thanks so much for sharing your experience with this chewing gum remover Paula.
Now that I've listed, through these reader reviews, some of the pros of using this product for removing gum from carpet, below I've listed the con (and some tips for how to make this con less of a problem, hopefully).
Photo courtesy of jschristian44 at Amazon.com
Join in and write your own page! It's easy to do. How? Simply click here to return to Goo Gone.
Goo Gone Got Rid Of The Gum From The Carpet But Left A Grease Stain In Its Place
by Laura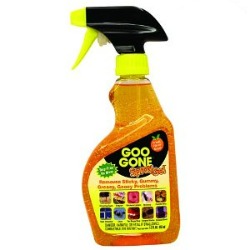 Laura shared her experience when she used this product for removing gum from carpet.
Laura says:
I am the mother of 3 girls and one of their favorite things is chewing gum.
Of course, whenever you have three people chomping on gum constantly you will inevitably end up with
gum on the bottom of someone's shoe
. Then, this gum then gets tracked onto the carpet.
To remove the gum I used Goo Gone. I had some in the house that I had bought to remove some stickers off of glass and read that it would work on removing glue from carpet also so I gave it a try.
Although it did remove the gum according to the directions, I did not like the smell or residue that it left on my carpet. Even though the gum was now removed I was left with a light
grease stain
on the carpet.
After the carpet had dried I was now left with the daunting task of removing the grease stain, which is a tough stain to remove.
After I worked out the grease stain I noticed that the area that I used the Goo Gone on tended to collect dirt more than the rest of the carpet. Needless to say additional cleaning has to be done on that particular spot, and it is a reoccurring job.
So, yes I got rid of the gum but the cleaning job continues.
Taylor says:
Thanks Laura for sharing the biggest con of using Goo Gone for removing gum from carpet.
Goo Gone, as I explained in more detail in my
article about Goo Gone
is that this product is oil-based, and contains a citrus based solvent within it. This makes it very good at removing things like gum, but can leave behind a greasy residue.
This isn't so bad when you are
removing gum from clothing
, for example, because you can then just wash away the residue left by the Goo Gone. However, you can't wash carpet.
To remove this greasy residue I have two suggestions. The first is to use a solution of 1 tablespoon of dishwashing liquid and 2 cups of water to dab at the greasy spot, and blot until it is removed. The disadvantage of this method is that if you leave too much soap residue in the carpet, and don't rinse it all away, it can stay in the carpet and attract dirt to the spot. That is most likely what happened in your case Laura.
The other suggestion is to remove the grease spot left by the Goo Gone with
dry cleaning solvent
. Most people don't have this stuff just lying around in their home (and it is hard to find in stores), but it typically works to remove greasy spots.
Even though I am aware that Goo Gone can cause these problems on carpet, and it is a definite con in my opinion with using it, it is one of the most effective readily available products I've found yet to recommend for removing gum from carpet. Therefore, I continue to recommend it, but you should know about this issue before proceeding to make an informed decision of whether you want to use it.
Has anyone else experienced this greasy spot problem with Goo Gone on their carpet or upholstery? If so, I would love for you to
share how you removed the greasy spot from Goo Gone here
, to give me more ideas and tips on this issue.
Related Links On This Site
Stain Remover Reviews
Gum Stain Removal Instructions
Carpet Stain Remover Reviews
Tips For How To Remove Gum From Carpet
Go From Removing Gum From Carpet With Goo Gone: Pros & Cons To Home Page
There are affiliate links on this page, and if you purchase a product through them I receive a small commission. Purchasing through my links costs you nothing extra, but helps support the free information provided on this site and my family. To learn more please see my product review disclosure statement.
Join in and write your own page! It's easy to do. How? Simply click here to return to Goo Gone.
Thanks For Visiting My Website: Grab Your Free Gift!

Hi, I'm Taylor, a busy mom with 3 kids, so I have lots of hands on experience with house cleaning, laundry and my fair share of spots, spills and other messy catastrophes. Thanks for visiting my site.
I update the website all the time with tips, tutorials, cleaning recipes, reviews of products from readers like you, and tests I've done on various cleaners, removers and laundry supplies.
I'd love to give you a gift! When you subscribe to my free weekly newsletter you will receive a free printable laundry stain removal chart that you can reference as needed.
I hope you enjoy this gift, and stop by again soon!
CAUTION: This website is provided for informational purposes only. It is provided as is, without warranties or guarantees. Some stains and messes just won't come out, and are permanent. Further, some cleaning methods can harm your item, so if what you want to clean or launder is sentimental or expensive call a professional. See disclaimer of liability for more information.