Oxo Dish Brush Review - Good Grips Soap Dispensing Brush
by Nicki
(RI)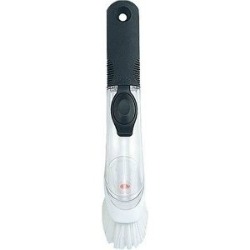 Oxo Good Grips Soap Squirting Dish Brush
Nicki has shared her review of an Oxo dish brush, specifically the Good Grips Soap Dispensing Brush, for washing pots and pans, and other dishes in her kitchen.
Nicki says:
I decided to buy this brush after seeing it at my parents' house. My stepmother was very enthusiastic about showing me the brush's built-in soap dispenser, but I was more interested in the brush's efficient cleaning abilities.
When I got home, I went out and got a brush for myself. The first time I used it I swept the bristles over a glass bowl with dried food caked on the brim and all of the food came off in one sweep. It was amazing!
I don't have a dishwasher or a lot of money, so my brush is sitting on my sink, and is in use all the time.
Along with the plastic brush end, there is a soap dispenser inside the handle. You fill the brush up with soap, press a button, and soap comes out of the center of the brush.
The bristles are strong enough so that heavy effort is not required to clean dirty surfaces. I reserve this brush for heavier cleaning jobs, like pans, griddles and filthy bowls. I've also used it on my glassware, ceramics, and rice cooker.
Unlike
sponges
and scouring pads, which retain moisture and quickly become breeding grounds for bacteria, the bristles on this brush do not retain moisture and can be easily cleaned.
This scrubbing brush is a rather good investment, as it does not have to be replaced as often as sponges or scouring pads. In my experience, it has never caused harm to any surface on which I
have used it. Call me strange, but I love my brush!
Taylor says:
Thanks Nicki for sharing your Oxo dish brush review.
Until you shared this review with me, and I started researching these products more, I had no idea how many types of dish sponges, scrubbies, wands, and soap dispensing dish brushes there really were available, including a surprisingly large variety of them made by Oxo. Oxo has dish brushes, dish scrub sponges, glass sponges, and palm brushes.
I myself was given an Oxo soap dispensing palm brush by my mother-in-law quite a while ago, because it is one of her favorite dish cleaners, and she thought I would like it too. It has just been sitting on the sink though, because I really haven't given it much of a chance. Perhaps I should try it again though.
I've found, however, with the palm brush that I just don't like the way you have to hold it. I might like the wand better, and may try that in the future.
Further, when I scrub some stuff with the bristles, I notice they get kinda dirty and it can be hard to rinse out. Does anyone else have this problem? How do you keep them clean?
I also notice that there are refill brushes and sponges for all of the different Oxo dish brush varieties. I wasn't aware of this. Has anyone else used the refills? Do they work well?
I would love to hear from even more people who have used these products, to hear what you think about them, good or bad. You can
share your pot scrubbers and scouring pads reviews here
, or read other reviews which have already been submitted.
Join in and write your own page! It's easy to do. How? Simply click here to return to pot scrubbers and scouring pads.
Oxo Good Grips Soap Dispensing Brush Has Had Repeated Failures
by Bob
(VA)
Bob shared his family's experience with this product.
Bob says:
We tried many different kinds of soap dispensing dish brushes and were dissatisfied with the leaking of soap from most of them, which makes a mess and wastes soap.
The Oxo brush was very good when we first purchased it, as it has much better control of soap leakage and with its base controls the soap that does drip from it.
However, after a couple of months, the bulb on the handle split and it became considerably less effective in pumping soap and soap leaked from where it split.
We took it back to Bed, Bath & Beyond and they willingly replaced it free of charge.
However, now after just a few more months the same failure has occurred again to the new brush.
I'd be interested if anyone else has experienced this, but based on our experience Oxo needs to redesign this part of the brush. Thank you for providing this service.
Taylor says:
Thanks Bob for sharing your experience.
I too would be curious to hear if anyone else has had this problem, or otherwise wants to share their experiences with these products. There are several varieties of these brushes available, so make sure you tell me which one you've used to make the reviews as clear as possible.
Join in and write your own page! It's easy to do. How? Simply click here to return to pot scrubbers and scouring pads.
Red Plug Came Off My Oxo Good Grips Dish Brush
by Ann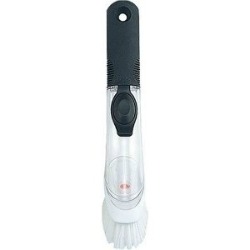 Ann shared a problem she had with the Oxo dish brush.
Ann says:
I really liked this brush until the red plug came out and is impossible to replace.
That takes away the convenience of having soap ready in the brush, the reason I bought it to begin with.
I've tried every way I can muster to get the plug reattached, but nothing works.
You apparently have to be able to attach it from the inside of the handle--not possible.
If anyone knows of a way to get the plug back in place, I would so appreciate your sharing how to accomplish it.
Taylor says:
Sorry Ann, I'm at a loss for how to fix this problem. I wish I could help.
Perhaps you could call Oxo's help line, which is at (800)545-4411.
In addition, if any readers have any suggestions for Ann, I would appreciate you sharing your ideas in the comments for her.
Finally, have many other people experienced this, or similar problems with this dish brush, or any of the other dish soap dispensing brushes from Oxo, since they have several varieties available? Or, have you loved yours as much as the first reader above.
I'd love to hear your thoughts and reviews. You can
share your pot scrubbers and scouring pads reviews here
, or read others that have already been submitted by other readers.
Related Pages You May Enjoy
House Cleaning Equipment & Tools Reviews
Dishwashing Soap Reviews
Tips For Cleaning Pots, Pans, Cookware & Bakeware
Go From Oxo Dish Brush Reviews To Home Page
There are affiliate links on this page, and if you purchase a product through them I receive a small commission. Purchasing through my links costs you nothing extra, but helps support the free information provided on this site and my family. To learn more please see my product review disclosure statement.
Thanks For Visiting My Website: Grab Your Free Gift!

Hi, I'm Taylor, a busy mom with 3 kids, so I have lots of hands on experience with house cleaning, laundry and my fair share of spots, spills and other messy catastrophes. Thanks for visiting my site.
I update the website all the time with tips, tutorials, cleaning recipes, reviews of products from readers like you, and tests I've done on various cleaners, removers and laundry supplies.
I'd love to give you a gift! When you subscribe to my free weekly newsletter you will receive a free printable laundry stain removal chart that you can reference as needed.
I hope you enjoy this gift, and stop by again soon!
CAUTION: This website is provided for informational purposes only. It is provided as is, without warranties or guarantees. Some stains and messes just won't come out, and are permanent. Further, some cleaning methods can harm your item, so if what you want to clean or launder is sentimental or expensive call a professional. See disclaimer of liability for more information.