O Cel O Sponges Review: No Scratch Scrubber & Handy Sponge
by Taylor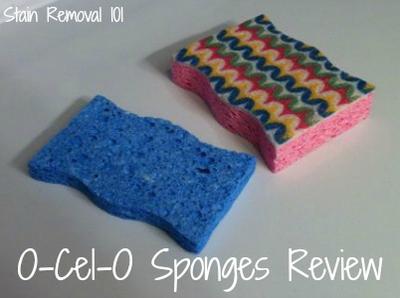 I have been using the O-Cel-O sponges for the last couple of months all around my home, but mainly in the kitchen, to see how they compared to my previous brand.


Many people may think a sponge is a sponge, and to some extent they are right.
Almost any rag or scrubber will work in a pinch to wipe off a dish or clean your pots and pans, or wipe down the counter.
But, not all of these products are made the same. There are issues and differences between brands in regard to durability, how well they work, if they retain odors, and finally aesthetics.
No Scratch Scrubber Sponge Review
I had previously been using
Scotch Brite No Scratch Sponges
, and overall I was pleased with them. I really had no reason to switch, but just wanted to be able to try out another brand for a review on the site, which is why I gave the O-Cel-O brand a try.
I tend to choose a scrubber sponge for washing my dishes, for both pre-rinsing items that will go into the dishwasher, and also for washing my pots and pans. I choose the scrubbing variety instead of the one without the scrubbing side, because I like being able to use the rougher side to rub off dried on gunk for dishes.
I choose the no-scratch variety because they are safer for non-stick cookware, whereas the more heavy duty sponges can remove this coating more quickly. Even with less scrubbing power I think they do well on pots and pans as well, especially if I soak them for a while in the sink before washing them, if they've got lots of food residue in them.
I will be honest - I've seen no large difference between the O-Cel-O sponges and that of Scotch Brite, in regard to durability, how they work, or the amount of odor they retain.
The one and only place this brand has
an edge, at all, is in aesthetics. They have cute designs in multiple colors, such as pink, purple and blue, whereas the Scotch Brite brand comes in only one color.
Does this matter at all while you're cleaning? No, not practically. However, I like switching to a new design as the old sponge gets worn out over time, and it makes the task of washing dishes perhaps just a smidge more enjoyable to use a cute patterned sponge.
From now on, I'll probably just buy whichever one of these brands is on sale, or I've got a coupon for, since from a practical perspective I don't find much difference between the two varieties.
Handy Sponge Review
I also bought some of the "Handy Sponges" from O-Cel-O at the same time. These are basically just rectangular sponges without any scrubber on them.
I have been using them for cleaning areas around my house over the last couple of months. I have to say though, I don't think I'll buy many more, but not because there is anything wrong with them, per se.
Instead, I just have determined I also like to use the no-scratch scrubber sponges even for cleaning other areas of my house. I still like the ability to do a bit of scrubbing by flipping the sponge side over for a minute, and since it is no-scratch it is safe for most surfaces.
Of course, that's just my opinion of these two varieties of O-Cel-O sponges. I'd love to hear yours opinions and experiences too, for this or any other brand of sponge or pot scrubber you use in your kitchen.
You can
share sponge reviews here
, and your
pot scrubbers and scouring pad reviews here
. Further, click on the link you're interested in and read additional reviews of multiple brands that have already been submitted.
Related Links At Stain Removal 101
100's Cleaning Products Reviews
House Cleaning Tips & Tricks
Go From O-Cel-O Sponges Review To Stain Removal 101 Home Page
Thanks For Visiting My Website: Grab Your Free Gift!

Hi, I'm Taylor, a busy mom with 3 kids, so I have lots of hands on experience with house cleaning, laundry and my fair share of spots, spills and other messy catastrophes. Thanks for visiting my site.
I update the website all the time with tips, tutorials, cleaning recipes, reviews of products from readers like you, and tests I've done on various cleaners, removers and laundry supplies.
I'd love to give you a gift! When you subscribe to my free weekly newsletter you will receive a free printable laundry stain removal chart that you can reference as needed.
I hope you enjoy this gift, and stop by again soon!
CAUTION: This website is provided for informational purposes only. It is provided as is, without warranties or guarantees. Some stains and messes just won't come out, and are permanent. Further, some cleaning methods can harm your item, so if what you want to clean or launder is sentimental or expensive call a professional. See disclaimer of liability for more information.