Stain Rx (A.K.A. Erado-Sol) Giveaway Rules
Here are the rules for Stain-Removal-101.com's giveaway of 10 sample size Stain Rx (a.k.a. Erado-Sol) bottles. You can enter the giveaway until June 5, 2011. THIS GIVEAWAY IS NOW CLOSED.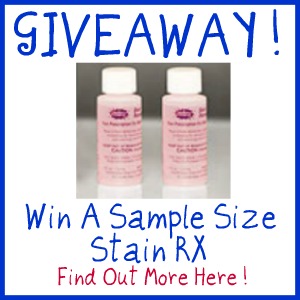 I'm so glad you are interested in this giveaway, whose products have graciously been furnished by Stain Rx. You can read my review of Stain Rx here, to learn more about this stain remover.
What Is Being Given Away?
I am giving away 10 one ounce bottles of Stain Rx stain remover, one each, to 10 lucky winners. If you win I will collect your address, and send this to the company, who will be mailing your prize directly to you.
When Can I Participate?
This giveaway is running from May 27 - June 5, 2011. On June 6, 2011 I will announce the winners.
How Can I Enter?
There are several ways you can enter for this giveaway, all of which are very simple. Multiple unique entries are accepted.
Here are the ways you can enter into the giveaway:
1. Post a message on Stain Removal 101's Facebook wall telling me what you think is the hardest stain to remove, and why.
2. Respond to other people on Stain Removal 101's Facebook wall that have already shared what they think is a hard stain to remove, telling them your tips for removing that stain. (Please note I may add any great tips to the site for everyone to reference later.)
3. Share your own review or experience with Stain Rx. (Make sure to provide me with your email address after providing your review, so if you win I can get in touch with you.)
4. Follow Stain Removal 101 on Twitter, and Tweet the following: "I've entered the Stain Rx giveaway @stainremoval101 https://www.stain-removal-101.com/stain-rx.html" (Note I said multiple "unique entries" are accepted, so please don't retweet this over and over, since only one entry for this method will be accepted.)
5. Tweet what you think is the hardest stain to remove, and why, and reference @stainremoval101 so I can keep track of your tweets. You also get a bonus entry if you tweet a link to the page on the Stain Removal 101 site that shares tips for removing that stain!
How Are The Winners Chosen And How Do I Get My Prize If I Win?
I will keep track of all the entries through the giveaway period, and then will choose at random from the list 10 different winners. I will announce the winners on June 6, 2011, and you will have 3 days to respond and provide your address to me. Prizes not claimed will be reawarded to others after this time. If you win, and claim your prize, it will be mailed to you directly from Stain Rx.
A Few Guidelines... And The Fine Print
Stain Rx reviews, Facebook posts and Tweets are accepted from anyone, worldwide, but the prize is only available to residents of the United States, since the prizes have to be mailed out.
If you provide a Stain Rx review it must be original and in your own words, and so must any tips provided on Facebook.
By submitting your review or tips on the site or Facebook or Twitter, you agree that I may publish it on the site.
Related Links At Stain-Removal-101.com
Disclosure Statement
Go From Stain Rx (A.K.A. Erado Sol) Giveaway Rules To Stain-Removal-101.com Home Page
CAUTION: This website is provided for informational purposes only. It is provided as is, without warranties or guarantees. Some stains and messes just won't come out, and are permanent. Further, some cleaning methods can harm your item, so if what you want to clean or launder is sentimental or expensive call a professional. See disclaimer of liability for more information.