Downy Fabric Softener Review - Paying For Water, Not Downy
by SR101 Reader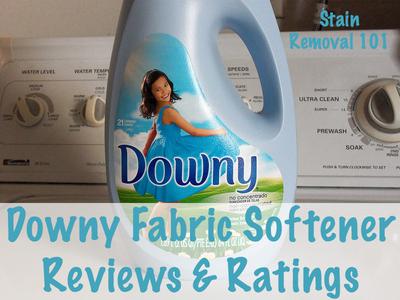 An SR101 reader provided this Downy fabric softener review, and it wasn't too positive.
SR101 Reader says:
I have used Downy for years. I decided to use the newer version of Downy.....The first version was ok.
My clothes smelled nice and they were soft. It was thicker than the 2nd version I bought only a couple weeks later.
Downy may think it is pulling the wool over my eyes, but they added more water to the 2nd bottle I bought just 2 weeks later. I am frustrated to say the least.
I WAS devoted to Downy, but I am not now!!!
Taylor says:
Thanks for sharing your experience with this liquid fabric softener.
When you say that you tried the newer version, are you talking about the addition of "SilkTouch" that was just added by P&G recently?
In addition, since you say the second bottle was much more watery I am wondering if you accidentally bought the non-ultra Downy the second time? The Ultra version is, of course, more concentrated than the non-ultra variety.
Of course, it really could have been more watery the second time, even if you bought the Ultra version. I would love to hear from others who have been using this
fabric softener
to share whether you have also noticed any problems with it being watery.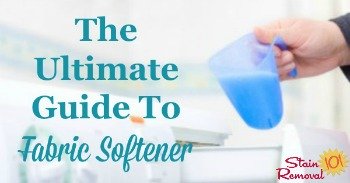 You can
share your review here
, or read more information about this brand, and other reviews which have already been submitted (I've gotten so many reviews I had to start this second page of them!)
Photo courtesy of dno1967b, from Flickr CC
Join in and write your own page! It's easy to do. How? Simply click here to return to Downy fabric softener.
Downy Ultra Fabric Softener Free & Sensitive Review
by Taylor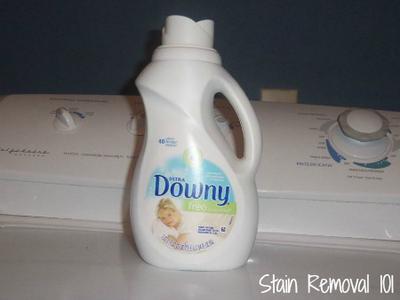 I have used about half my bottle of Downy Free & Sensitive so far, which is an unscented version of this product.

Overall, it seems like a good choice for those who wish to use a liquid softener, but don't want to have scent added.

When you just open the cap and smell it, it has a slight chemical scent (not strong, you have to be really smelling it to notice) but by the time the clothes are both washed and dried you don't notice any scent at all.

Honestly though, I'm not personally that into using this product, and more often than not the only time it gets used is when my mother-in-law is visiting and throws in a load of wash to help me out.

She swears by using liquid softener in just about every load, which is fine since she's doing me a favor, so I won't be complaining.

However, I really don't like to use any softener in the wash, personally, especially right now in the summer when my family is going through athletic clothes like crazy, because it causes me to have to do more sorting.

If you aren't aware, you really shouldn't use oil based softener on athletic clothes since it coats the fibers and makes the fabric less able to wick away moisture and to dry as quickly on the skin.

Therefore, if you need a scent free product this is a good choice, not only because it works well, but it can be readily found in stores (unlike many types of scent free laundry products). However, I will probably pass just because we don't use it much in our house.

If you are in the market for scent free products, check out my page about hypoallergenic laundry products here where I share lots of brand options, and reviews, where available.
Join in and write your own page! It's easy to do. How? Simply click here to return to Downy fabric softener.
April Fresh Scent Caused Allergic Reaction
by SR101 Reader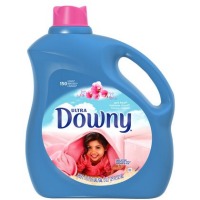 I have been affected for over 5 weeks because of this fabric softener. It directly has affected my lungs and has given me asthma.

We are now on our 3rd wash to rid of any smells or leftover chemical residue as although my asthma has cleared a bit it's still sticking around.

I urge everyone to not use this. There are many healthier options out there.

DO NOT USE THIS. I've always had slight asthma to some allergens like cat hair, etc., but this chemical has turned my whole house upside down. I know it gets better but it is frustrating.
Join in and write your own page! It's easy to do. How? Simply click here to return to Downy fabric softener.
Downy April Fresh Scent Softener Review
by Tracy
(Reading, PA)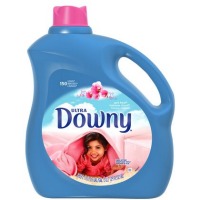 Tracy says:
I prefer using Downy April Fresh because I love the fresh scent, and my clothes seem to retain the scent much longer than with some of the other softeners that I've tried.
The smell permeates throughout my entire house.
I have also observed that with
liquid softeners
, often times some can stain your laundry with what looks like "wet spots," causing you to have to re-wash your entire load. Downy has never done that to my laundry.
I find the price to be comparable to most household names, and slightly more expensive than generic versions, but in the long run I'm saving money because I'm not having to use more by washing my clothes multiple times because it has left spots.
Taylor says:
Tracy, thanks for your review.
You are right that many liquid fabric softeners can cause
fabric softener stains
. I'm glad you've not had that experience with Downy, but I do know that even Downy's manufacturer, Procter & Gamble, warn that Downy can cause stains, like any other brand, when it is not added to the wash properly.
If anyone else is having trouble with these types of stains from your softener, follow these
instructions for using fabric softener properly
, to avoid them in the future.
Has anyone else used Downy, in any scent, and wants to share their own review? If so, you can
share your review here
, telling me what scent you like (or don't) and why.
Similarly, you can
share a fabric softener review here
, of any brand, telling me what you like (or don't) about it.
Related Pages You May Enjoy
Laundry Supplies Reviews & Information
Laundry Tips & Tricks
Go From More Downy Fabric Softener Reviews To Home Page
There are affiliate links on this page, and if you purchase a product through them I receive a small commission. Purchasing through my links costs you nothing extra, but helps support the free information provided on this site and my family. To learn more please see my product review disclosure statement.
Thanks For Visiting My Website: Grab Your Free Gift!

Hi, I'm Taylor, a busy mom with 3 kids, so I have lots of hands on experience with house cleaning, laundry and my fair share of spots, spills and other messy catastrophes. Thanks for visiting my site.
I update the website all the time with tips, tutorials, cleaning recipes, reviews of products from readers like you, and tests I've done on various cleaners, removers and laundry supplies.
I'd love to give you a gift! When you subscribe to my free weekly newsletter you will receive a free printable laundry stain removal chart that you can reference as needed.
I hope you enjoy this gift, and stop by again soon!
CAUTION: This website is provided for informational purposes only. It is provided as is, without warranties or guarantees. Some stains and messes just won't come out, and are permanent. Further, some cleaning methods can harm your item, so if what you want to clean or launder is sentimental or expensive call a professional. See disclaimer of liability for more information.