Arm and Hammer Total 2-In-1 Dryer Cloths Review - Lavender & Vanilla Scent
by Samantha
(Aurora, IL)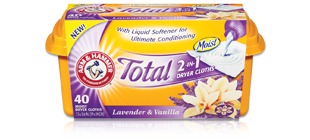 Samantha has provided her Arm and Hammer Total 2-in-1 Dryer Cloths review.
Samantha says:
I used the Lavender & Vanilla scent of the Arm & Hammer moist dryer sheets, which I think are a wonderful product.
I bought these simply looking to replace my beloved Tide Simple Pleasures Vanilla Lavender scent dryer sheets and laundry detergent.
Tide
discontinued this product and my laundry hasn't been the same since.
As I said I was looking to replicate the lovely fragrance of Tide Simple Pleasures Vanilla Lavender scent when I stumbled on this product.
I was intrigued for several reasons the first being this product is a "wet" dryer cloth not a "dry" dryer sheet and the other was it offers to also condition your fabrics, not just soften and remove static cling.
The dryer clothes come in a plastic airtight box and inside is sealed plastic pouch containing the dryer cloths. These resemble a "diaper wipe" when you first remove them from the package.
I was a little worried at first that they might cause spotting on the laundry but, so far that has not been a problem.
They work wonderfully, and all though they aren't as strong as I would like in the fragrance department the cloths are otherwise great. They do soften, remove static cling and leave a slight fragrance. It doesn't smell quite the same as my Tide Simple Pleasures but they will do.
The only
down side is that these are a little expensive. I had a dollar off coupon, and that was my final persuasion. However, without the coupon they would have been $3.99 for 40 dryer cloths. If you do a lot of laundry this could get expensive.
Another concern is you have to be very careful when resealing the plastic box that the lid snaps and stays shut. More than once I thought I had closed it only to find it popped open again. If left open for extended periods of time they would dry out and likely be ruined.
Taylor says:
Thanks Samantha for your Arm and Hammer Total 2-in-1 dryer cloths review.
Like you said, this is a different type of product because typically dryer sheets are dry, not moist. I am always intrigued by new types of products, to see if they are any good and will catch on more widely, with more brands following suit with similar products. As far as I know, I haven't seen anything similar from another company yet. Has anyone else?
In addition, I would love to hear from more of you about these moist fabric softener sheets. How have they worked for you?
You can
share your Arm and Hammer dryer sheets review here
, of these moist sheets, or of their more traditional fabric softener sheets.
In addition, you can
share your dryer sheets review here
, of any brand, telling me what you like, or don't, about it.
Join in and write your own page! It's easy to do. How? Simply click here to return to Arm and Hammer dryer sheets.
Arm And Hammer Dryer Cloths Are Awesome
by La Dawn Ahlborn-Smith
(Roseville, CA)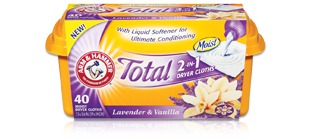 La Dawn says:
These are AWESOME!!!!
My neighbor even came over to ask me what smelled so good coming from my dryer exhaust at night: )
I turned her on to a few of them but neither of us can find them now.
I can order them on Amazon but would prefer to buy them locally.
Does anybody know what stores carry them?
They have a WONDERFUL fragrance, are long-lasting and leave my clothes feeling soft and unbelievably clean-smelling....like I had dried them on an outdoor line amongst a wild flower bed : )
***Update from La Dawn: "GOOD NEWS!! CVS Pharmacy carries them!
I bought the last box yesterday at my local store here in Roseville, CA (much to my neighbor's dismay) but I called the manager when I arrived home and told him what a FANTASTIC product he had.
He assured me he'd order more and thanked me for the head's up on this new and remarkable product : )" ***End Update
Taylor says:
Thanks so much for your review La Dawn.
I know what you mean about not being able to find these locally. I can find the regular Arm & Hammer sheets, but not the two-in-one variety.
As you said though, they can still be purchased on Amazon, so at least you can find them somewhere. Maybe someone will be able to give some hints on where they find them in stores.
Has anyone else used these, or another brand of A&H fabric softener or dryer sheets? If so, I'd love to hear your review. You can
share your review here
.
Related Links At Stain Removal 101
Laundry Supplies Reviews - What To Stock In Your Laundry Room
Fabric Softener Information And Reviews
Dryer Sheets Information And Reviews
Arm And Hammer Detergent Reviews
Go From Arm And Hammer Dryer Cloths Reviews: Total 2-In-1 Version To Home Page
Join in and write your own page! It's easy to do. How? Simply click here to return to Arm and Hammer dryer sheets.
Thanks For Visiting My Website: Grab Your Free Gift!

Hi, I'm Taylor, a busy mom with 3 kids, so I have lots of hands on experience with house cleaning, laundry and my fair share of spots, spills and other messy catastrophes. Thanks for visiting my site.
I update the website all the time with tips, tutorials, cleaning recipes, reviews of products from readers like you, and tests I've done on various cleaners, removers and laundry supplies.
I'd love to give you a gift! When you subscribe to my free weekly newsletter you will receive a free printable laundry stain removal chart that you can reference as needed.
I hope you enjoy this gift, and stop by again soon!
CAUTION: This website is provided for informational purposes only. It is provided as is, without warranties or guarantees. Some stains and messes just won't come out, and are permanent. Further, some cleaning methods can harm your item, so if what you want to clean or launder is sentimental or expensive call a professional. See disclaimer of liability for more information.