How To Clean Shower Curtain

Below is a video showing several ways to clean a shower curtain.
The reason, of course, to clean a shower curtain is when it starts to get moldy and mildewy, and starts to look really nasty.
You don't want to be taking a shower next to that, do you?
So, when your shower curtain starts to look pretty nasty you could just throw it away and get a new one, especially if it is just a cheap vinyl one.
However, you may have a nice cloth shower curtain, or a fancy print on your curtain that you really like, and don't want to get rid of it, or you may be feeling frugal and environmentally friendly and want to reuse what you've got.
In any case cleaning a shower curtain is really simple to do. If you've got a cloth shower curtain just throw it in the wash, with
laundry detergent
, and then dry it.
If you've got a vinyl curtain you can wash it too, using laundry detergent and
white vinegar
. The video below says to wash it on the gentle cycle, but I have had no problem with a sturdier wash, personally.
You want to throw a couple of towels in with a vinyl curtain, and the video does not explain why, but it is because the towels rub against the curtain and help get all that nasty stuff off.
I also suggest washing in hot water to help kill all the mold and mildew on the shower curtain, so it doesn't grow back.
When it is finished washing just hang it back up in the shower and let it drip dry.
The video also says how to wash a vinyl curtain when you don't have a washing machine handy, but I think it sounds like a lot more work. If I had to I would just lug it down to the laundry mat with the rest of my clothes.
Here is the video for full details:
So, have you had any trouble washing a vinyl shower curtain in the washer on a setting other than gentle? I would love to know, so tell me in the comments.
In addition, you can
share your own house cleaning tips here
, or read other tips already submitted.
Top photo by EvelynGiggles
Join in and write your own page! It's easy to do. How? Simply click here to return to wash shower curtain.
How I Avoid Mildew Spots On My Shower Curtain
by Fee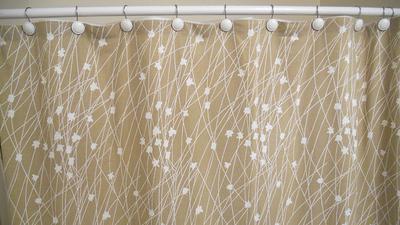 Fee says:
Once a month I take my shower curtain and put it in the washing machine with a couple of old towels, just as you suggest. I don't use added detergent, as with daily use of soaps, shower gels and shampoos, a hot wash at 60C in the machine is enough for my fabric curtain.
If you have a vinyl or waterproof type curtain, possibly 60C may be a little too hot, and I would opt for a 50C wash.
I clean my bathroom daily, though once a week I go for the big clean-up. This also includes the shower curtain, which can tend to get mildew spots.
I've a good tip to avoid these. What I do: I get a spray bottle of Clorox Clean-Up, the one in the green bottle. I spray the black spots on my curtain and on any ceramic tiles or grouting, and I leave it.
When I check back next time I use the shower I find they have all completely disappeared.
Taylor says:
Thanks for your tips Fee.
So how do you clean this item in your bathroom? You can
share your own tips here
.
In addition, check out more
tips for cleaning up mildew in the bathroom here
.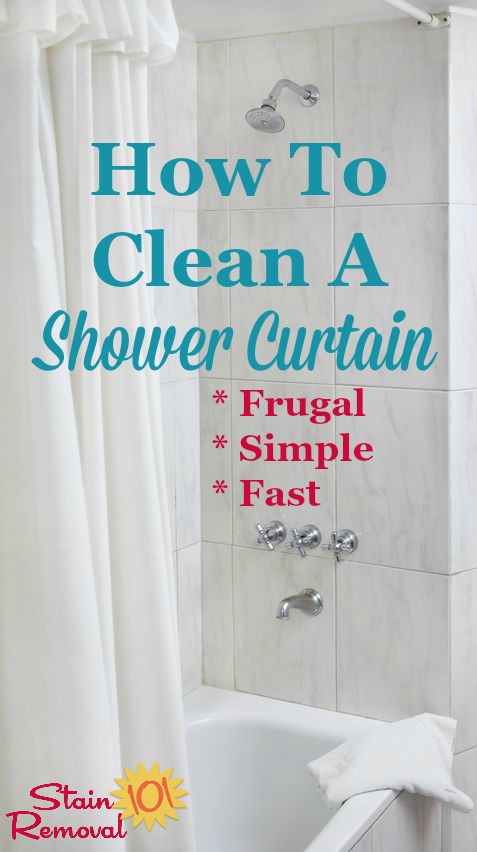 Top photo courtesy of Nico Paix
Related Pages You May Enjoy
House Cleaning Tips & Tricks For Busy Moms
Tips For Cleaning The Bathroom
Go From How To Clean Shower Curtain To Home Page
Get Cleaning & Laundry Products Shipped Directly To Your Home
Have you seen a product recommended that will help you clean up the mess or stain you've got? You don't have to travel to a store to get it. Instead, have it sent straight to you from Amazon. Find what you need here in the Amazon search!
Thanks For Visiting My Website: Grab Your Free Gift!

Hi, I'm Taylor, a busy mom with 3 kids, so I have lots of hands on experience with house cleaning, laundry and my fair share of spots, spills and other messy catastrophes. Thanks for visiting my site.
I update the website all the time with tips, tutorials, cleaning recipes, reviews of products from readers like you, and tests I've done on various cleaners, removers and laundry supplies.
I'd love to give you a gift! When you subscribe to my free weekly newsletter you will receive a free printable laundry stain removal chart that you can reference as needed.
I hope you enjoy this gift, and stop by again soon!
CAUTION: This website is provided for informational purposes only. It is provided as is, without warranties or guarantees. Some stains and messes just won't come out, and are permanent. Further, some cleaning methods can harm your item, so if what you want to clean or launder is sentimental or expensive call a professional. See disclaimer of liability for more information.